This slow cooker Southwest chicken chili recipe is loaded with black beans, corn, and tomatoes and makes an easy-to-prepare soup or stew. It can double as a hearty dip to pair with tortilla chips and sour cream. And with only 5 minutes of prep, it's perfect for a mid-week meal.
*This post contains compensated links. Find more info in my DISCLAIMER. As an Amazon Associate I earn from qualifying purchases.
Simple Chili Recipe With Chicken
One thing we miss living outside of the US is Southwestern and Tex-Mex Cuisine. It's something we grew up on. As much as we get more classic Mexican cuisine living in Spain, it's that Tex-Mex flavor we miss.
While visiting my sister in New Jersey, though, I found it the perfect opportunity to throw some Southwest chicken chili in her crockpot on a cold and rainy winter day. She's not a cook (at all, sometimes I can't believe we grew up in the same household).
I walked through this simple recipe with her. It's an easy chicken chili that can make a meal with plenty of leftovers.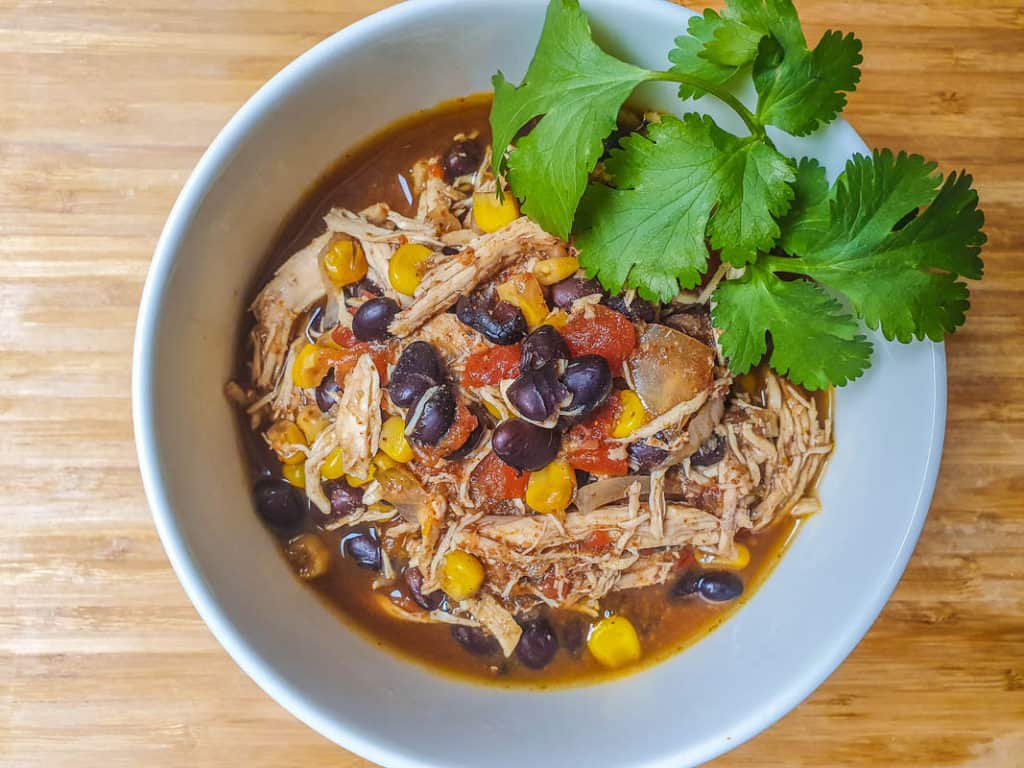 Looking for a unique chili recipe? Check out this Sweet And Savory Beef, Black Bean, and Pumpkin Chili. Or, try our Chicken With Red Kidney Beans – Cowboy Stew.
Using A Slow Cooker For Chicken Chili
It's easy to use a slow cooker or crockpot to make chili. Just throw everything into the pot, stir, and set it and forget it. When making beef chili, some people like to brown the beef first. This step isn't needed for a chili chicken.
Depending on the size of your chicken breasts, you might want to cut them in half. I used about a pound of chicken, which was all in one piece. I cut it into four pieces. Just remember how many pieces you threw into the slow cooker.
Once the chicken is in the crockpot season it with salt and pepper. Use a fork to flip the pieces over and season the other side. Then start to prepare the other ingredients.
That's the most difficult step. Then, just toss the rest of the ingredients into the slow cooker. Give it a good stir. Go to work. Come home. Eat dinner. I just love recipes like this.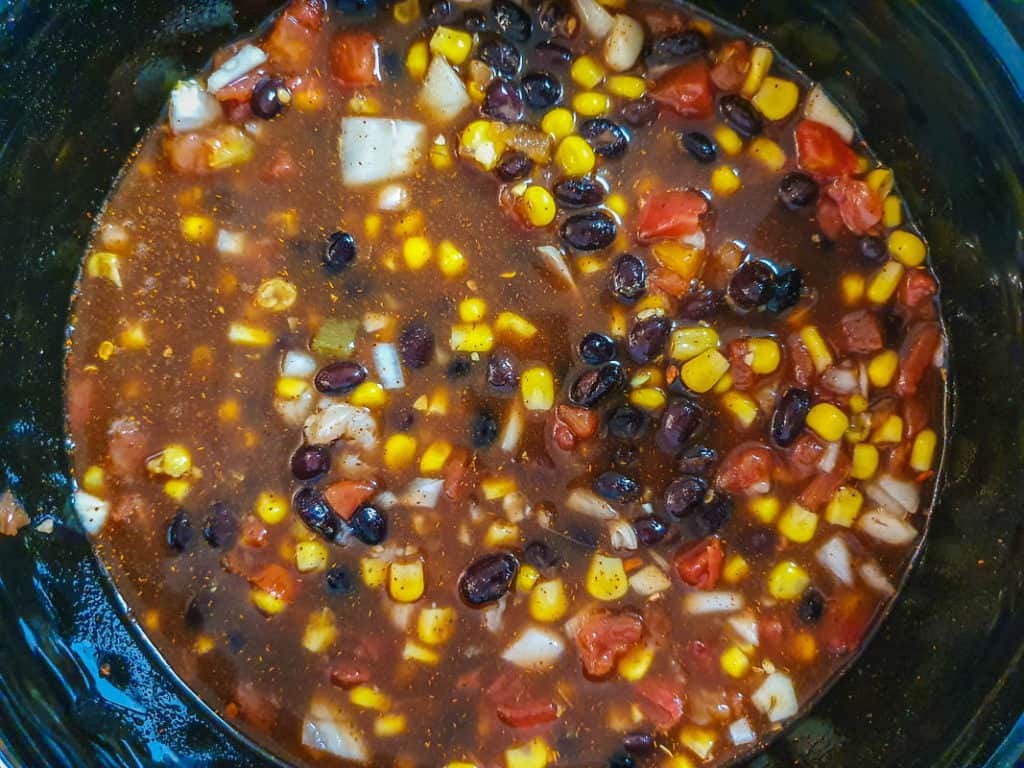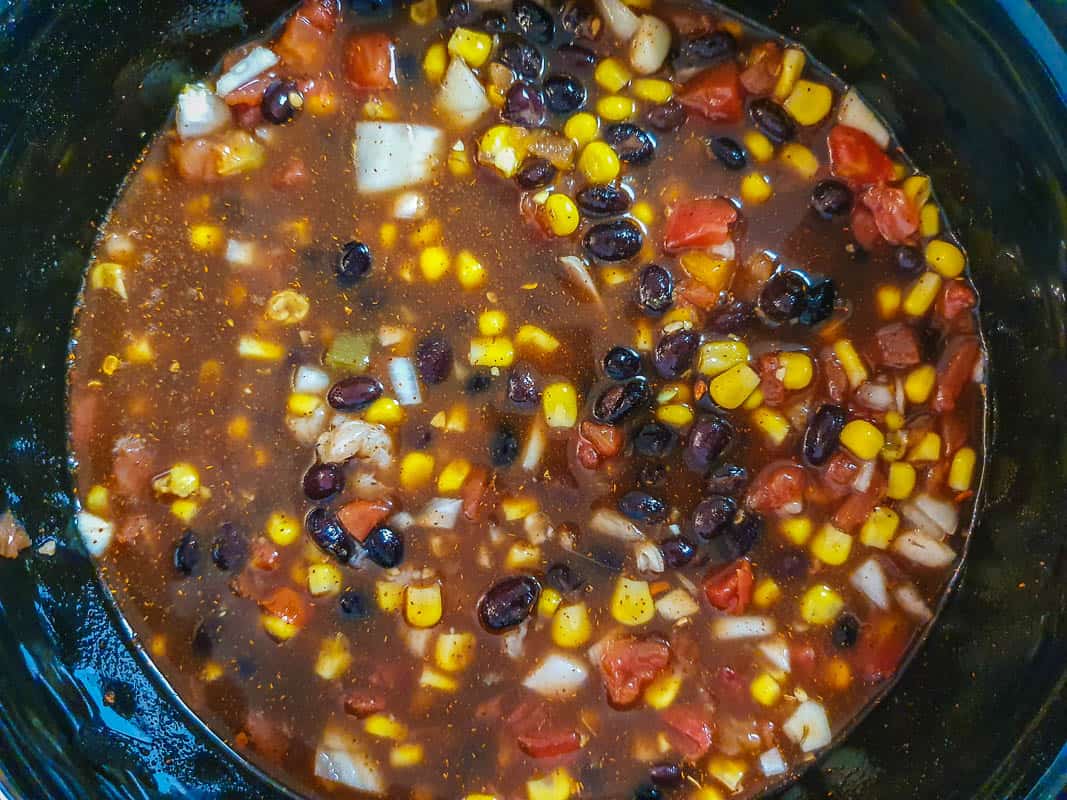 Shredding The Chicken For The Chili
There's one more step before eating. About 30-60 minutes before the chili is done, use a slotted spoon to remove the chicken breasts from the chili.
Place the chicken breasts in a large bowl to catch any juice that might drip off if you use a cutting board. Use two forks to shred the chicken into bite-sized pieces. This turns it into a pulled chicken chili.
Return the shredded chicken to the slow cooker. Give it a good stir and place the top back on. The juice will soak right into the shredded chicken.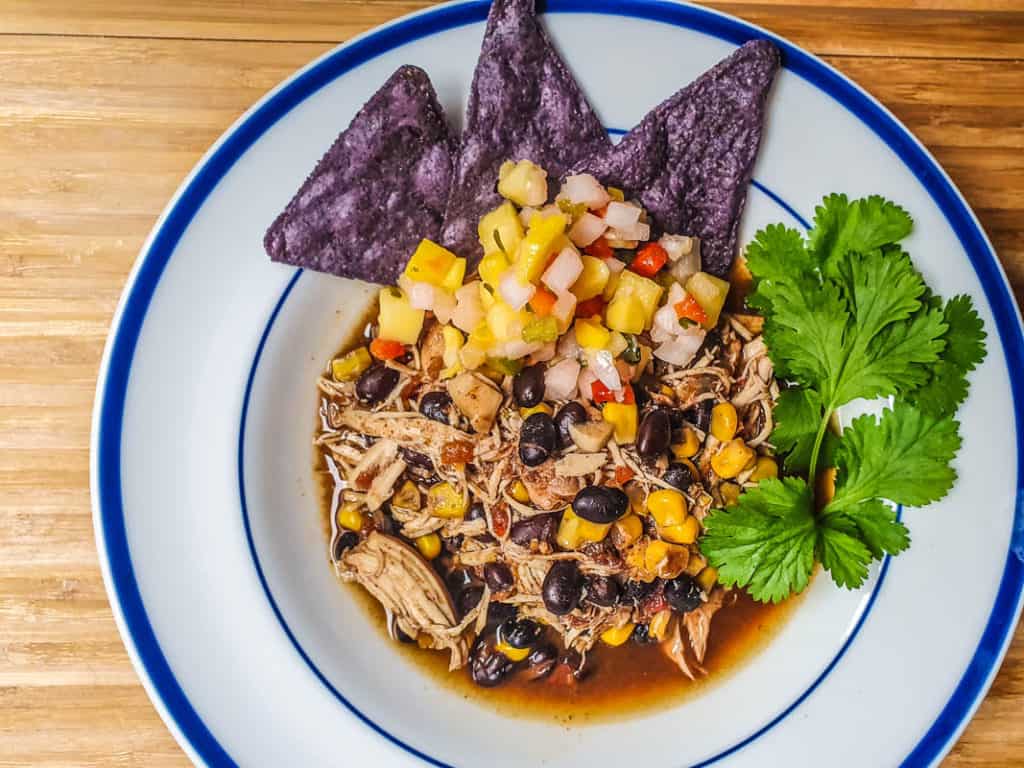 Tips For Southwest Chili With Black Bean And Corn
Whenever you cook anything that is considered Southwest-style, the level of spice is completely up to you.
If you are sensitive to heat (like my sister is) just do a sprinkling of chili powder and crushed red pepper. If you love the heat, take things up a notch. Or do a flavor test about an hour before the chili is done and add some more heat.
Looking for more recipes with black beans? Check out this recipe for Instant Pot Cajun Chicken Pasta With Black Beans.
What To Serve With The Chili
This is really the fun part. When it comes to chili recipes, it's sort of anything goes with what to serve with it. Minimally, I like to top this black bean chicken chili with fresh cilantro. This will give the chili an extra layer of aroma.
Yield: 6 Portions
Slow Cooker Southwest Chicken Chili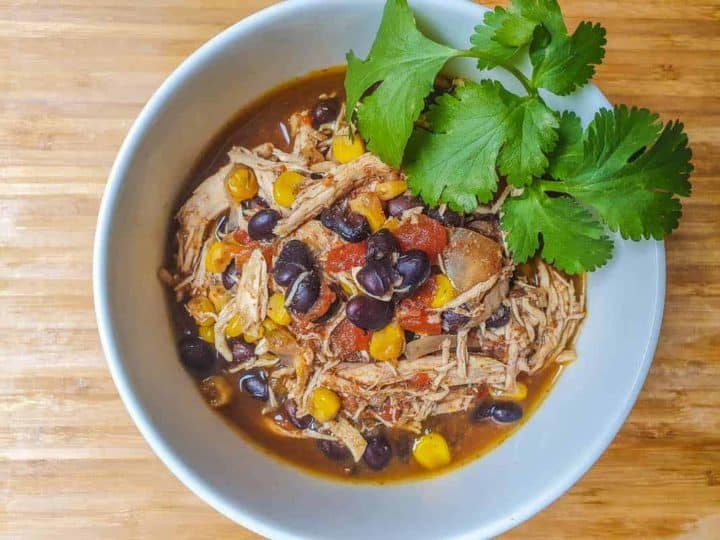 A tangy and spicy slow cooker southwest chicken chili recipe that is perfect for game day, pot luck, or a perfect set-it-and-forget-it week night meal.
Total Time
8 hours
5 minutes
Ingredients
1 pound chicken breasts
salt and pepper
2 15 ounce cans of black beans, undrained
1 15 ounce can of corn kernels, drained
1 10 ounce can of diced toms with chilis, undrained
1 cup chicken broth
1 small onion, diced
5 cloves of garlic, diced
1 package low sodium taco seasoning
1 teaspoon cumin powder
1 teaspoon chili powder
crushed red pepper to taste
Cilantro for garnish
Instructions
Place chicken breasts in bottom of slow cooker.
Sprinkle with salt and pepper to season the chicken. Turn the chicken over with a fork and season the other side.
Add undrained black beans, corn, and diced tomatoes.
Add diced onion and diced garlic.
Add taco seasoning, cumin, and chili powder. Sprinkle a bit of crushed red pepper.
Add in chicken broth and stir the mixture. Make sure the chicken breasts are fully submerged in the liquid. Cover the slow cooker.
Cook on low for 6 to 8 hours or on high for 4 hours.
About 30-60 minutes before the time is up, stir the pot and remove the chicken breasts.
Using two forks shred the chicken into bite-sized pieces. Return them to the pot and stir again to coat the chicken in the broth.
Once complete serve with cilantro for garnish, shredded cheese, sour cream, or avocado.
Recommended Products
As an Amazon Associate and member of other affiliate programs, I earn from qualifying purchases.
Nutrition Information:
Yield:
6
Serving Size:
1
Amount Per Serving:
Calories:

455
Total Fat:

8g
Saturated Fat:

2g
Trans Fat:

0g
Unsaturated Fat:

4g
Cholesterol:

75mg
Sodium:

469mg
Carbohydrates:

55g
Fiber:

15g
Sugar:

5g
Protein:

43g
This nutritional data is provided by a third-party source and should not be relied on if you are on a strict diet.
Then top it with shredded Mexican cheese, a dollop of sour cream, pickled jalapeno peppers, sliced avocado and more.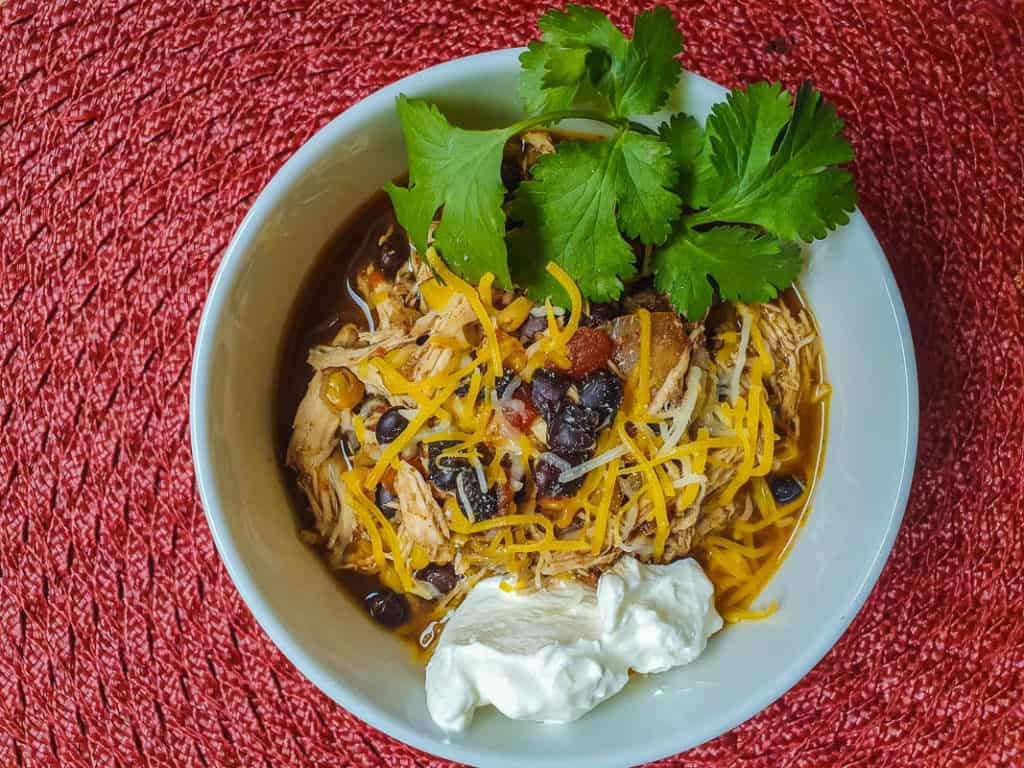 Modification And Variations
There are so many different variations for this recipe. To make it more of a chicken chili soup, add just a touch more chicken broth. To make it more of a stew, reduce the amount of chicken broth.
The chili also gets thicker on day two. I love serving the leftovers almost like nachos. We use some thicker tortilla chips to scoop up the chili. Mix it with a little shredded cheese, sour cream, or even salsa.
Or make this recipe with our cilantro lime rice to add some depth of flavor or to spread the recipe for more meals.