This fresh and tangy beetroot hummus recipe is the perfect healthy dip that is fun for parties and get-togethers. Plus it brings the health benefits of fresh beets and the high-protein packed into chickpeas.
Recipe Stats:
Vegan | Hummus | Cooking Time About 25 Minutes
*This post contains compensated links. Find more info in my DISCLAIMER. As an Amazon Associate I earn from qualifying purchases.
Looking for other healthy hummus recipes? Check these out:
Homemade Hummus With Roasted Red Peppers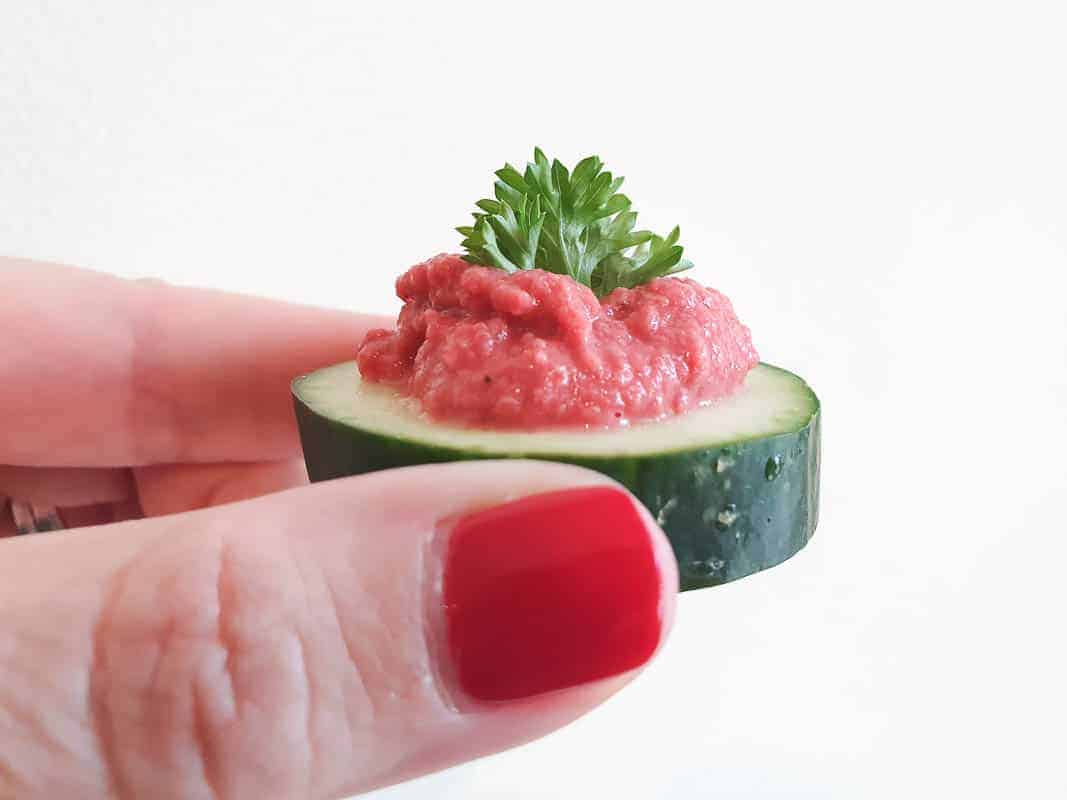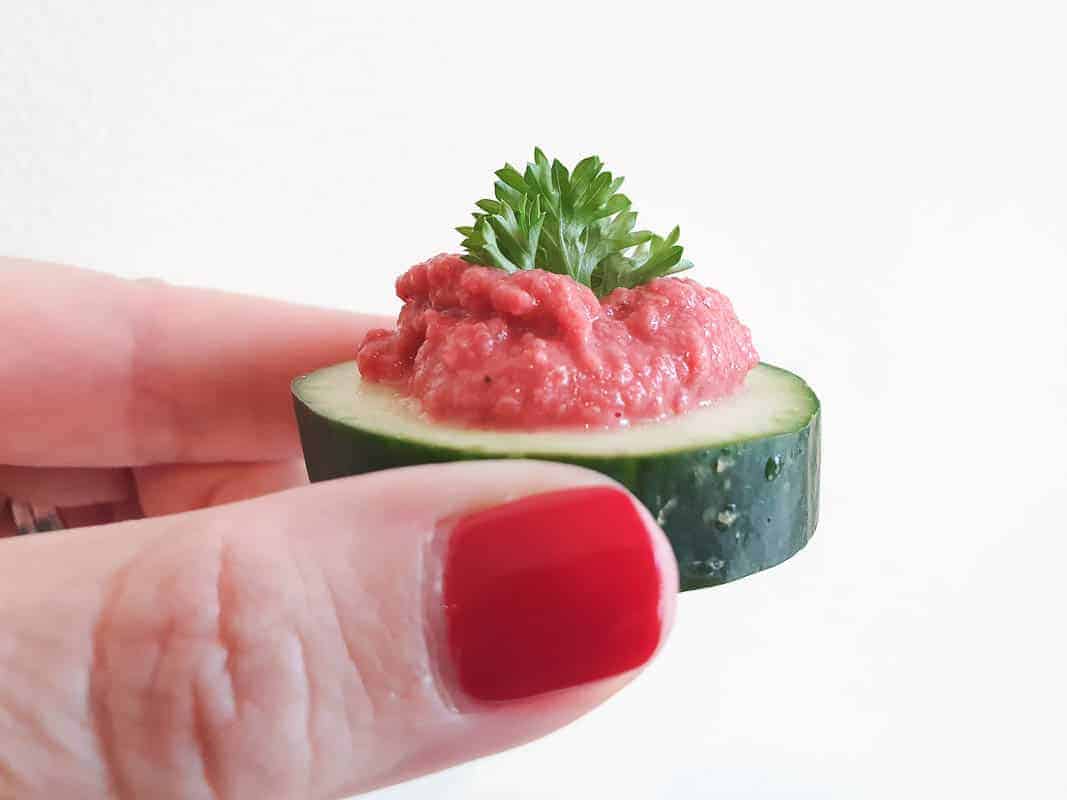 Health Benefits Of Beets
In addition to adding more beans to our diet and trying to cut down on meat proteins, I am always looking for ways to add some superfoods to our regular rotation.
Until a few years ago, Eric wouldn't go near beets. He will drink beetroot juices. Even now, though, I can't get him to eat them plain, as a side dish or by adding them into a salad. I needed to get more creative when trying to get beets into his diet.
There are lots of health benefits from eating beetroot. They are a great source of fiber, iron, potassium, and vitamin C. They also include a lot of folate, which is a B vitamin. Beets also are good for blood circulation and lowering blood pressure. Why not add them into a healthy hummus snack?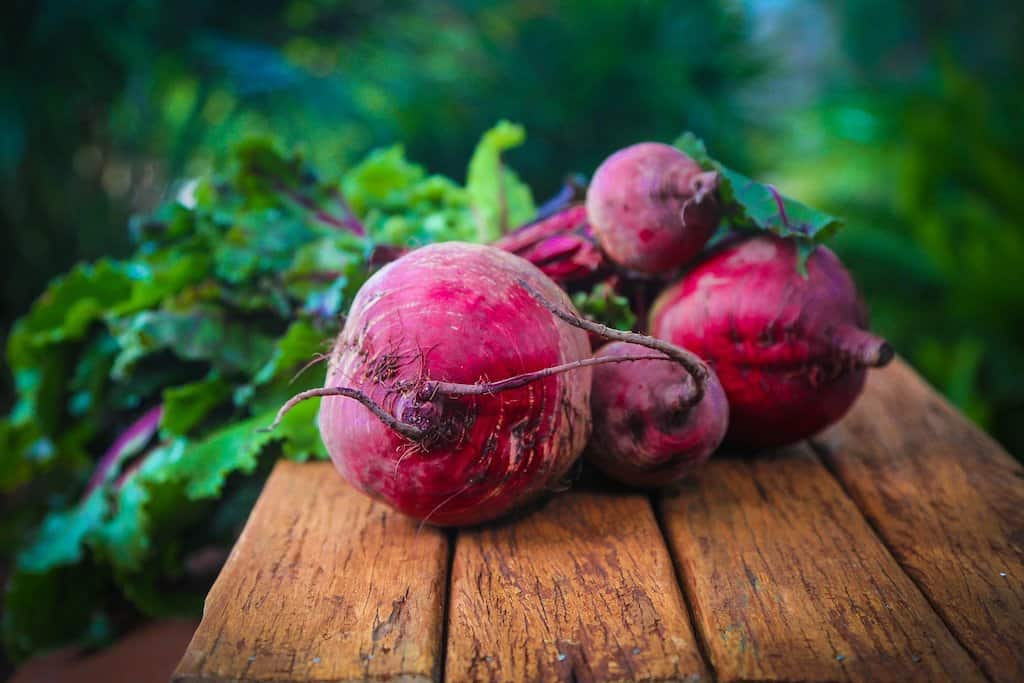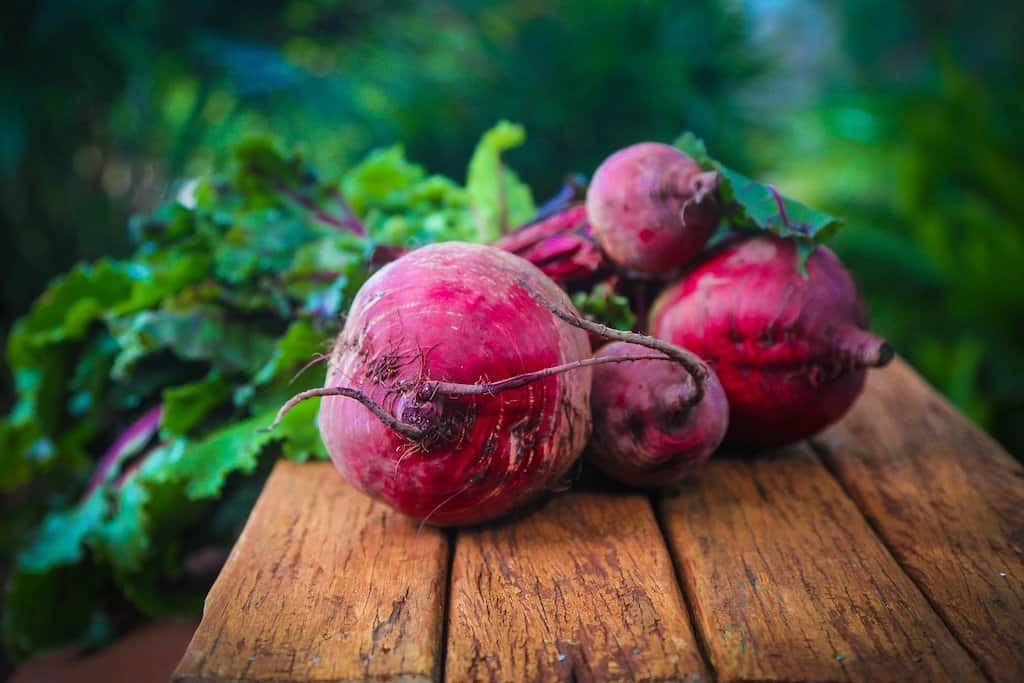 Serve this hummus recipe with chickpea chips.
Making A Princess Dip
No kid wants to be served a healthy beetroot dip. But, if you don't tell them this dip includes beetroot and chickpeas they might not know.
When I served this dip at my sister in law's house, I wanted my niece to try it. She's a pretty picky eater although she loves hummus. She looked at this dip with some skepticism. I called it "princess dip" and she dug right in.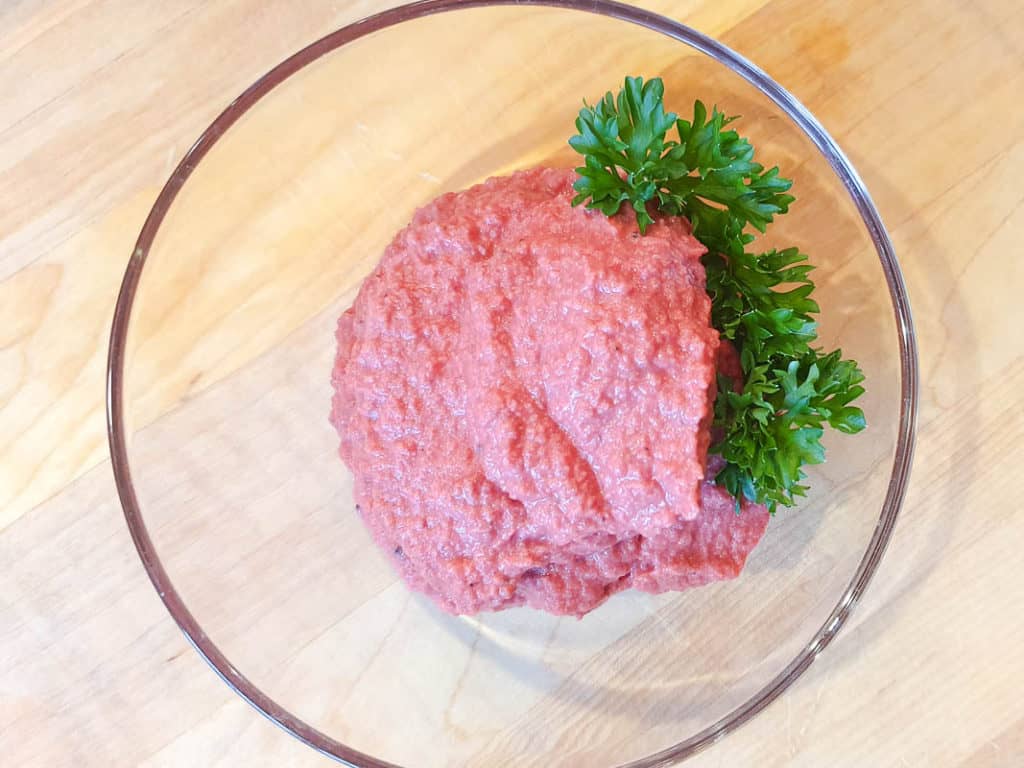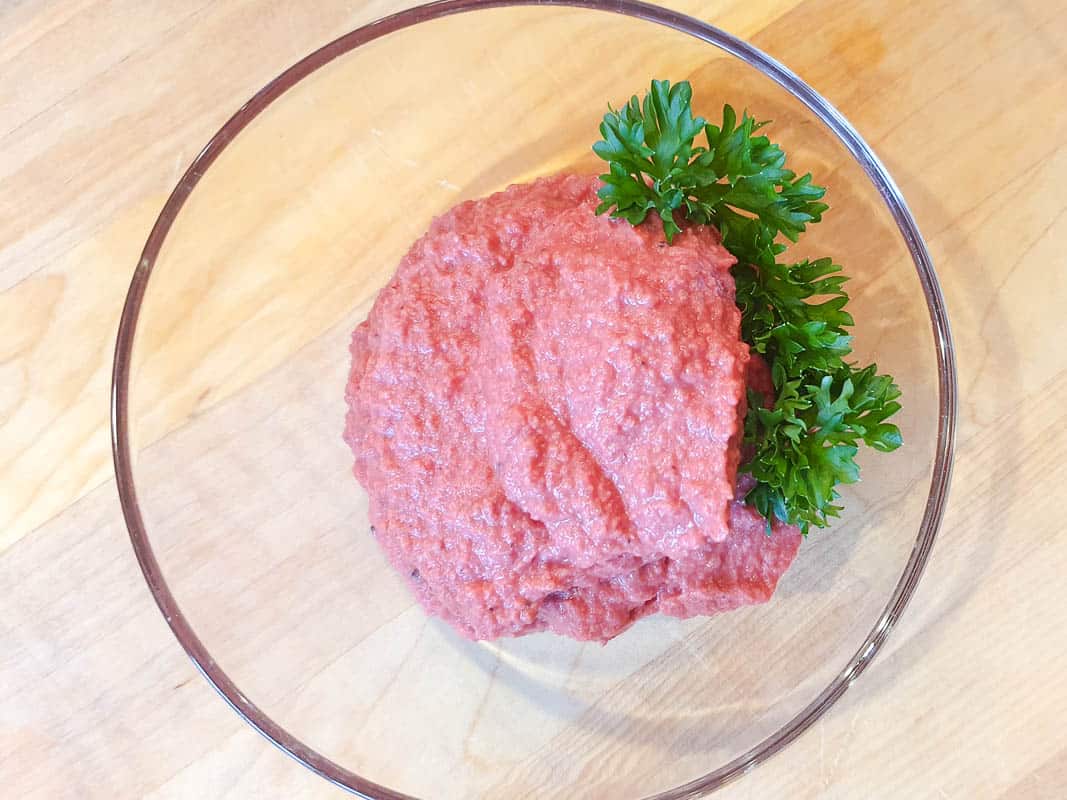 Vegan Beetroot Hummus Ingredients
For this beet hummus recipe, I used store-bought, pre-cooked beets. You can buy them in shrink-wrapped packaging in the produce area of the grocery store. In Spain, I can buy them in packages of two large beets. When shopping at Harris Teeter, I found them in a package of five smaller beets.
For this easy beetroot dip, I added a can of chickpeas, garlic, lemon juice, lemon zest, and tahini. I like using this OXO lemon zester, which makes testing lemons super easy. It's got little stainless steel holes to help the testing process.
I served the dip with gluten-free pita chips, baby carrots, and also placed some on cucumber rounds topped with a little parsley for garnish.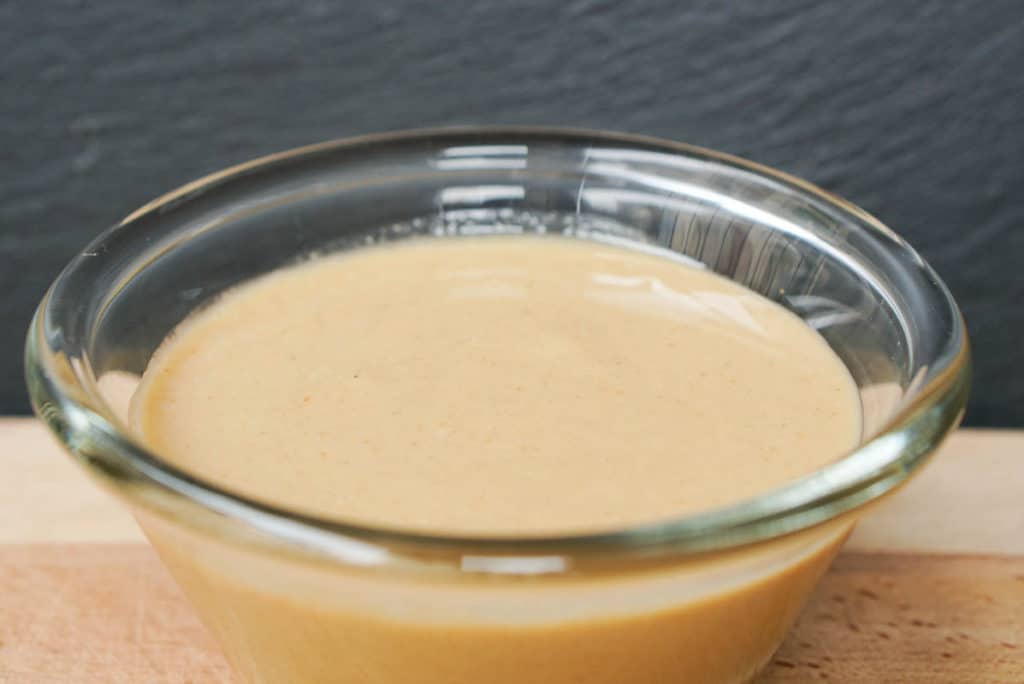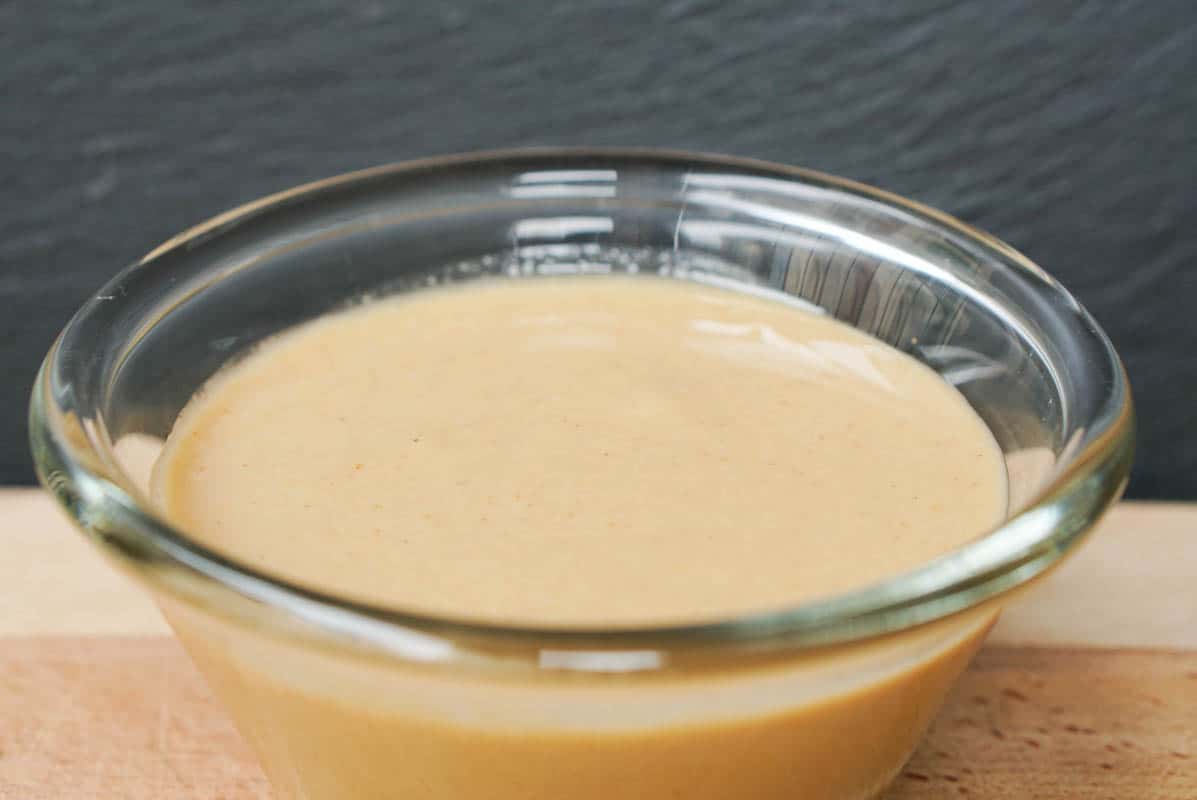 How To Make Beetroot Dip
It's not difficult at all to make a homemade beetroot dip. It's essentially a regular old hummus recipe, made pink and powerful with the addition of beets.
For this beetroot hummus dip, I bought pre-cooked beets from the grocery store. Rinse and drain the beets to eliminate the excess juice. Then, cut them into smaller pieces to make them easier to mix in a blender or food processor.
I usually like to use a bit more garlic in my hummus, but tone it down for red beet hummus because you don't want it too spicy or overwhelming. Add two cloves of garlic, tahini, lemon juice, lemon zest, salt, and pepper to a blender or food processor. Mix the ingredients.
Then, add the chickpeas and beets and mix until smooth. This is why I love making hummus. The most difficult part is preparing the chickpeas and then it is smooth sailing!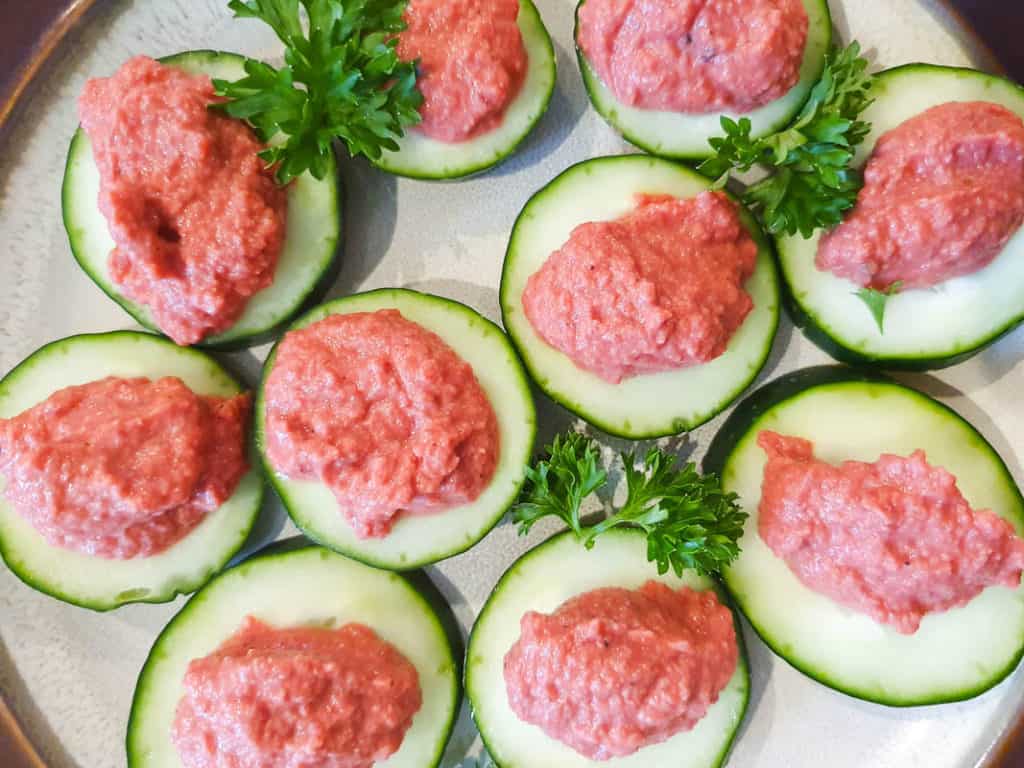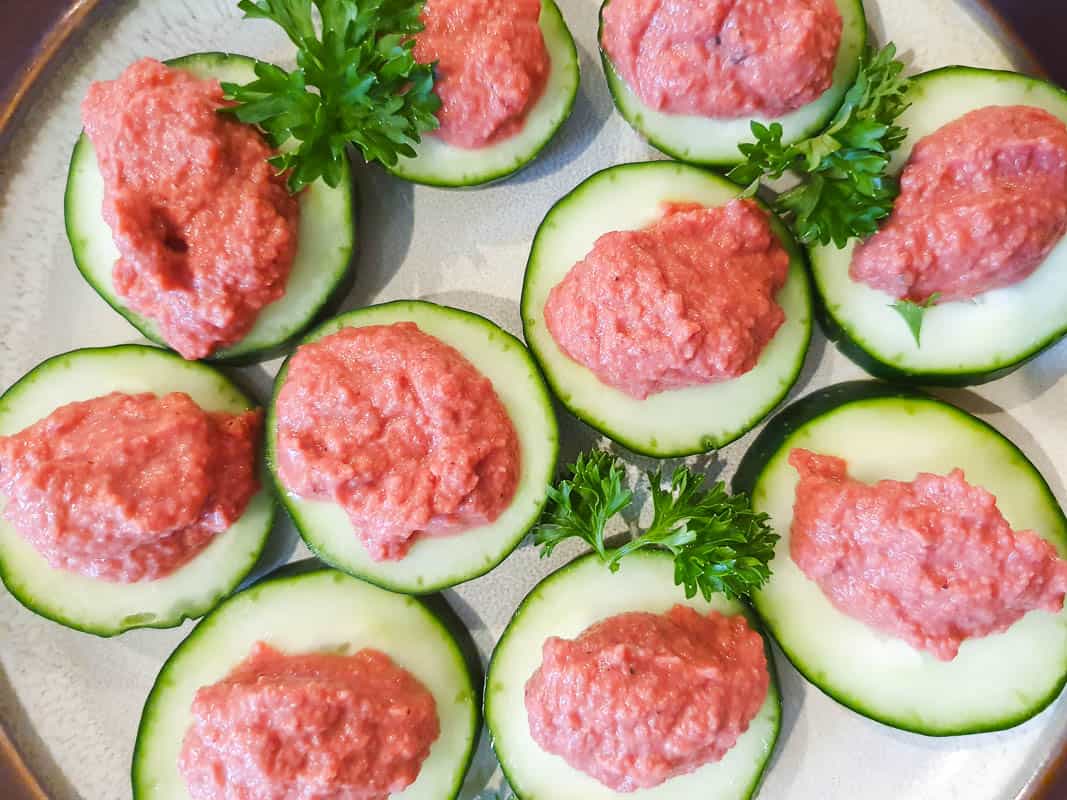 How To Make Beetroot Hummus With Canned Chickpeas
I use canned chickpeas for most hummus recipes. Although I don't mind using dry chickpeas for recipes, I like to keep my hummus recipes as easy as possible. There's no reason why a beetroot and hummus dip should be any more difficult than it needs to be. This is one of the reasons why hummus makes such a great snack – it's easy to prepare.
I boil my chickpeas in hot water for about 10 minutes or until they are soft enough to mash with a fork. I use a blender or food processor to make hummus, but like to start with soft chickpeas. It's not necessary to cook chickpeas when making hummus, but for this recipe I do because it helps the consistency of the hummus.
Before draining the chickpeas, skim the peels of the chickpea from the top of the water. You can make the hummus with the peels, but it can be a little grainy. To remove the rest of the peels, you can do it by hand. Or, rub the chickpeas between paper towels to remove.
The Bean Bites Hummus Pro Tip
Do you need to remove the peel of a chickpea before using? No. There is nothing bad in the peel. Many people just don't like the texture they add to the hummus. When I am entertaining, I remove the peels to make the hummus as smooth as possible. When I am making it just for us at home, I save time and skip the step.
Yield: 3 cups
Beetroot Hummus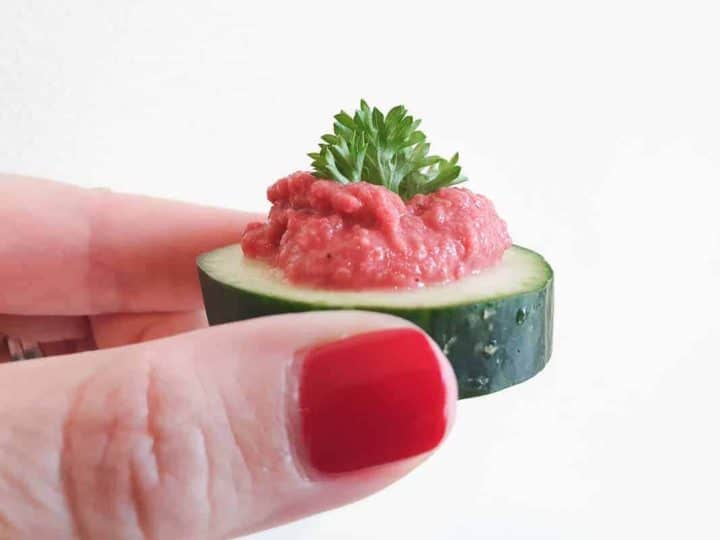 This fresh and tangy beetroot hummus recipe is the perfect healthy dip that is fun for parties and get-togethers.
Additional Time
5 minutes
Ingredients
1 can garbanzo beans, drained and rinsed
2 garlic cloves, pressed or mashed
Zest from one lemon
Juice from one lemon
2 medium-sized beets or 5 small beets
2 tablespoons tahini
salt and pepper to taste
Instructions
Drain and rinse chickpeas in a colander in cool water
Boil chickpeas in a medium-sized saucepan for 10-15 minutes or until soft
Remove shells from chickpeas if you desire
Place garlic, lemon zest, lemon juice, and tahini in a blender or food processor. Mix well.
Cut beets into small pieces so that they are easy to blend
Add chickpeas and beets to the mixer and blend. If necessary, add a tablespoon of warm water at a time until the hummus reaches the desired consistency.
Taste and add salt and pepper if desired.

Notes
It's pretty easy to make fresh hummus at home once you get the basic process done. Take a look at our tips above if you are unfamiliar with how to make hummus.
Recommended Products
As an Amazon Associate and member of other affiliate programs, I earn from qualifying purchases.
Nutrition Information:
Yield:
6
Serving Size:
1
Amount Per Serving:
Calories:

164
Total Fat:

4g
Saturated Fat:

1g
Trans Fat:

0g
Unsaturated Fat:

3g
Cholesterol:

0mg
Sodium:

321mg
Carbohydrates:

28g
Fiber:

6g
Sugar:

12g
Protein:

6g
This nutritional data is provided by a third-party source and should not be relied on if you are on a strict diet.
Modifications And Variations Of The Vegan Beetroot Dip
Love the beets but want something different? How about dicing up some fresh mint to make a beetroot and mint hummus. Or, everyone is talking about the health benefits of walnuts. Try dicing up walnuts pretty fine to make a beetroot and walnut hummus.
I served this beetroot hummus recipe during a family reunion when lots of dishes needed to be prepared over a few days for a large number of people. I bought pre-cooked beets to make my life easier. You can also make roasted beetroot hummus and roast your beets from scratch. Or you can boil your beets at home yourself. The roasted beet dip will taste a little less sweet than this version.