This fresh and tangy cilantro lime rice recipe is one of our favorite rice variations. I feel like I am cheating by adding this recipe to the blog as it is certainly not a recipe for beans. But, it's one of our favorite ways to make rice and it pairs so beautifully with so many great bean recipes.
Recipe Stats:
Side Dish | Southwestern | Cooking Time About 35 Minutes | Sub vegetable broth for chicken broth to make recipe vegan
*This post contains compensated links. Find more info in my DISCLAIMER. As an Amazon Associate, I earn from qualifying purchases.
Different Ways To Cook Rice
Once I thought there was only one way to make rice, on the stove with an appropriate amount of water. Then, we started using a rice cooker to prepare rice at home. Then I learned I could cook rice in chicken broth and it changed my world.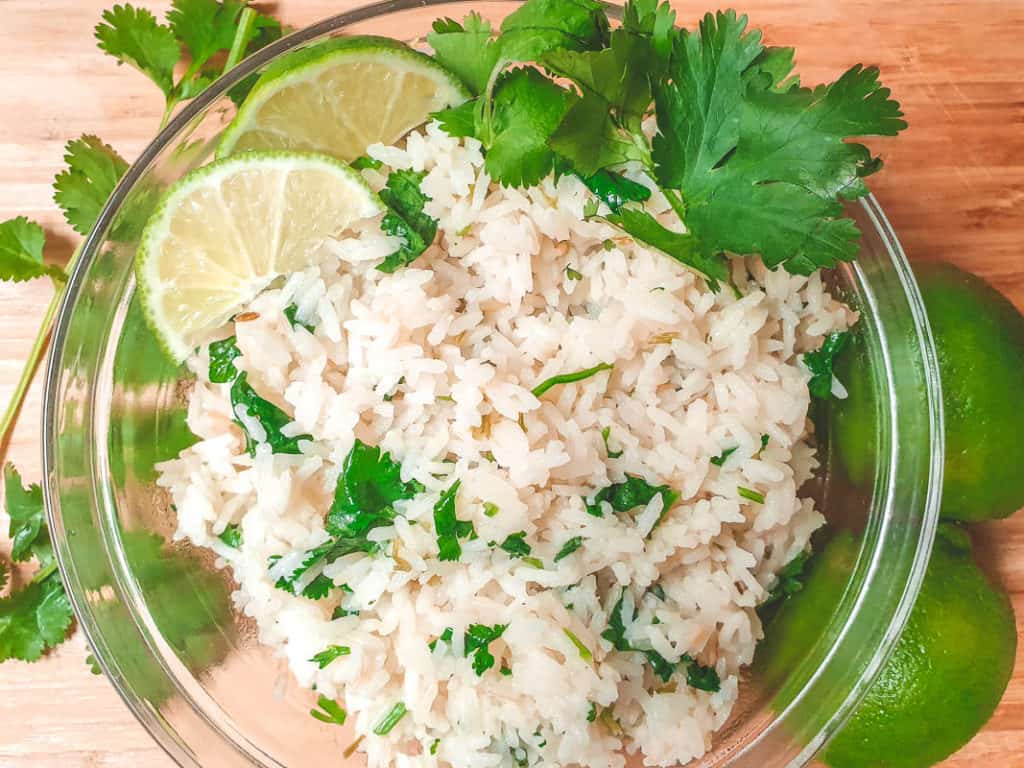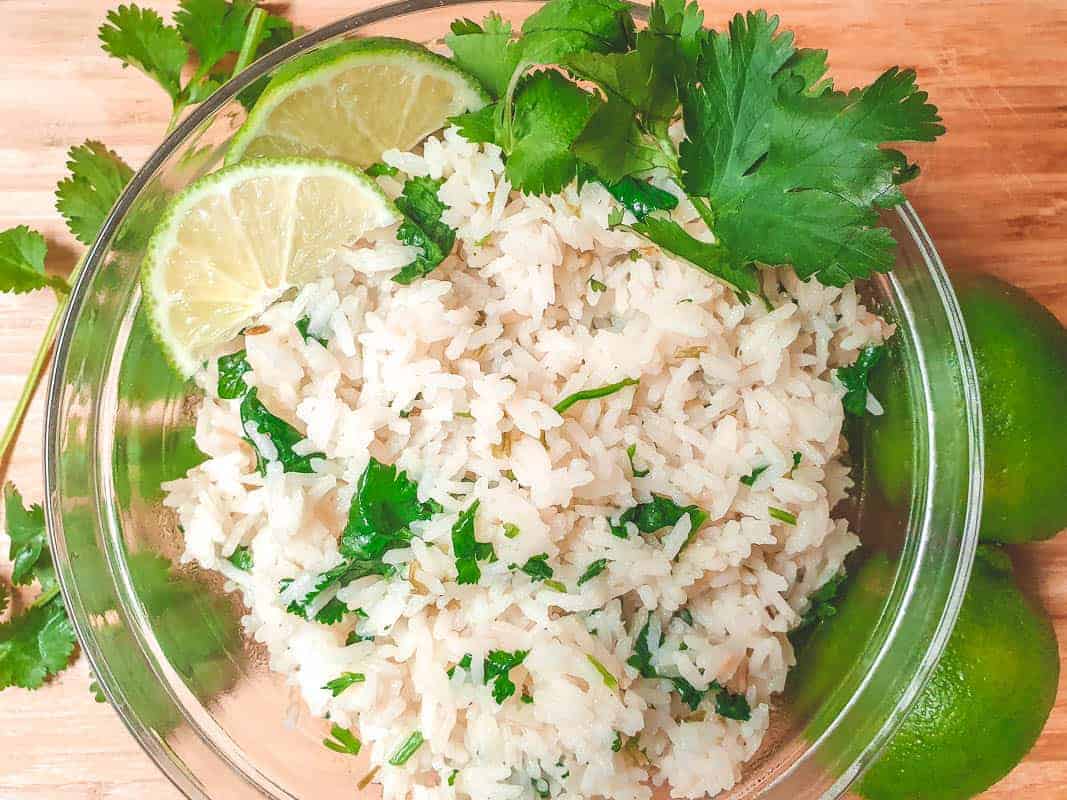 Since then, I've been looking for different ways to cook rice. I make a mean risotto. But, I also like something a little more interesting than plain white rice for many of our bean recipes. What's great is that this rice recipe relies on only a few more ingredients and isn't that much more cumbersome than plain old white rice.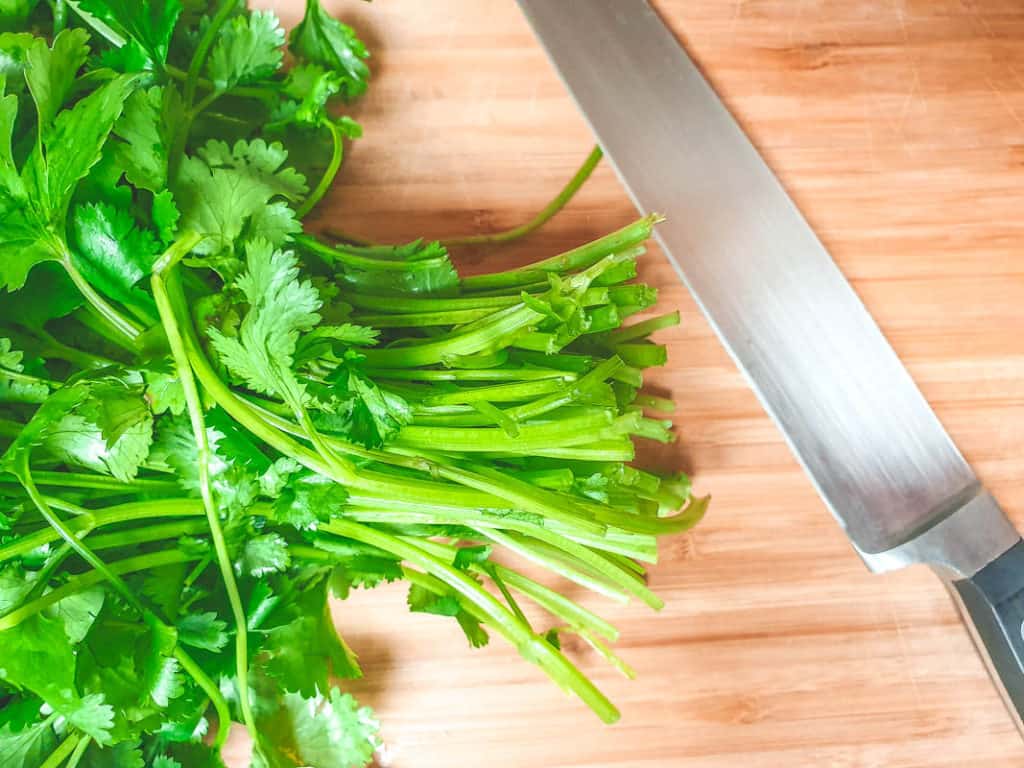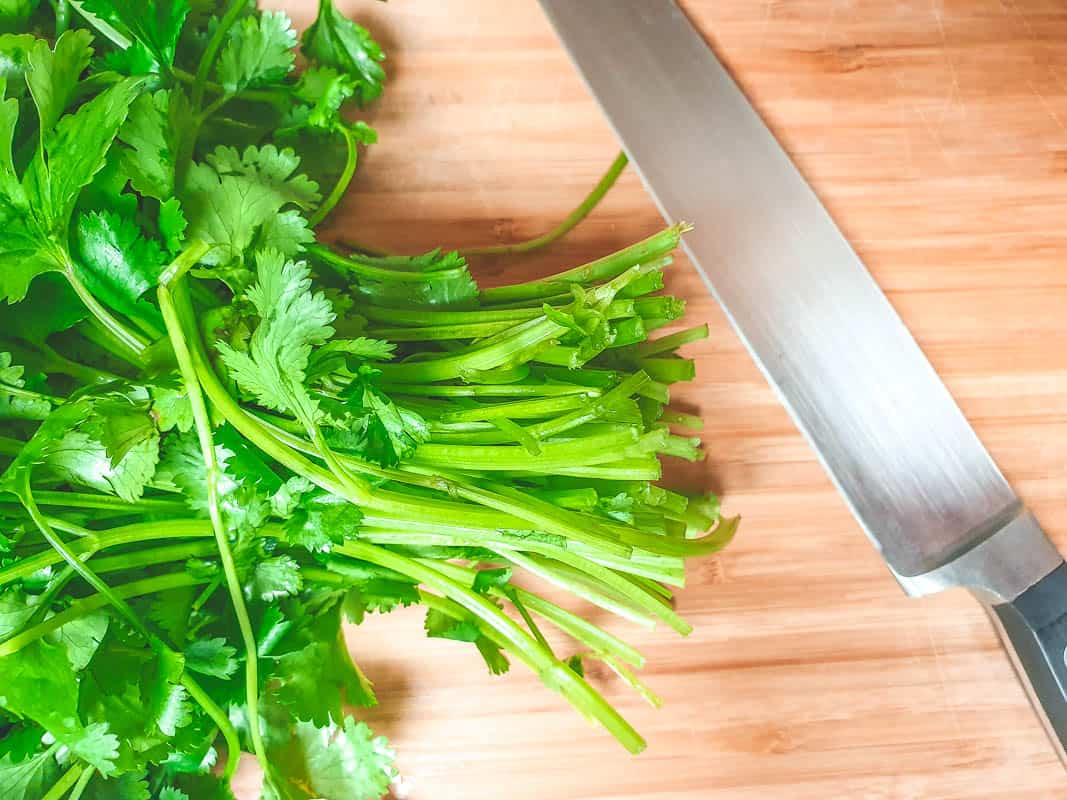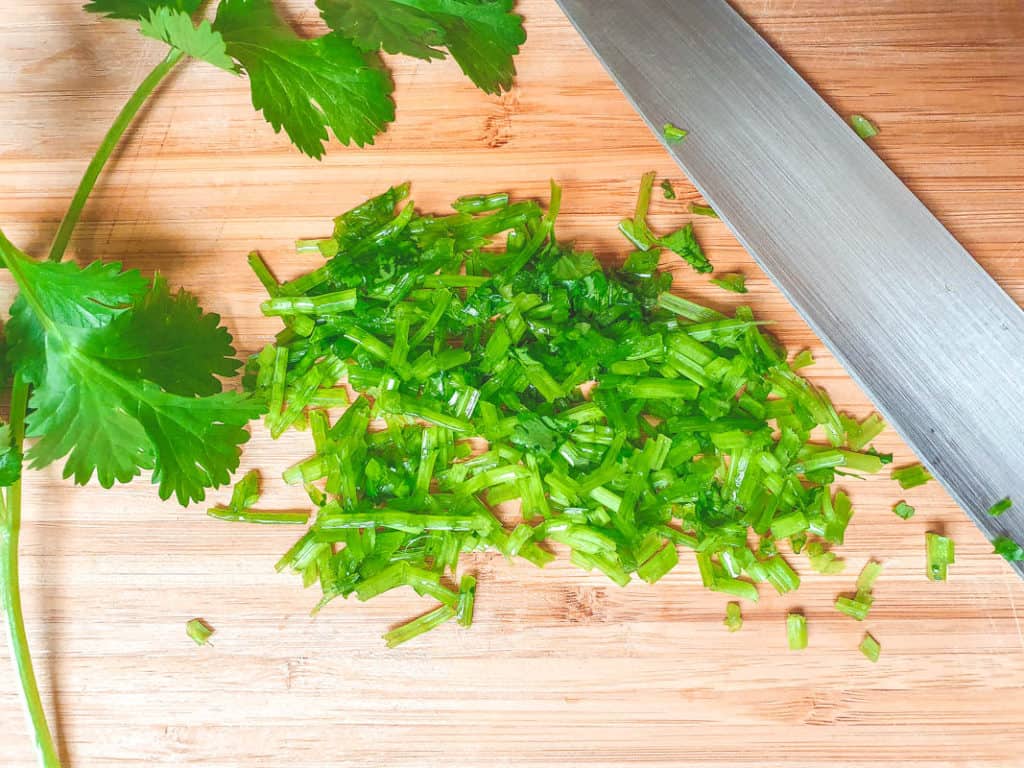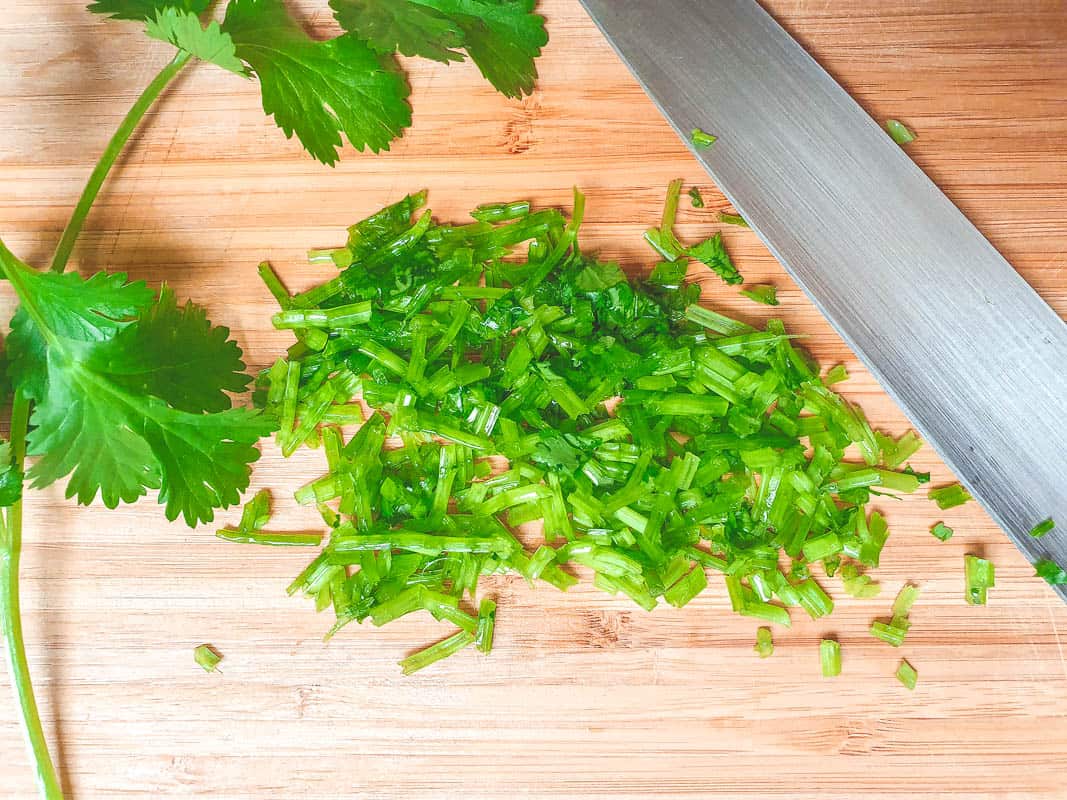 Using Cilantro In Rice Dishes
I started making rice dishes with garlic and cilantro in a similar way to how I make risotto. I add olive oil to a medium saucepan. Once warm I add garlic and then rice. By coating the rice in olive oil and infusing it with garlic, the rice just picks up those flavors so beautifully.
The trick here is in how I use cilantro. I use this technique in a lot of recipes that call for cilantro (or coriander depending on where you live). If you add cilantro leaves into a dish too soon they wilt and start to brown. It leaves them less flavorful and they look yucky.
What I do is dice the green stems of the cilantro and add them to the recipe. For this rice recipe, I add the diced cilantro stems at the same time as the garlic. This infuses the rice with the flavors and aromas of both garlic and cilantro without having yucky brown cilantro leaves at the end.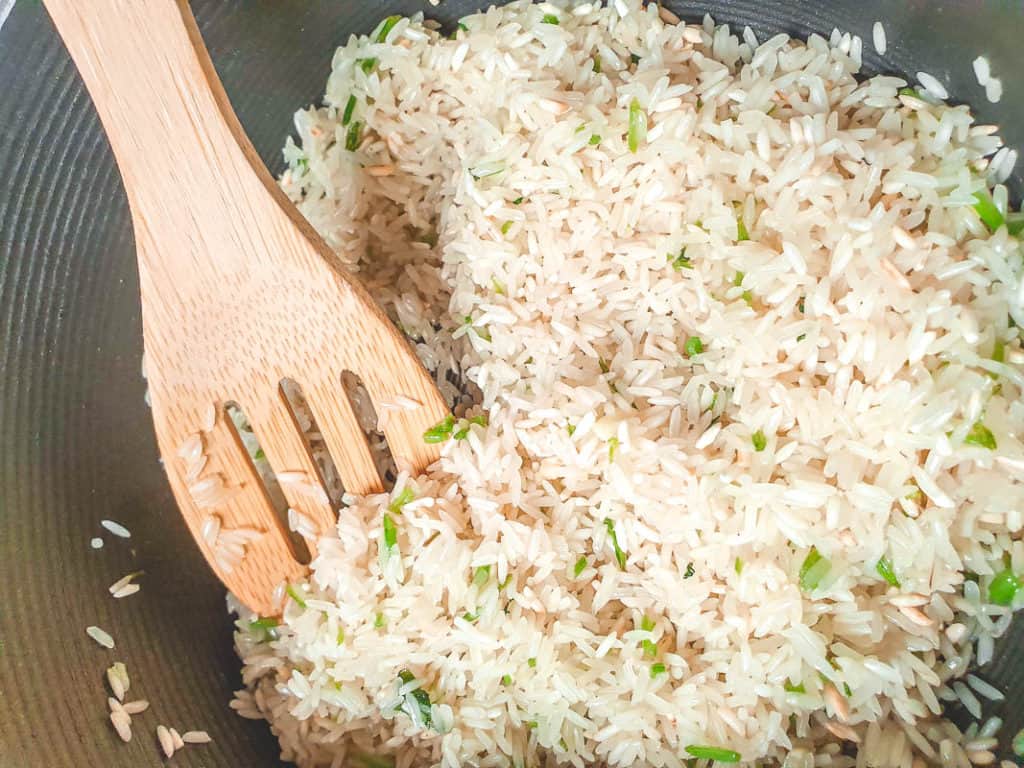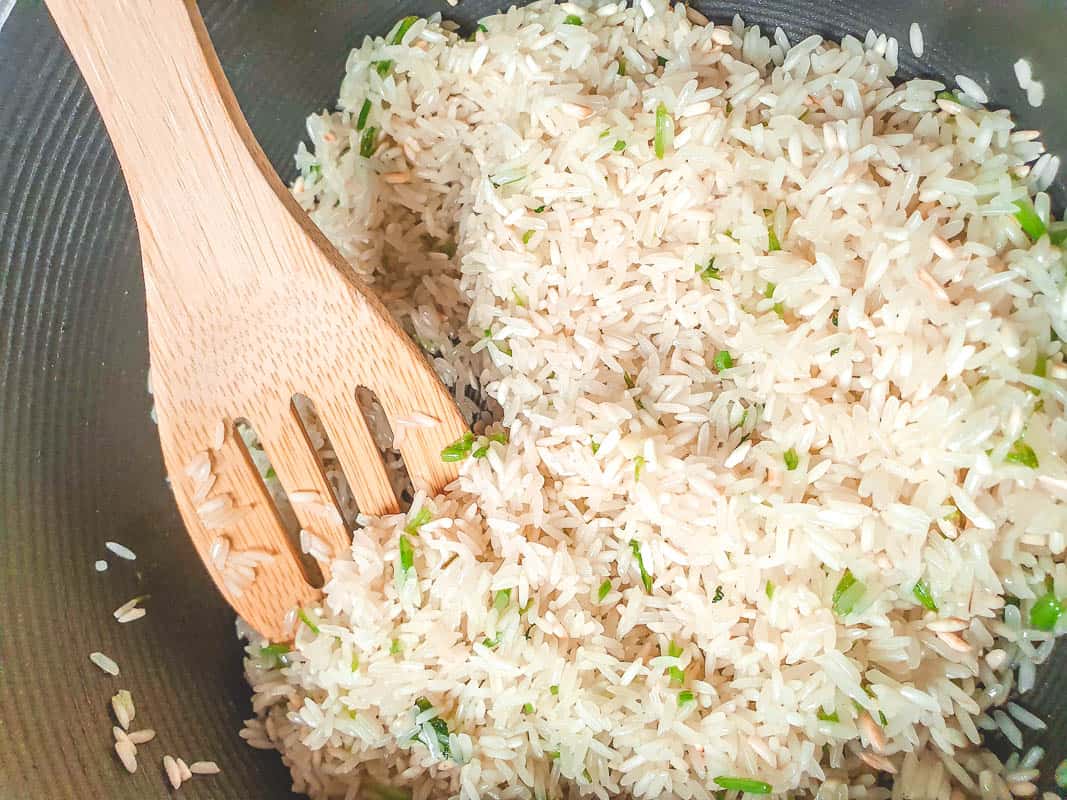 Browing The Rice
Once the rice is added to the oil over medium-high heat, it's important to continue stirring regularly to ensure the rice is completely coated in the olive oil.
A lot of recipes say to cook the rice until it starts to brown. That's kind of hard to time. Rice can turn from "starting to brown" to burnt super quick. I always have my chicken broth ready to go to add in as soon as I see the color change.
In the end, I know it's ready when the rice is coated, the garlic starts to yellow, and as soon I see just a few rice kernels browning. I add the chicken broth to the saucepan to stop the browning process before it turns to burnt rice.
How To Make Rice With Cilantro And Lime
Once the rice is almost done, that's when it is time to make it officially rice with cilantro and lime. Just before it is done, add the lime zest and lime juice. I like to use this zester from OXO whenever I need to zest lemon or lime. It has a comfortable grip handle and four little stainless steel holes to easily zest any citrus fruit.
Stir the rice to coat it in the lime and to release the aromas. Remove the rice from the heat and add the rest of the chopped cilantro. Use a fork to fluff the rice and distribute the cilantro. Add another spritz of lime and you are done.
Recipes That Pair Well With This Rice
Chipotle Black Beans With Lime And Cilantro Rice
Southwest Style Chicken Chili With Black Beans And Rice
Yield: 4 Portions
Cilantro Lime Rice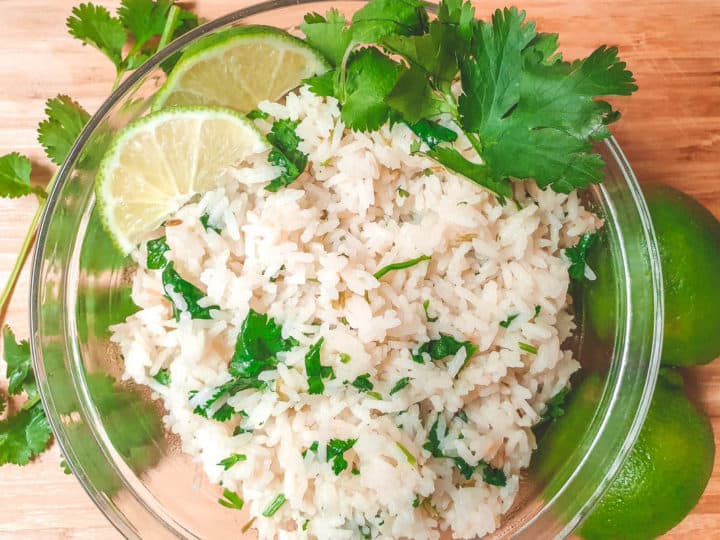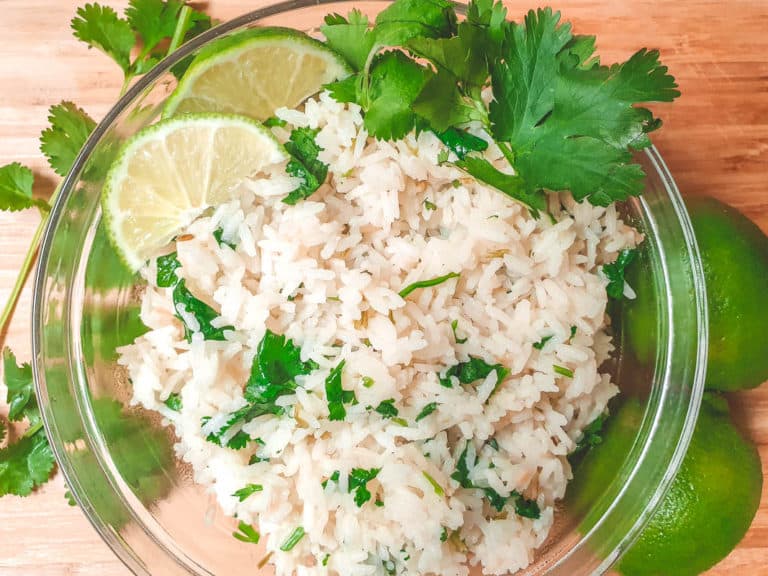 This easy cilantro lime rice recipe is simple to make and works as a flavorful option as a side dish for so many different bean recipes.
Ingredients
2 tablespoons olive oil
1 cup long-grain white rice
1 clove of garlic, diced
2 tablespoons finely diced cilantro stems
1/4 cup chopped cilantro
2 cups chicken broth
Lime zest
3 tablespoons lime juice
Instructions
Warm the olive oil in a medium-sized saucepan.
Add garlic and cilantro stems and coat in olive oil.
Add rice and coat in the olive oil.
Stir the rice occasionally until the rice just starts to brown. Just a few grains of rice will start to brown.
Add chicken broth and stir. Bring to a boil. Once the broth starts to boil, cover loosely.
Reduce to a simmer and allow to cook for about 20 minutes or according to package instructions.
Once the rice is just about finished, add lime zest and lime juice and fluff with a fork.
Remove from the heat and fold in the chopped cilantro with a fork.
Nutrition Information:
Yield:
4
Serving Size:
1
Amount Per Serving:
Calories:

125
Total Fat:

7g
Saturated Fat:

1g
Trans Fat:

0g
Unsaturated Fat:

6g
Cholesterol:

2mg
Sodium:

465mg
Carbohydrates:

14g
Fiber:

1g
Sugar:

1g
Protein:

2g
This nutritional data is provided by a third-party source and should not be relied on if you are on a strict diet.