This creamy curry chickpea salad recipe breaks the mold of the boring salad. Seasoned with garam masala and turmeric and tossed in a dressing with creamy tahini, it's a salad that eats like a meal.
*This post contains compensated links. Find more info in my DISCLAIMER. As an Amazon Associate, I earn from qualifying purchases.
What Is A Curried Chickpea Salad
I go through spurts when I want curry all the time. I think it's from spending so many years living in Asia. And it's almost an impossibility to find curry in our small town in Spain. That's why I end up making it so much at home.
There are so many different types of curry, but in the end, I mostly serve them warm with rice or naan.
By making a cold chickpea curry salad, though, I am able to find more ways to feed Eric curry along with fresh salad ingredients. What makes this salad curried is the use of spices like garam masala.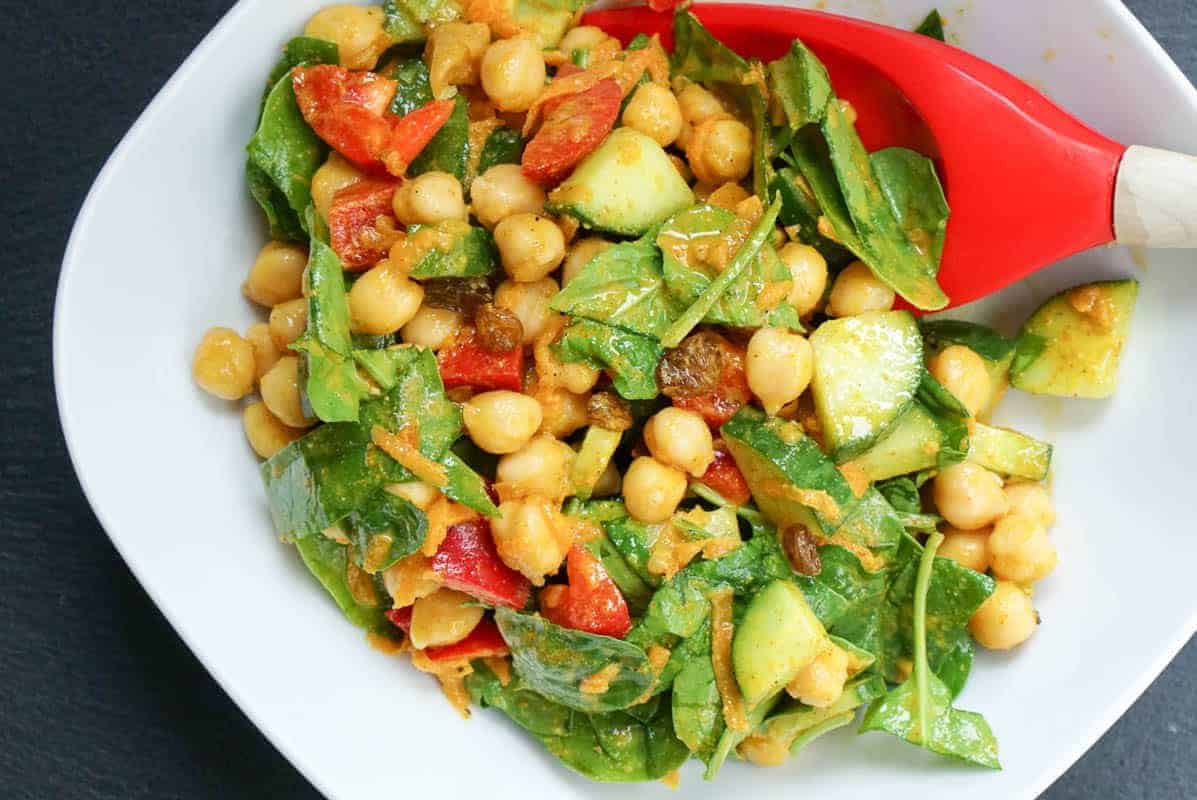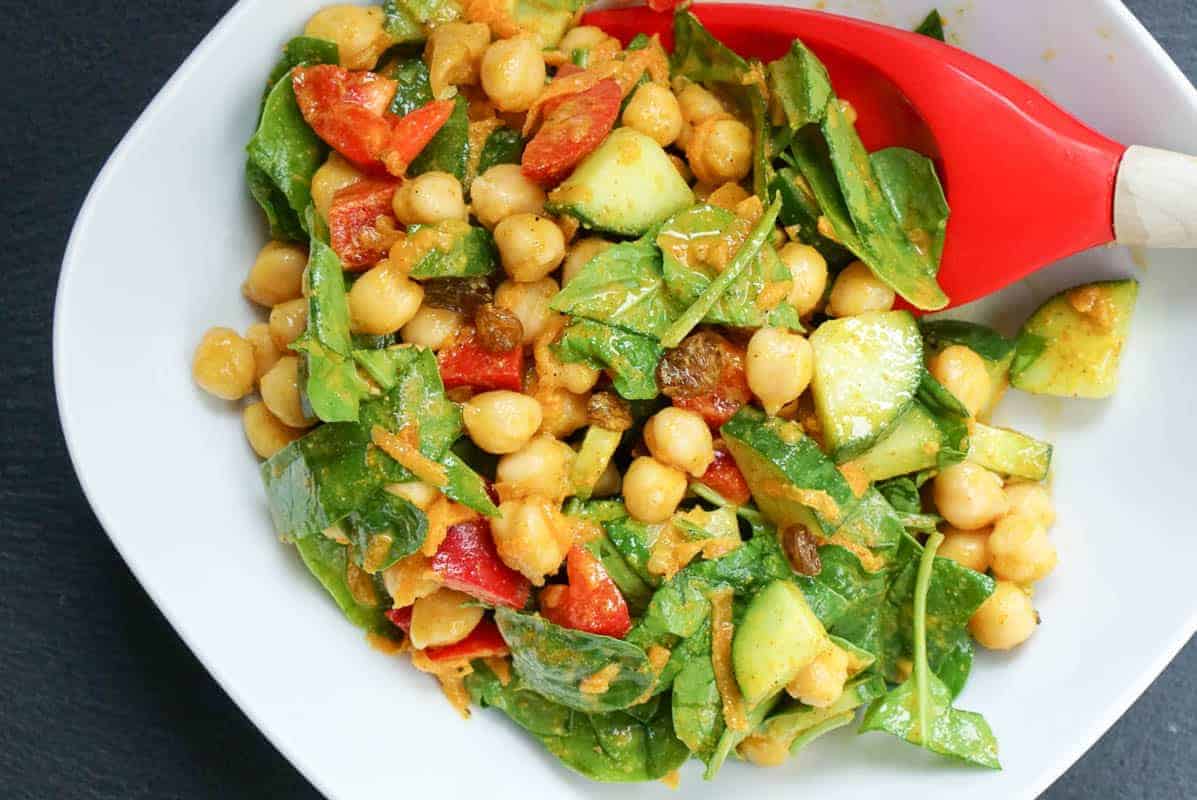 Looking for more curry recipes? Check these out:
Creamy Broccoli And Chickpea Curry
Instant Pot Lentil Curry With Creamy Coconut
Indian Green Lentil Dahl Recipe
Vegan Chickpeas And Spinach Curry
Using Spanish Olive Oil For Salad Dressings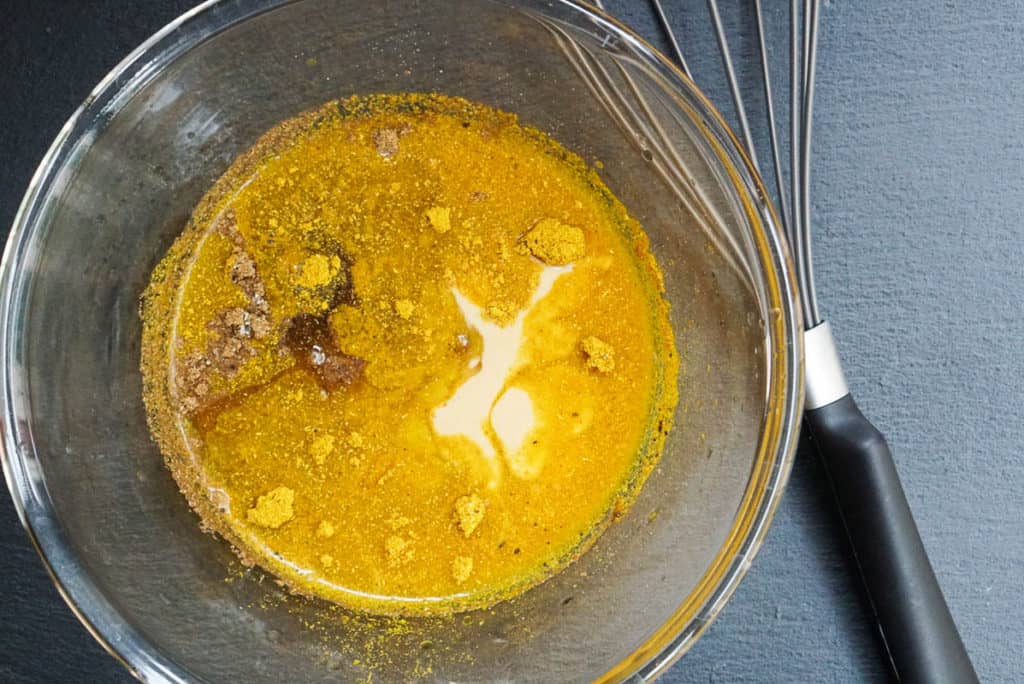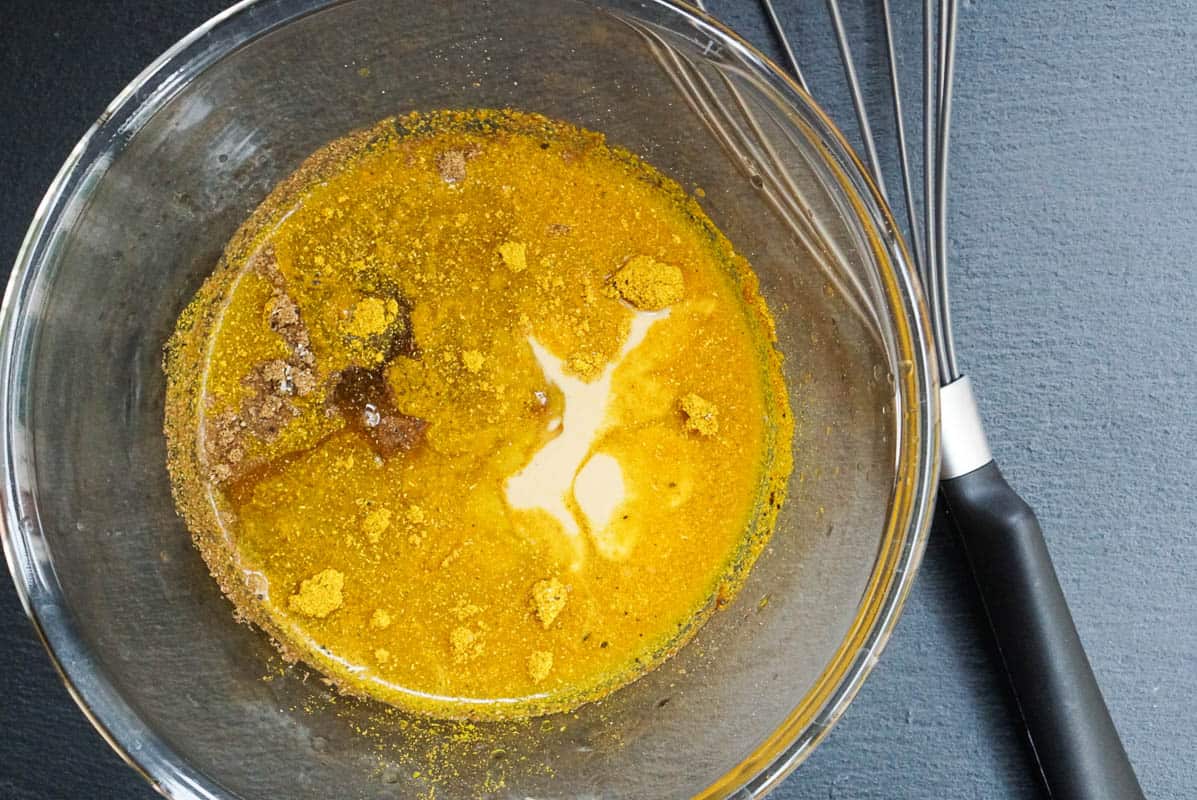 I always use a good olive oil as a base for salad. I know that is subjective and that I am a little spoiled because we live in Spain. I always keep one olive oil for cooking and one for dressings or drizzling on top of recipes.
Large Quantity Olive Oil
Here's the difference. I buy cooking olive oil in larger quantities. It doesn't have to be high-quality, but I tend to look for something Spanish or Italian (don't tell my Spanish neighbors).
Look for an extra virgin olive oil. Even this Meditteranean olive oil from Amazon works well. I will normally buy cooking olive oil in one or two-liter bottles.
Small Batch Olive Oil
I use better quality, more fresh olive oil for salad dressings or for drizzling on top of finished dishes or grilled meats. Normally, these olive oils are served in smaller bottles.
They may be organic or labeled cold-pressed. Although you can buy them on Amazon, I find they are best purchased when traveling or from specialty shops, particularly ones where they offer a taste test.
The thing about quality olive oil, though, is that it starts to age the moment it enters the bottle, not when it is opened. If you have a good bottle at home – use it! Don't let it sit around. Olive oil only lasts about 12-18 months. After that, it can actually spoil.
Garam Masala For A Curried Chickpea Salad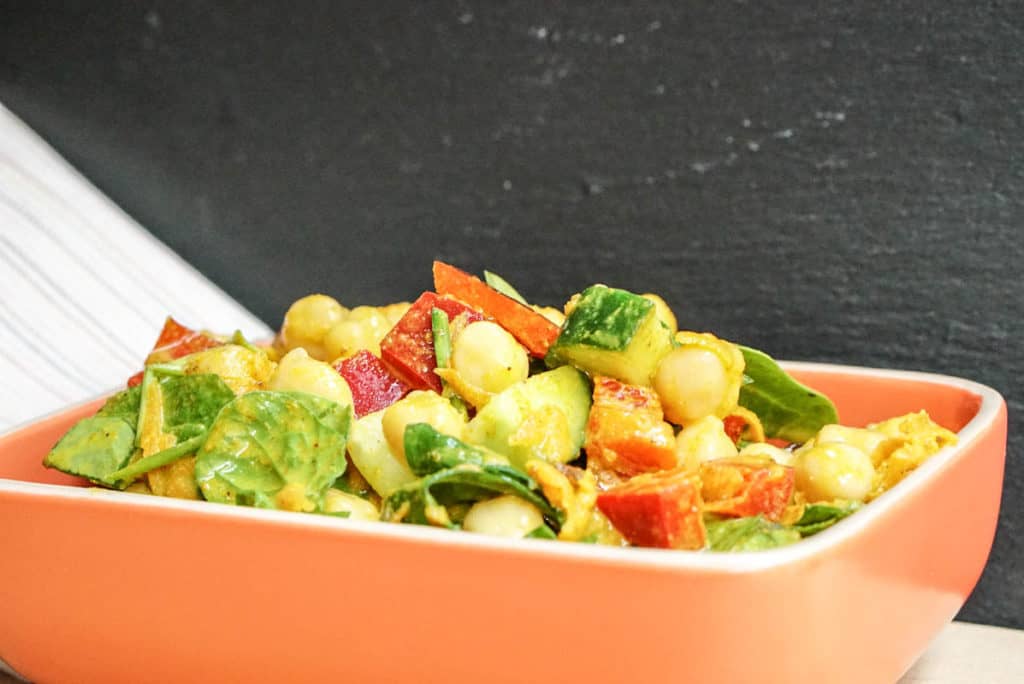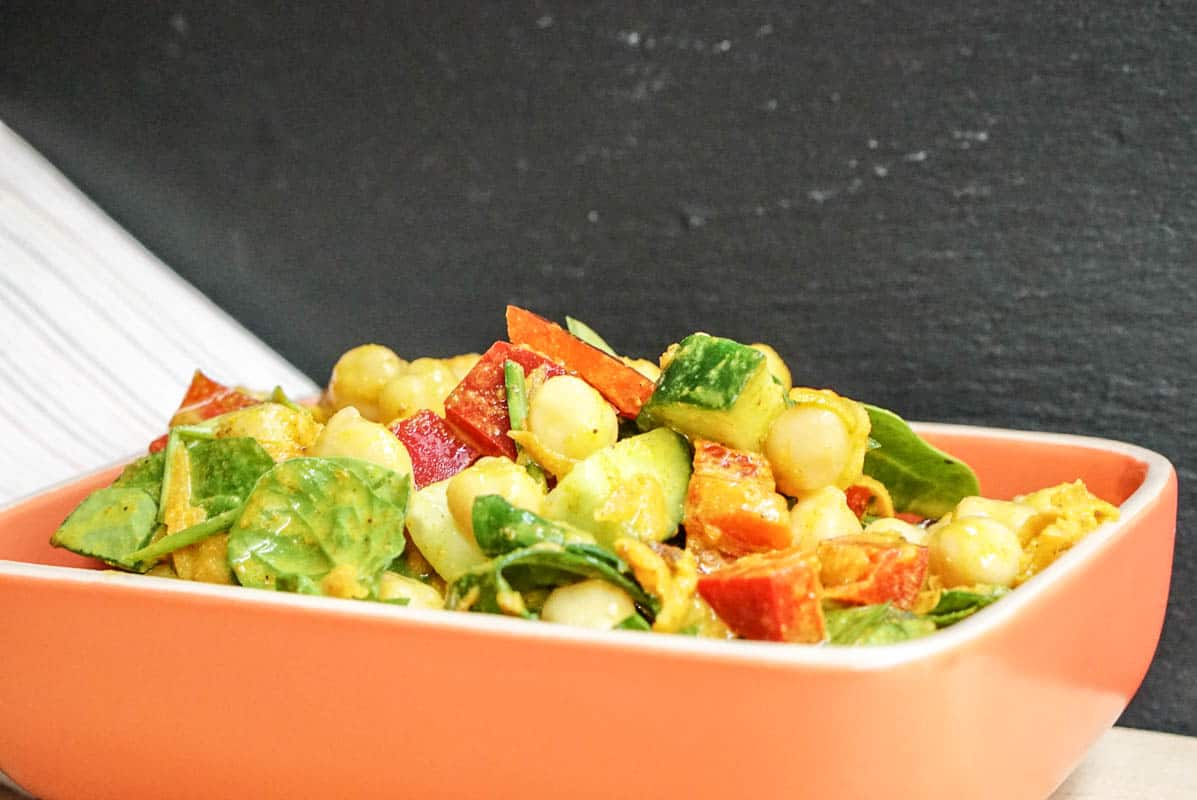 The addition of garam masala to this salad is what makes this easy chickpea salad recipe so unique. Garam masala is a blend of ground Indian spices.
Garam translates to hot and masala translates to spices. But, most garam masala blends are not hot and spicy. Instead, the spices used are normally toasted to bring in a strong but earthy flavor.
Although many people make their own garam masala at home, I've found it easiest to just buy it in bulk. I use it in so many recipes it just makes sense. Spices in garam masala include cumin, black pepper, cumin, cardamom, and other spices.
Check out our recipe for Easy Moroccan Inspired Quinoa And Chickpea Salad.
Ingredients For The Creamy Chickpea Salad Dressing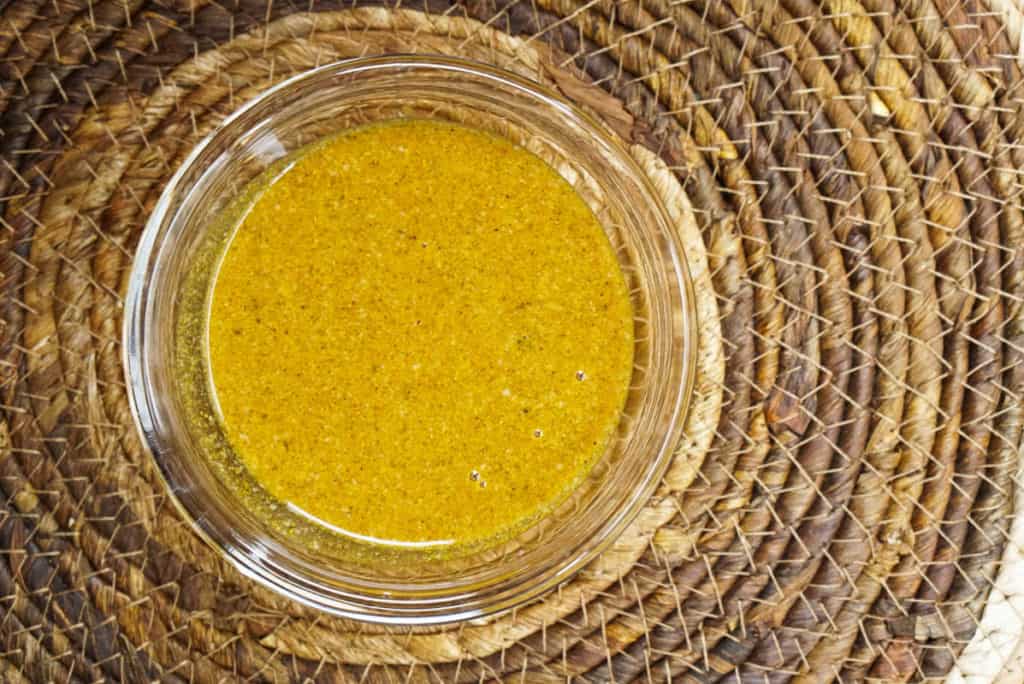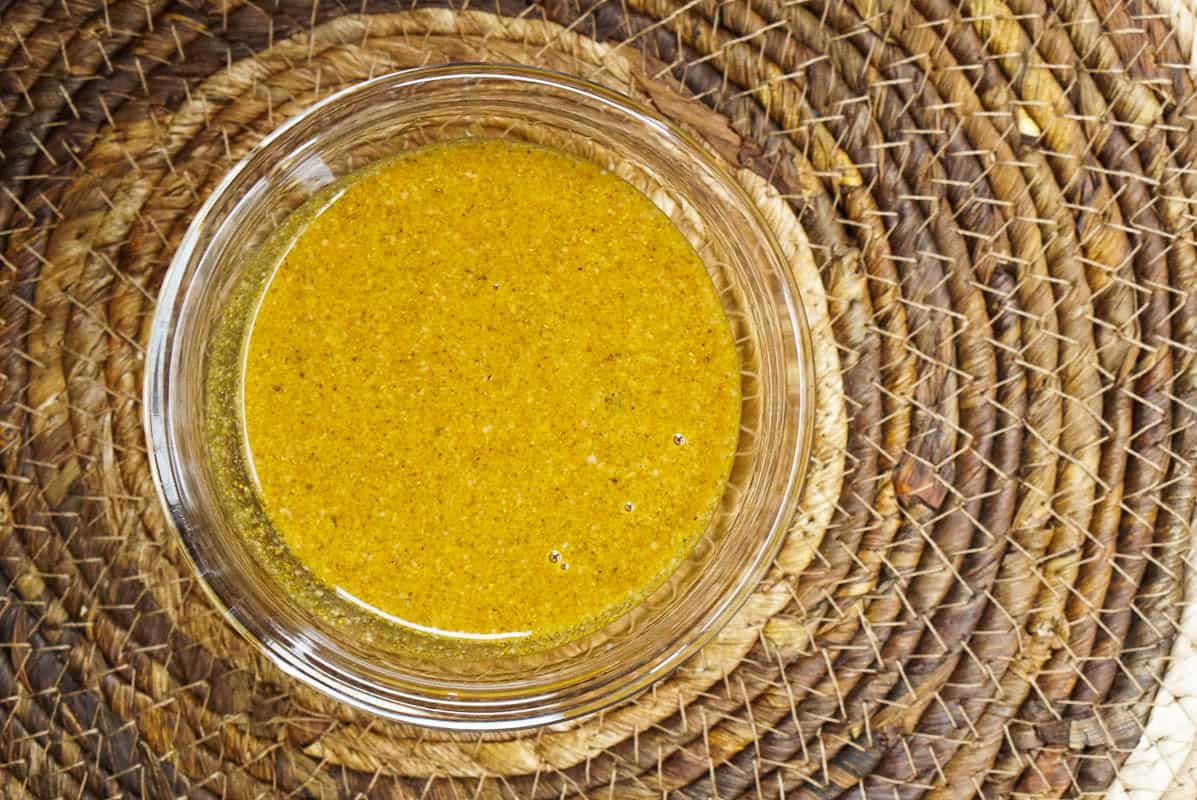 The dressing for this salad includes a lot of standard ingredients that I use in many of my salad dressing.
The base for this dressing includes good quality olive oil. The honey adds a bit of sweetness that offsets the curry flavor.
Acidity is important in any salad dressing because it offsets the richness of the olive oil. For this recipe, use freshly squeezed lemon juice as well as apple cider vinegar.
Apple cider vinegar is almost a secret ingredient in many of my salad dressings because it adds the acid, but also carries a slight bit of sweetness to it – more so than a white wine or red wine vinegar.
Tahini And Garam Masala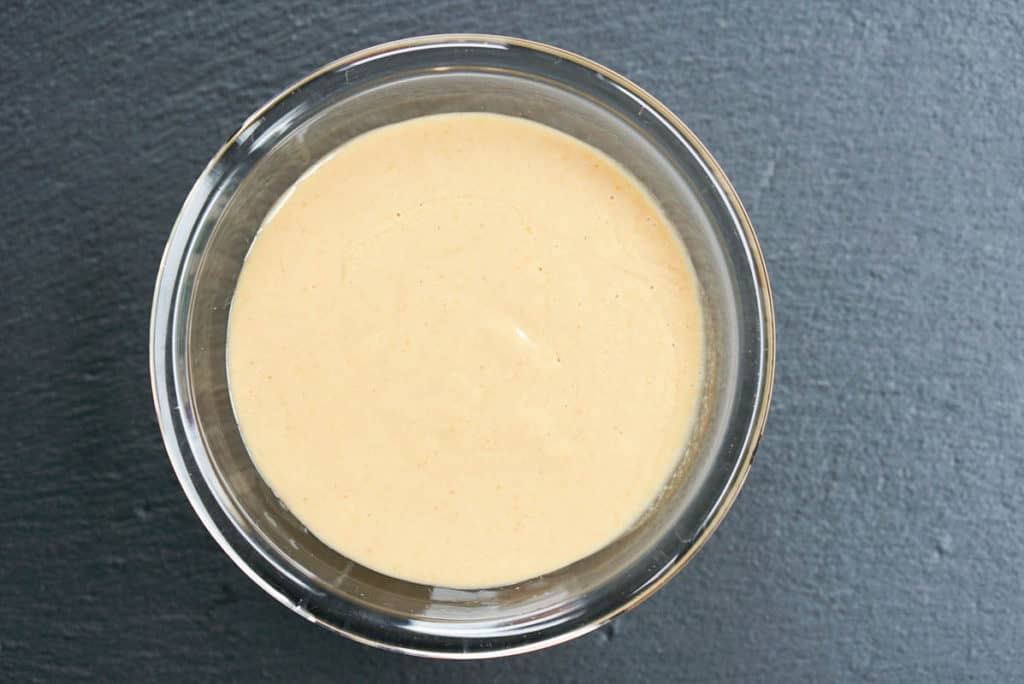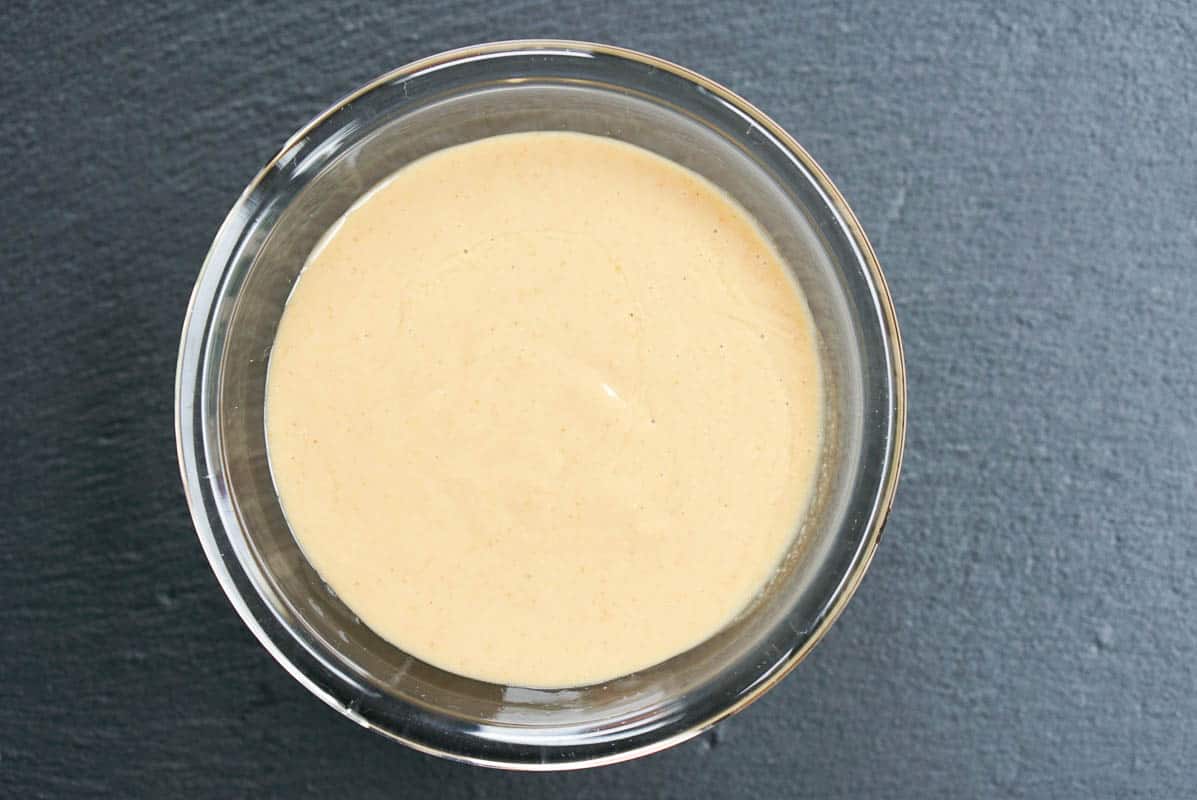 The other secret ingredient for this dressing is tahini, the sesame paste normally used in our hummus recipes.
By using tahini to make this salad creamy, it stays a vegan chickpea salad. And, the creaminess is what really makes this feel like a curried salad rather than a simple salad with some Indian-influenced spices.
As for the spices, it's a mix of garam masala, curry powder or yellow curry, and turmeric. Even if you don't like spicy foods, this particular mix of spices is more flavorful than spicy. If you want heat, then add a bit of crushed red pepper.
Ingredients For The Chickpea Curry Salad Recipe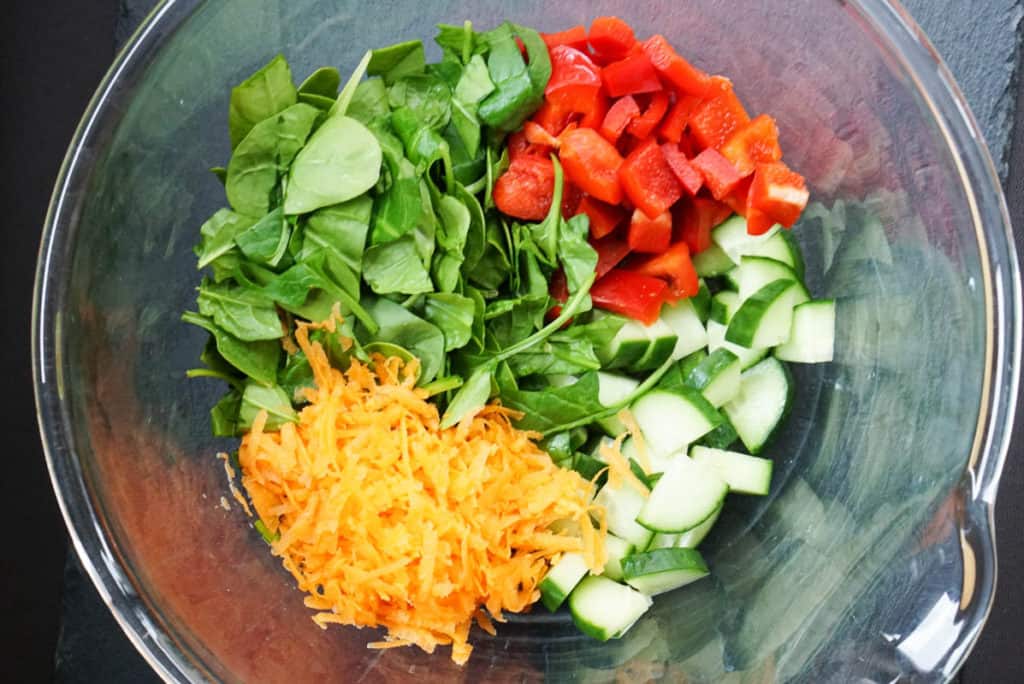 As with any salad recipe, if you have an ingredient in the fridge that needs to be used, just toss it in!
Aside from that, diced red pepper and diced cucumber are cool and crisp ingredients that offset the creamy curry flavors. Green or yellow peppers work fine too, but I prefer red pepper because it adds a nice color contrast.
The same goes for carrots. Although a finely diced carrot works well, I like to use shredded carrots, which blend better into the salad. Again, the carrot also adds a nice color to the salad.
Be sure to drain and rinse the chickpeas in cool water before adding them to the salad. A full can of chickpeas is more than enough to make two meal-sized servings. If you have fewer chickpeas, like a cup leftover from another chickpea recipe, then that is fine. Just add a bit more vegetable to offset.
Roughly chopped spinach is used to add some leafy greens to the salad. And raisins add a nice sweetness to counter the curry flavoring.
Looking for more chickpea lunch options? Check out this recipe for Vegetarian Chickpea Patties.
How To Make This Creamy Curry Chickpea Salad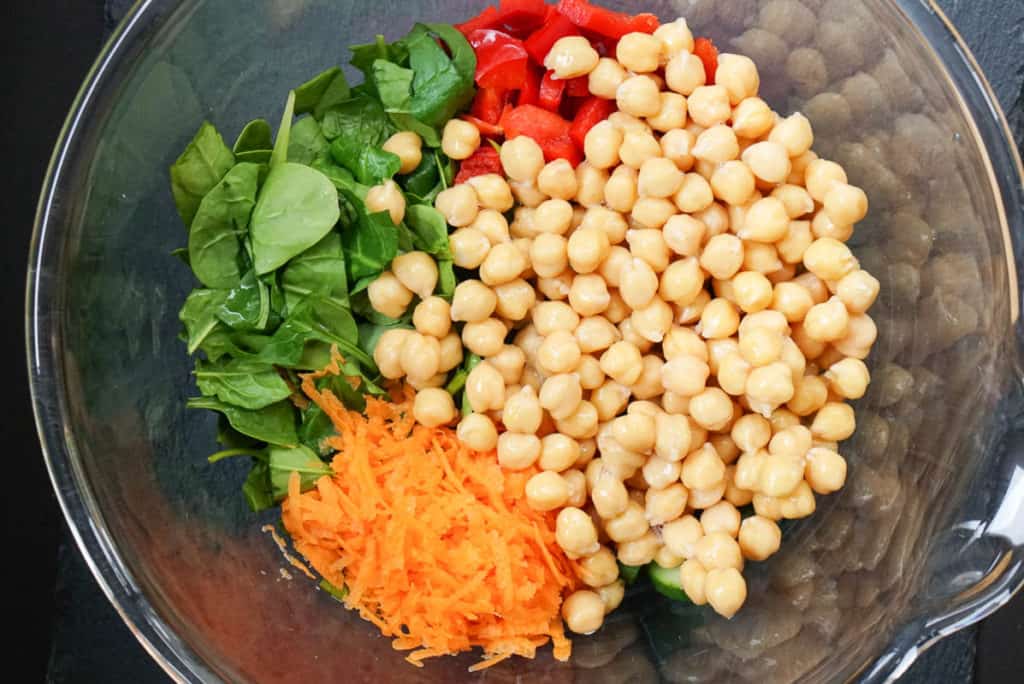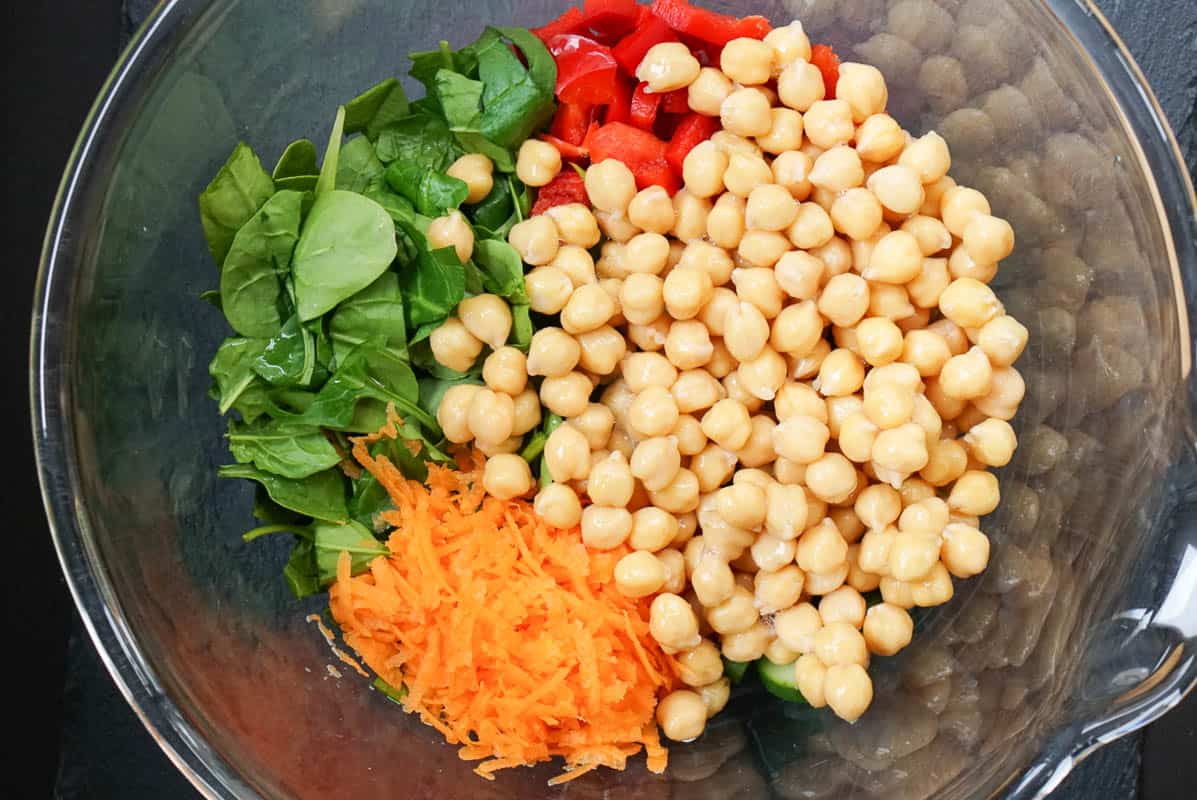 Start by adding the lemon juice to a medium mixing bowl. I like to add the lemon juice first in case a seed sneaks in. It's easier to dig a lemon seed out of a bowl of juice than it is a bowl with seasonings and such.
Stir the tahini well within the jar and add it to the lemon juice. Add the olive oil, honey, and apple cider vinegar to the bowl. Whisk together. Add the curry powder, garam masala, turmeric, salt, and pepper and whisk well. Taste the dressing and adjust any seasoning.
Normally, I might need to add a bit more vinegar or honey until the dressing has the right balance. I might add a bit more olive oil if the seasoning seems a little overwhelming. In this case, the garam masala might seem overwhelming, but once the chickpeas get coated, the spices won't seem as strong.
Add the drained and rinsed chickpeas to a large mixing bowl. Add all of the diced vegetables and mix the ingredients together. Then add the dressing and the raisins and stir with a spatula until the vegetables are well coated.
Yield: 2 servings
Curry Chickpea Salad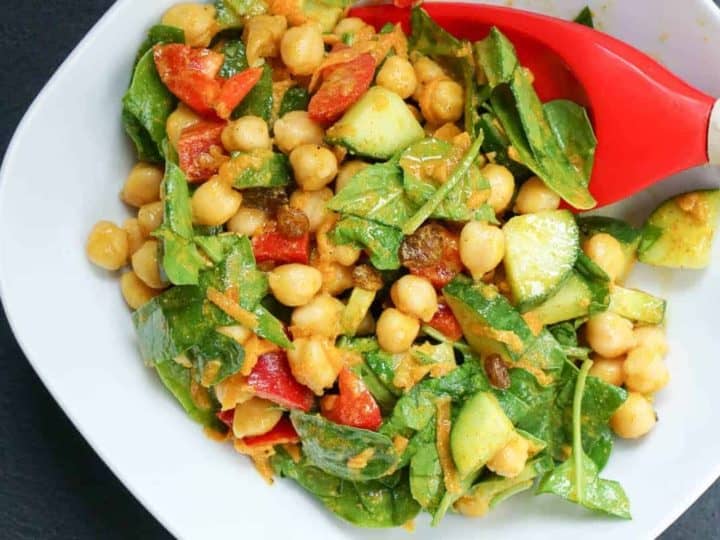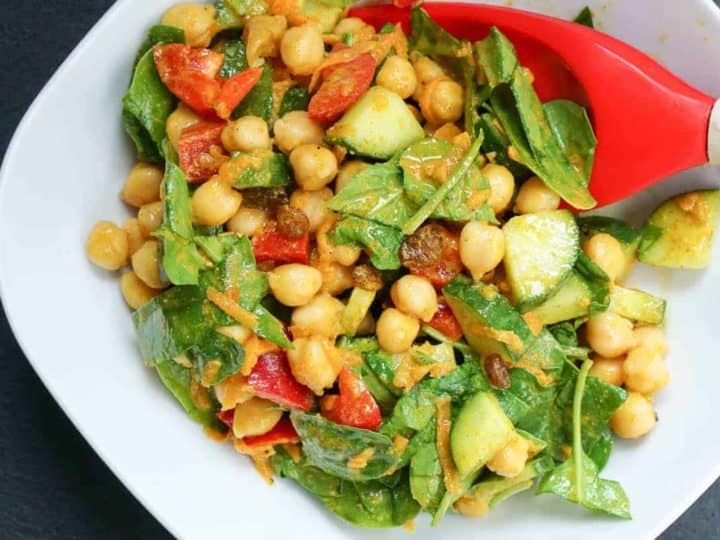 This creamy curry chickpea salad breaks the mold of the boring salad. Seasoned with garam masala and turmeric and tossed in a dressing with creamy tahini, it's a salad that eats like a meal.
Ingredients
1 tablespoons tahini
2 tablespoons olive oil
1 tablespoon honey
Juice of one lemon
2 teaspoons apple cider vinegar
1 teaspoon curry powder
1 teaspoon garam masala
1 teaspoon turmeric
Salt and pepper
1 can of chickpeas, rinsed and drained
1 small red pepper, diced
½ of a large cucumber, diced
2 cups spinach, roughly chopped
½ cup carrots, shredded or diced
¼ cup raisins
Instructions
Dressing
Add lemon juice to a medium bowl.
Add tahini, olive oil, honey, cider vinegar, curry powder, garam masala, turmeric, salt, and pepper in a large bowl.
Whisk until blended. Taste and adjust any seasonings if needed.
Salad
Add chickpeas and all vegetables to a large bowl and mix.
Add the dressing and raisins and stir with a spatula until the vegetables are coated.
Notes
This recipe makes enough for two servings for a main course or four servings for a side salad or starter.
Recommended Products
As an Amazon Associate and member of other affiliate programs, I earn from qualifying purchases.
Nutrition Information:
Yield:
2
Serving Size:
1
Amount Per Serving:
Calories:

482
Total Fat:

21g
Saturated Fat:

3g
Trans Fat:

0g
Unsaturated Fat:

17g
Cholesterol:

0mg
Sodium:

312mg
Carbohydrates:

67g
Fiber:

15g
Sugar:

30g
Protein:

16g
This nutritional data is provided by a third-party source and should not be relied on if you are on a strict diet.
Modifications And Variations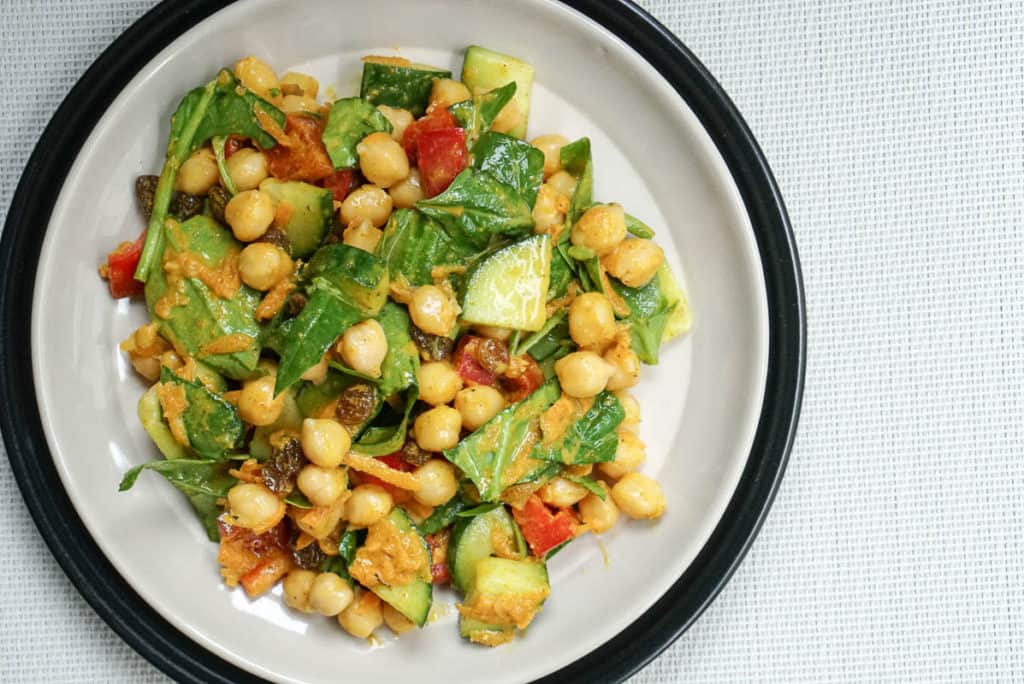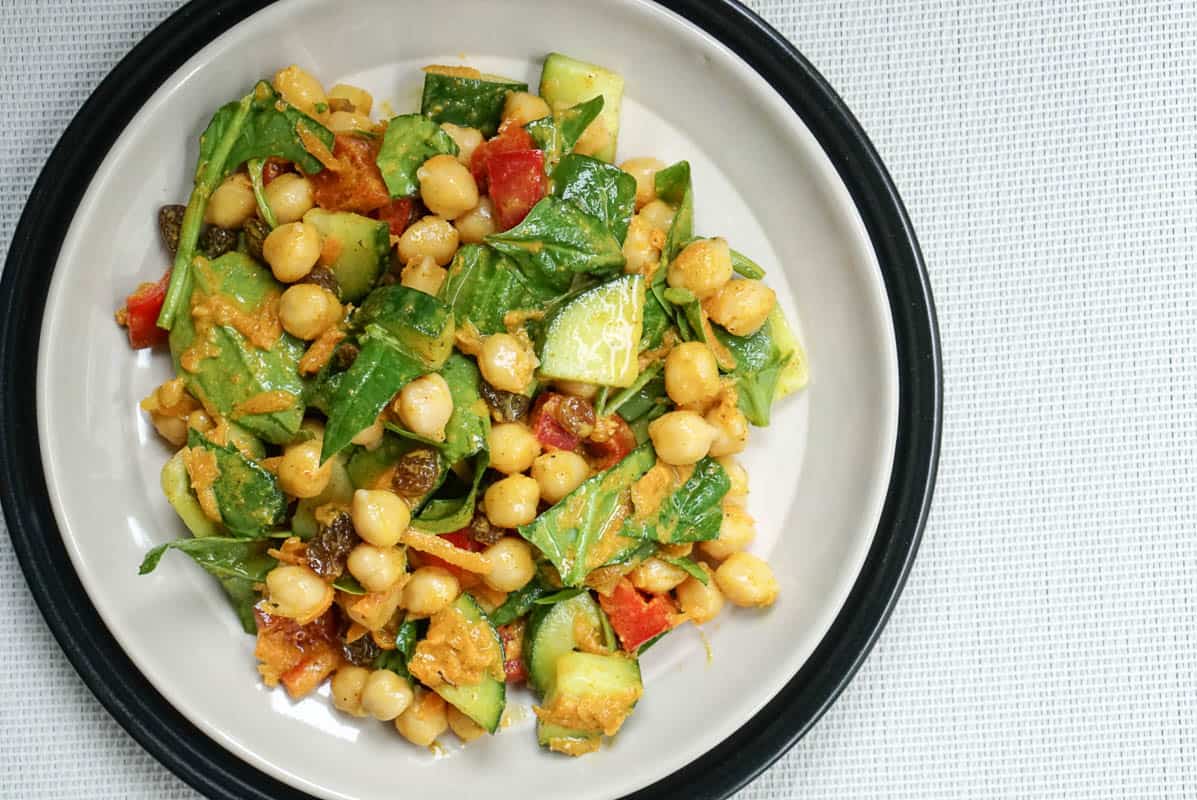 As with any salad, a lot of times the modifications and variations come from whatever is leftover in the produce drawer. You can easily turn this into a curry chickpea quinoa salad by adding a cup of pre-cooked and cooled quinoa. I often keep some in my freezer in one-cup servings to take out when I want.