This creamy coconut green lentil dhal recipe is a one-pot meal made with hearty French green lentils. Because the green lentils hold their shape well, it's a great Indian dish for entertaining.
Recipe Stats:
Vegetarian | Vegan With Modifications | Less Than 60 Minutes | No Soak Lentils
Eliminate the recommended garam masala yogurt topping for serving to make it vegan-friendly.
*This post contains compensated links. Find more info in my DISCLAIMER. As an Amazon Associate I earn from qualifying purchases.
Making A Green Lentil Dhal Recipe At Home
Many people think that cooking Indian food at home is difficult. I used to think the same thing. When we lived in the US or even in Bangkok, we always had easy access to Indian food. It was easier to just go out for Indian or order Indian takeaway than make it at home.
When we moved to Spain, this was just not the case. We had two Indian restaurants and I am convinced I cook Indian better. They adjust it to the local palate. That even includes one restaurant where they topped a curry with shredded cheese (yuck!).
Over our three years living in Spain, I just figured if I wanted one of my favorite cuisines, I needed to learn how to cook it at home.
This Indian green lentils recipe is easy to make with a lot of ingredients that you might already have at home. Or, these ingredients are easily found at most supermarkets. No need to visit an Asian market for any of them!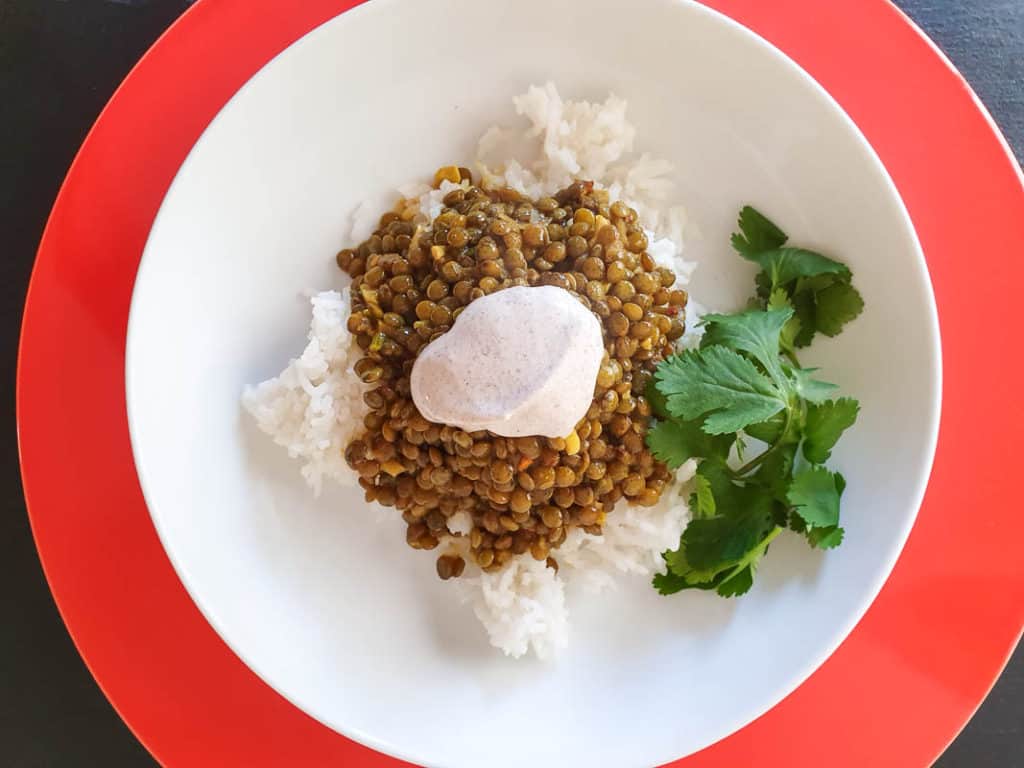 See our other recipes for green lentils:
Rustic French Style Lentils Recipe
Warm Green French Lentils Salad
And, Indian red lentils:
Vegan Spinach Dal Curry Recipe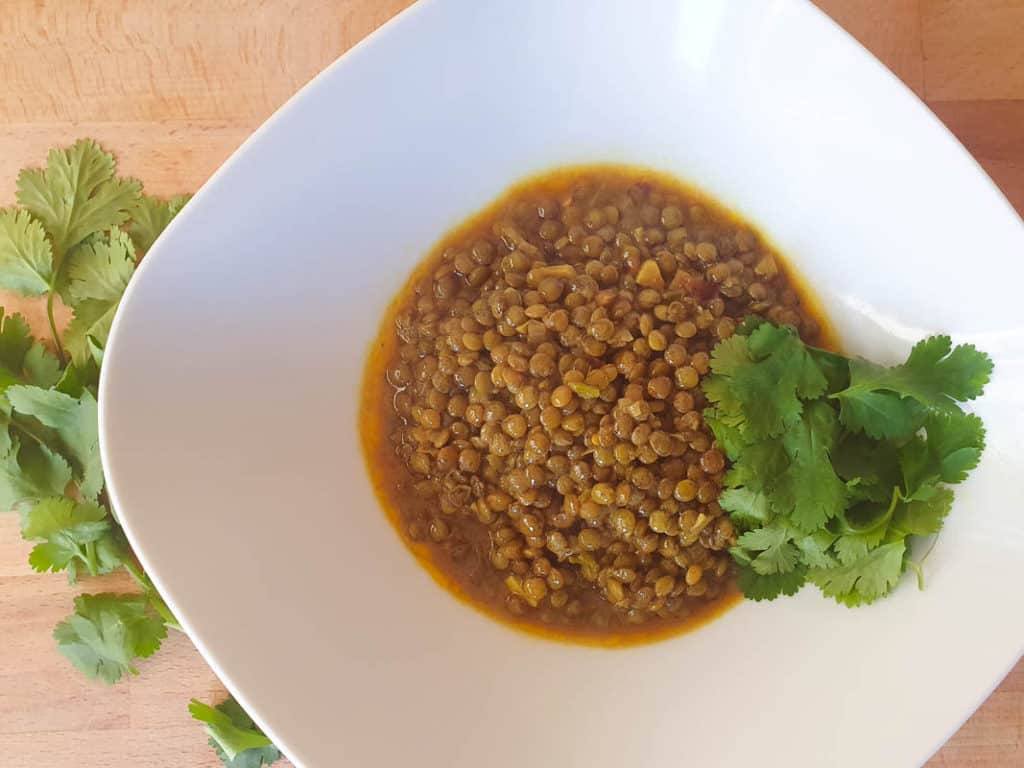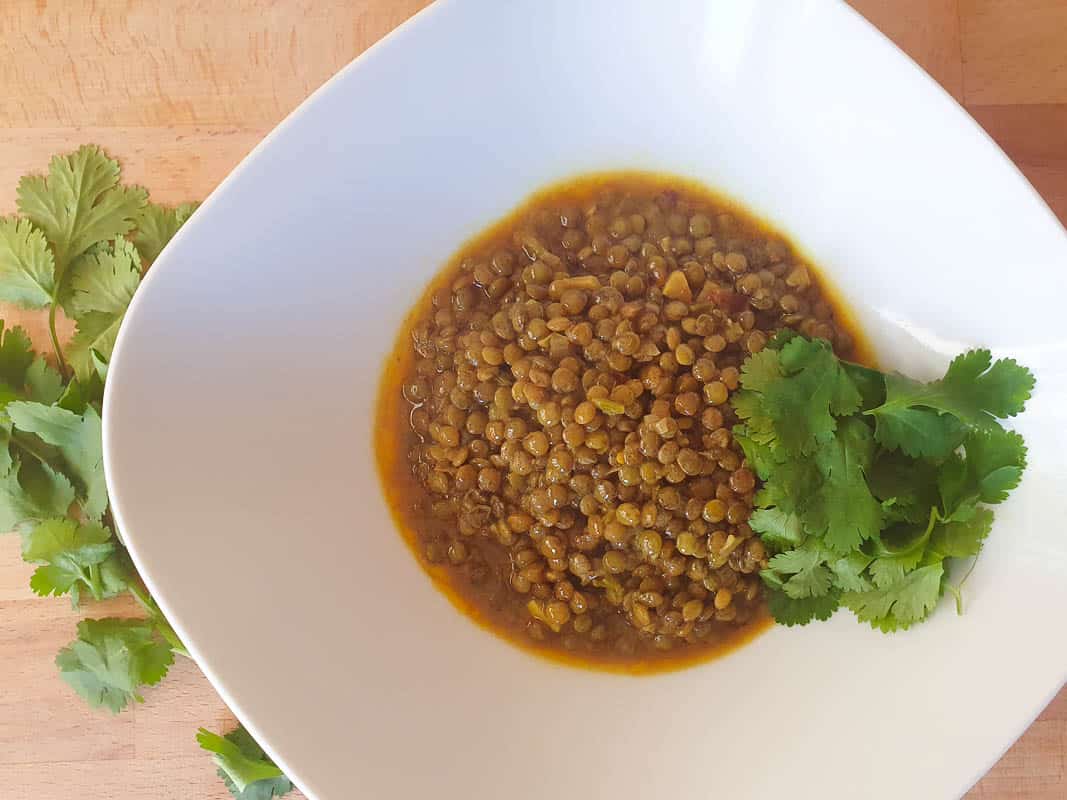 What Is Indian Dhal (Dahl, Dal, Daal)?
Dhal is an Indian lentil recipe. The dish is translated from Hindi and is often translated as dhal, dahl, dal, daal. It's all the same dish, regardless of what type of lentils are used. In fact, in Indian cooking, dal is a generic term used for split lentils and can refer to a variety of dishes.
Dal is normally a vegetarian Indian dish, and normally vegan-friendly as well. The dry lentils are slow-cooked until soft in broth, coconut milk, and seasonings like garlic, shallots, and coriander (cilantro).
There are dozens of different dal recipes, some of which are super easy to make and others are less so. This green lentil dhal curry is one of my favorites. Another easy curry dish is dal makhani.
Curious about cooking lentils in an Instant Pot? Check out this Instant Pot Lentil Curry With Creamy Coconut recipe. Or, for other Indian treats check out this Creamy Broccoli And Chickpeas Curry With Coconut.
Or, check out this recipe for Instant Pot Black Bean Curry.
Indian Green Lentil Curry Ingredients
In addition to dried green lentils, this dhal recipe includes other easy-to-find ingredients. The most important of which is coconut milk, which gives the recipe a creaminess and a sweetness.
If you don't like spicy Indian food, no problem. Many dahl recipes are more flavorful than spicy. The flavor comes from garlic, ginger, shallots, and coriander. The spice comes from cayenne pepper and crushed red pepper flakes. You can add as little or as much as you like.
Using a bit of tomato paste adds a little bit of acid to the recipe. I like to keep a tube of tomato paste in the house to add a tablespoon or two of paste without having to open a full can. In the end, I just end up adding a squeeze of paste.
Indian Spices
The two spices that you might not have readily at home are cumin and turmeric. I use cumin in so many recipes, though, it's a staple in our spice cabinet. I use it for Indian, Thai, and Mediterranean cooking.
Turmeric might not be in your cabinet, but can be found in the spice aisle of every supermarket. Not only does it add flavor, but it also adds color. There also are a lot of health benefits from eating turmeric.
Do you like cooking with turmeric? Check out our recipe for Golden Turmeric Hummus Recipe With Creamy Coconut.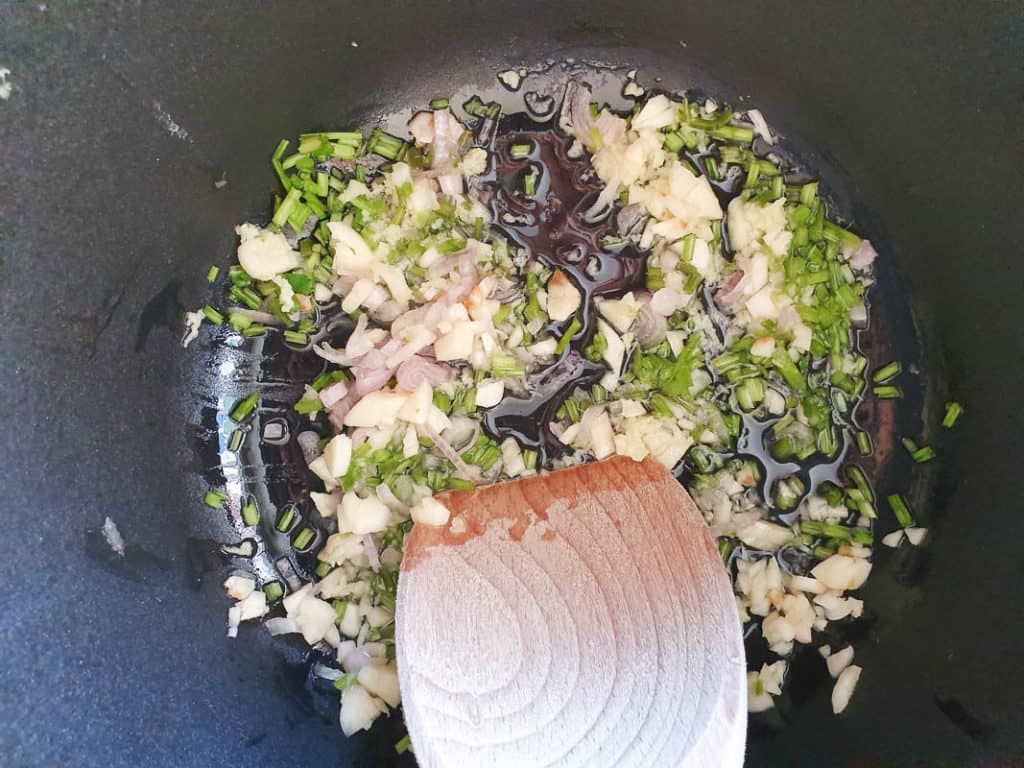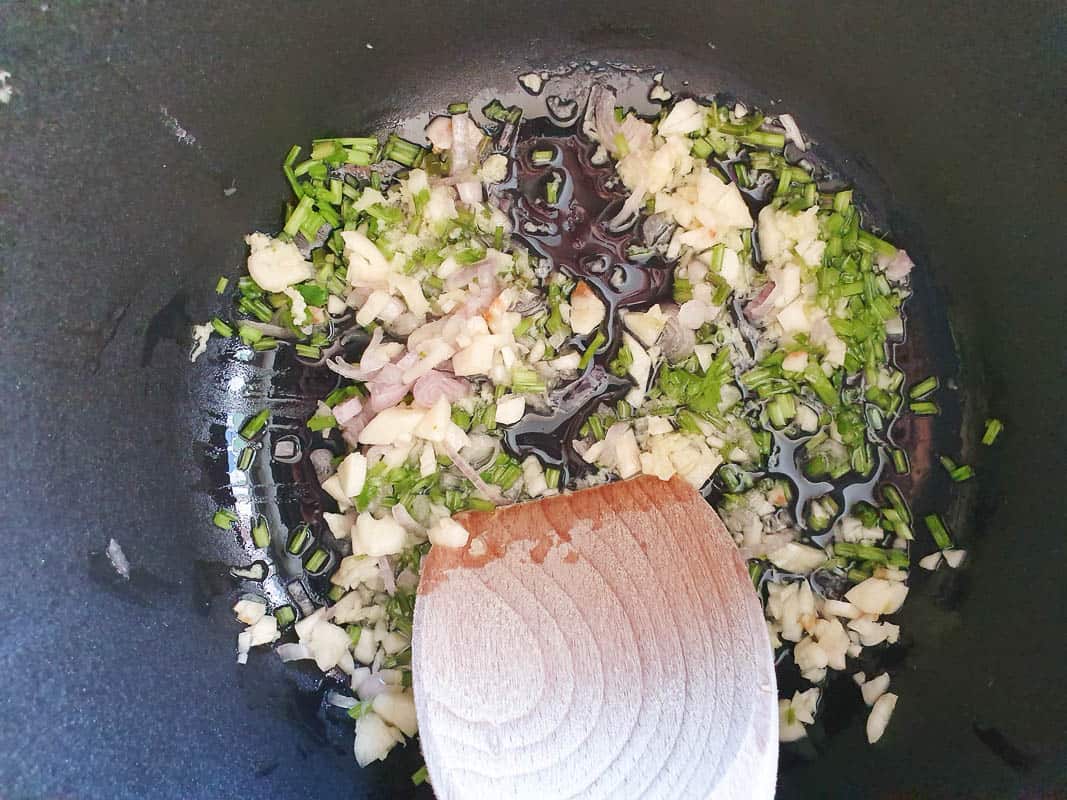 How To Cook Green Lentils In An Indian Recipe
Cooking green lentils is not that much different than cooking other types of lentils. Start by heating vegetable oil (not olive oil) in a medium-sized dutch oven or saucepan. Add the garlic, shallot, grated ginger, and coriander stems to the pan.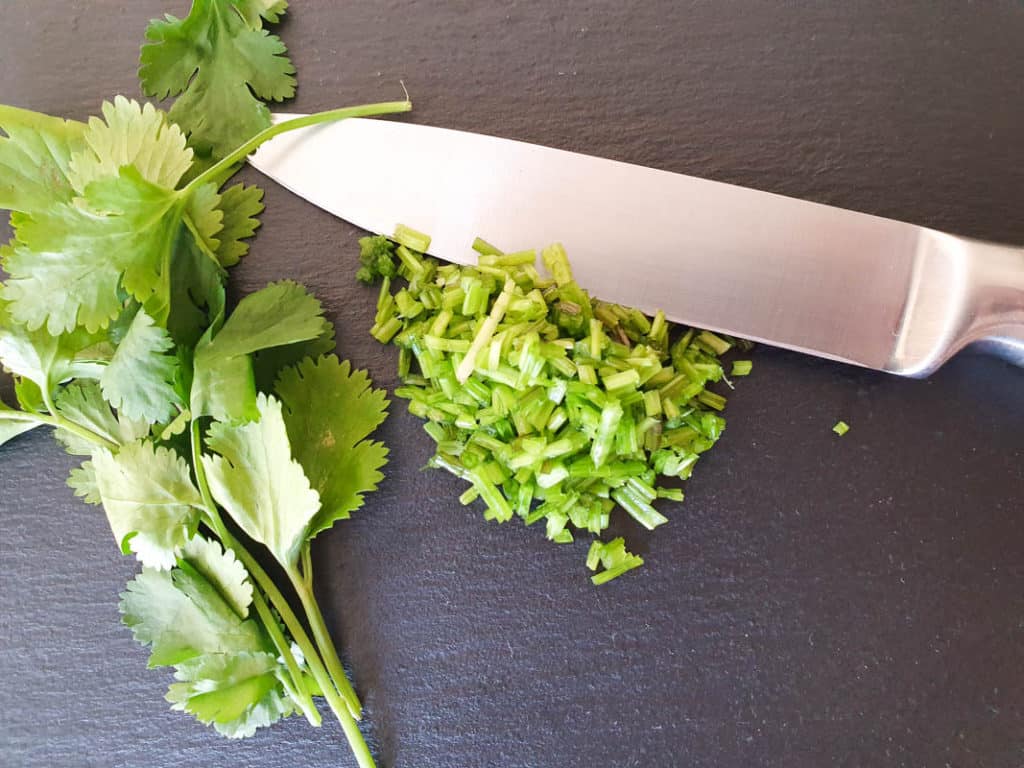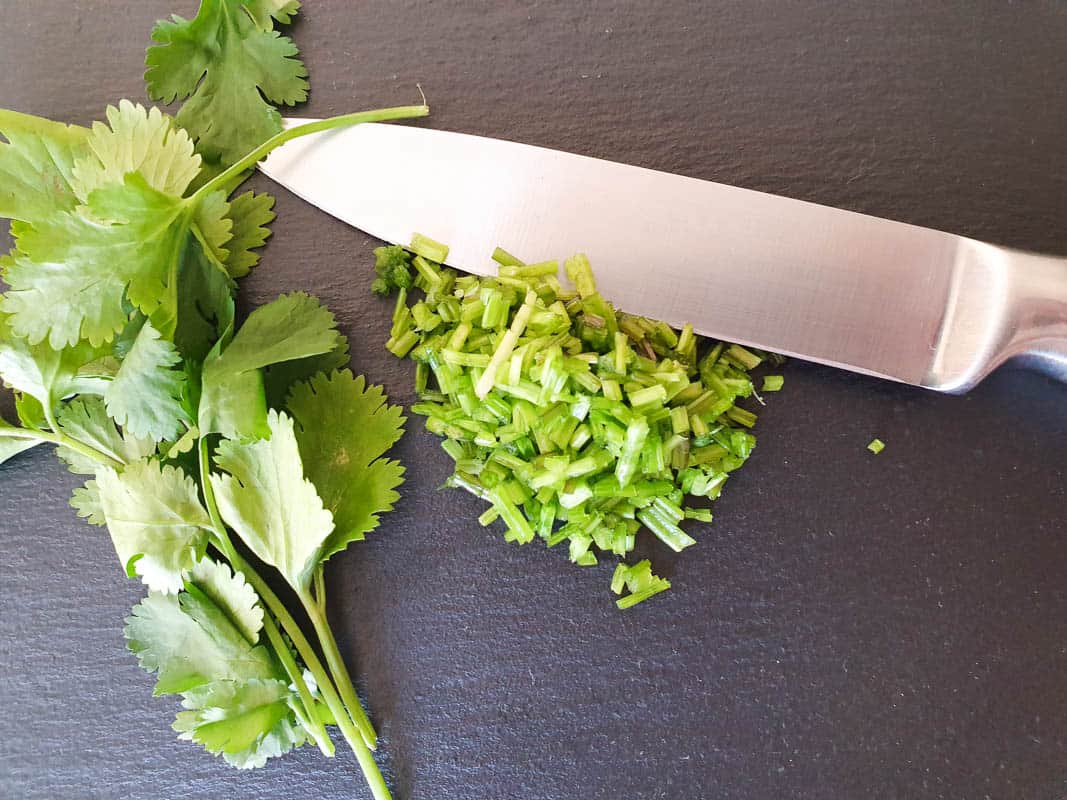 Whenever I use coriander in Indian cuisine, I like to chop the stems of the coriander into tiny pieces to add in with the garlic, shallot, and ginger. This helps to infuse the oil with the flavor of coriander without having to use coriander leaves.
When you use coriander leaves during cooking they can turn brown and look unappetizing. I wait until the end to add the fresh leaves.
Adding The Spices
Once these ingredients start to soften and yellow, I add the seasoning. Here, that means cumin and turmeric. I like to add them directly to the oil to release the flavors and aromas.
Be careful to only allow the seasonings to cook on their own for a minute or so. Too long and they can burn. Be ready for the next step (adding the lentils) before adding the spices.
Then add the lentils and stir to coat them in the seasonings.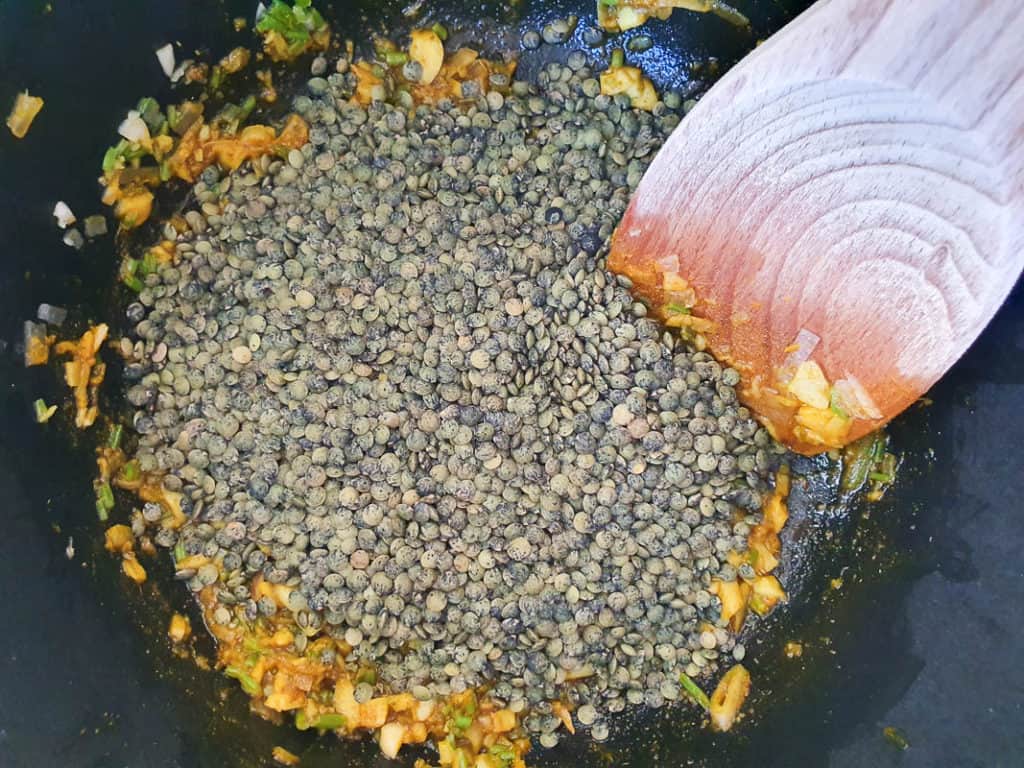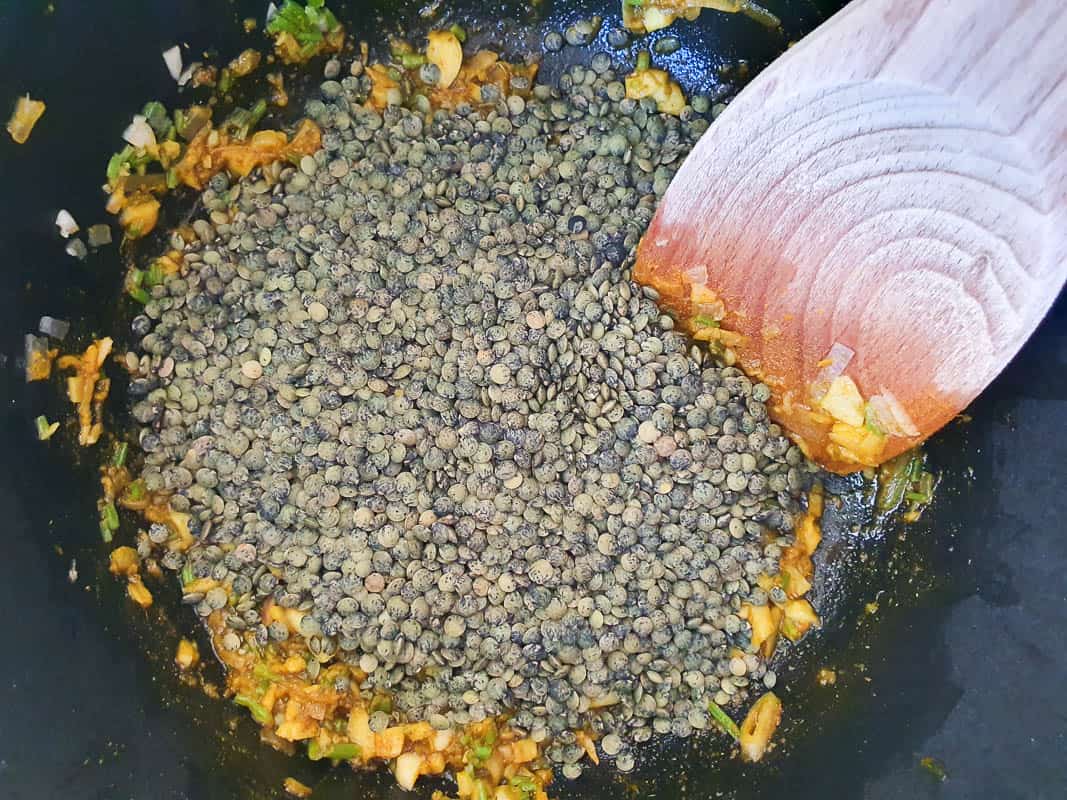 Adding The Coconut Milk
Once the spices are coated in the oil, add the vegetable broth and coconut milk. This recipe serves four people along with rice or bread.
It calls for only one cup of coconut milk, which is often sold in a 14 or 15-ounce can. When the can settles on the shelf, the milk and the thinner liquid can separate.
In order to get the right consistency, shake the can well before opening. And stir the contents before measuring so you get the thick milk and the more liquid part as well. (Coconut milk can be stored in the fridge for a week or so after opening to be used for another recipe).
Adding The Heat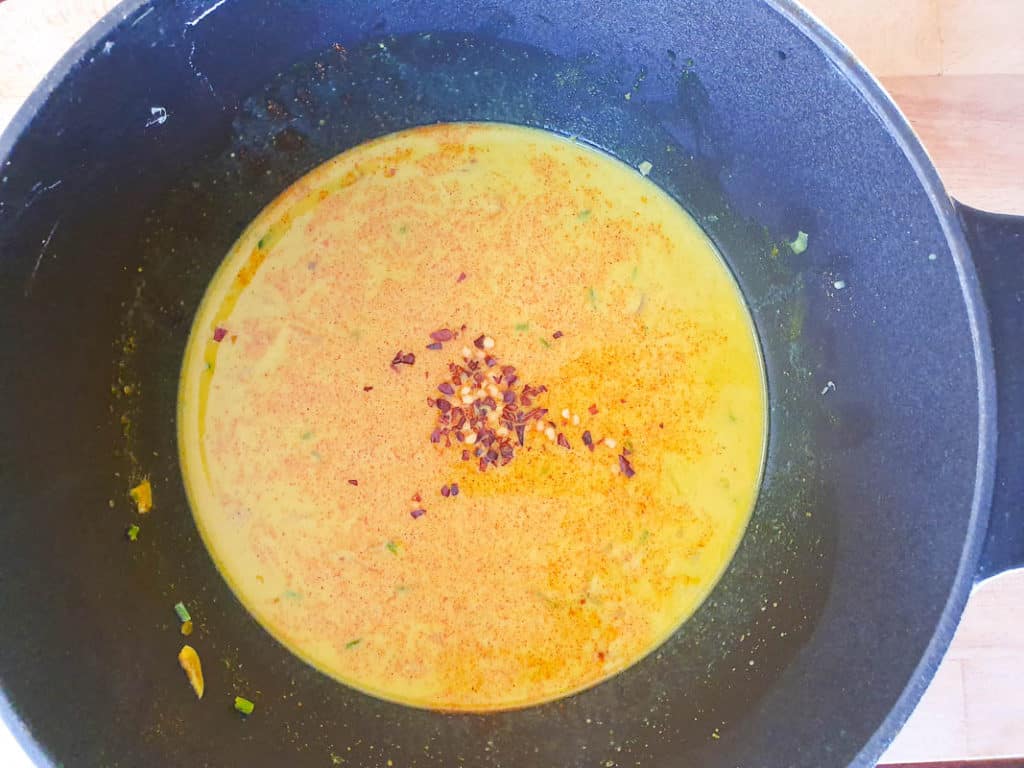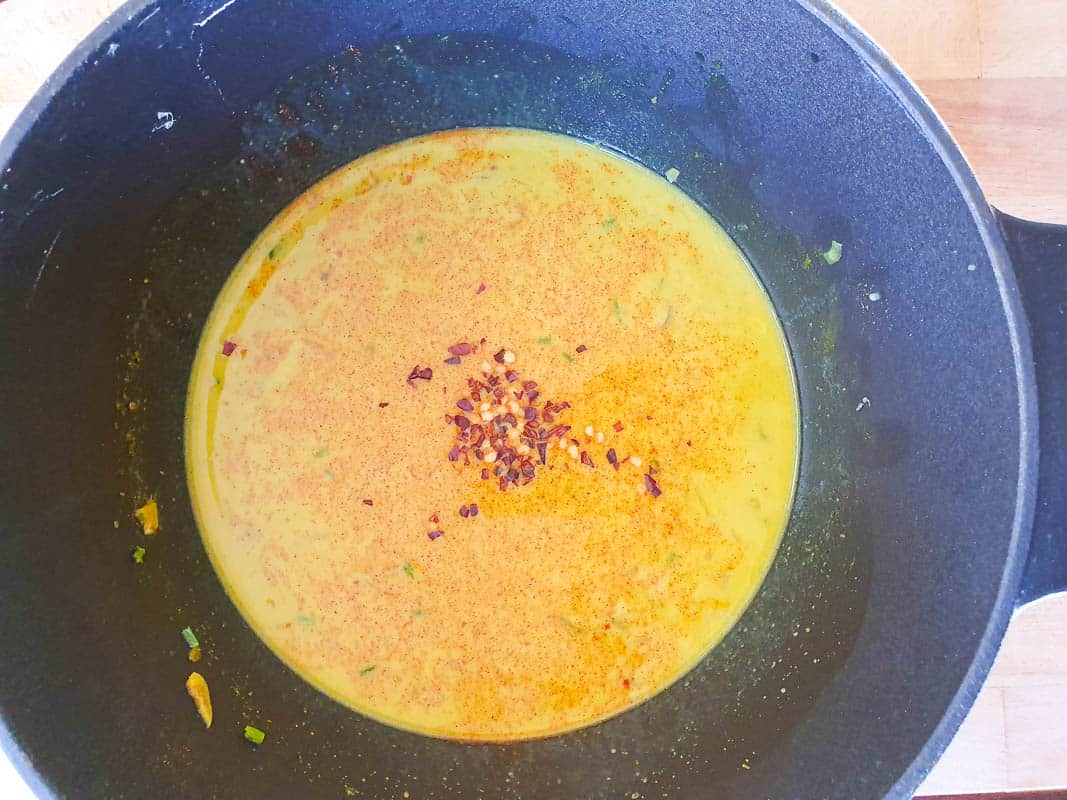 Next, add a tablespoon of tomato paste, or a hefty squeeze from a tube of tomato paste. Add salt, cayenne pepper, and crushed red pepper to taste.
If you don't like spicy food, just add a little. Taste the curry in about 10 minutes and if you want to add more you can. You can always add more spice, but once it's in there, it's hard to undo.
Love cooking with lentils? See our recommendations for some of the Best Healthy Lentil Recipes for every budget and every diet.
Finishing The Green Lentil Curry
After stirring all the ingredients, bring the curry to a slow boil. Then reduce the heat and allow it to simmer for about 30 minutes. I like to stir it a few times during that 30 minutes to check on it and make sure it is not sticking to the bottom or that the heat is on too high.
After 30 minutes, watch the curry cook more closely. Stir it often. Most important, taste it! Adjust the salt or spice if needed. Also, watch the consistency of the lentils. They should start to plump and soften, but not get mushy. If the curry looks like it is getting dry, add a tablespoon of warm water as needed to prevent it from drying out.
You will know the lentils are ready when they are soft, but not mushy nor crunchy. Stir in fresh, chopped coriander and serve over rice or with naan.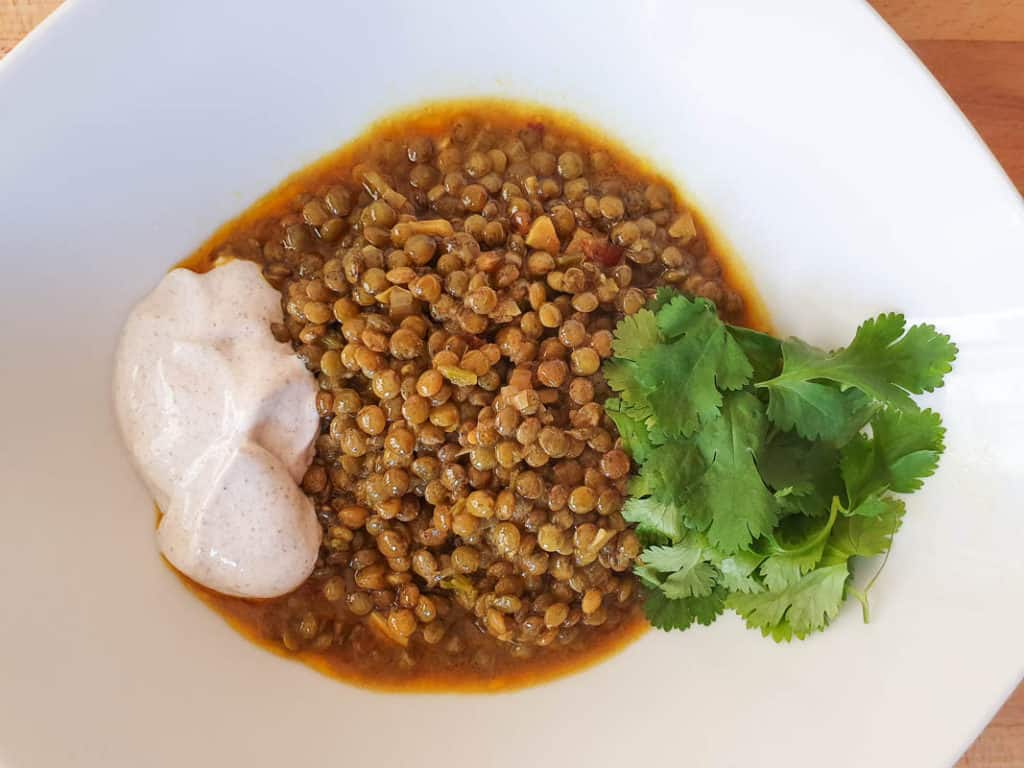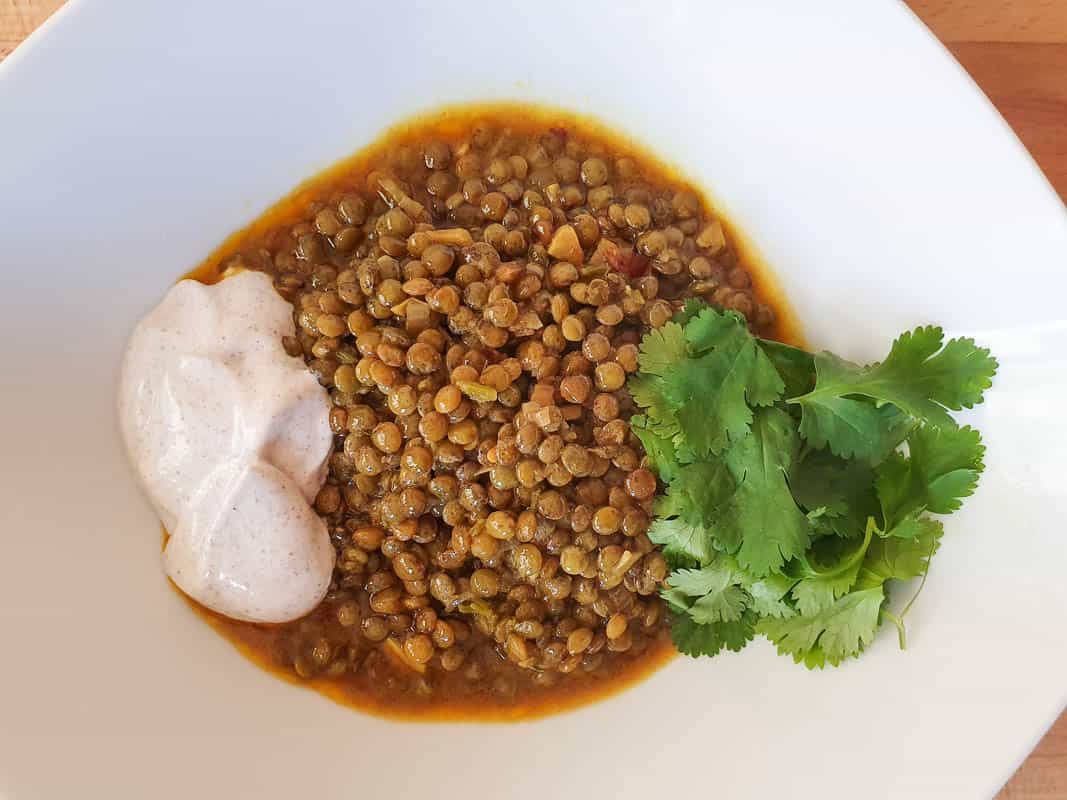 Tips For Cooking Green Lentils
You do not need to soak dry lentils before cooking like you need to with dry beans. The lentils soak in the vegetable broth and coconut water to soften. Green lentils can take a little longer to cook, but shouldn't take more than 45 minutes tops.
I do recommend rinsing the lentils in cool water and draining the water. I don't like using a traditional colander when draining lentils. The holes are normally too big and the lentils slip through. Instead, I like using a colander from this OXO 9-piece colander and bowl nesting set. I can rinse the lentils in the colander and then place the colander in the bowl to keep the water from dripping everywhere. I also use the smaller bowl to store leftovers because each bowl has a lid for storage.
Check out the OXO 9-piece set on Amazon here.
Cooking Lentils Perfectly Every Time
I like using green lentils for dal because they are more firm and hold their shape better. Red or black lentils tend to get a little more soft and can end up mushy. The flavor is still great, but the presentation might not be as appetizing. That's why a green lentil curry is better for entertaining than a typical black dal or red lentil recipe.
You can walk away from this curry while it is cooking and just check back periodically to stir. Just make sure the heat is on low. Set your timer for 30 minutes, though. After that, it's best to keep an eye on it.
You might need to add a little more broth, or even a tablespoon or two of water until the green lentils are soft. You might want to add a little more spice too at the end.
Yield: 4 Servings
Coconut Green Lentil Dhal Recipe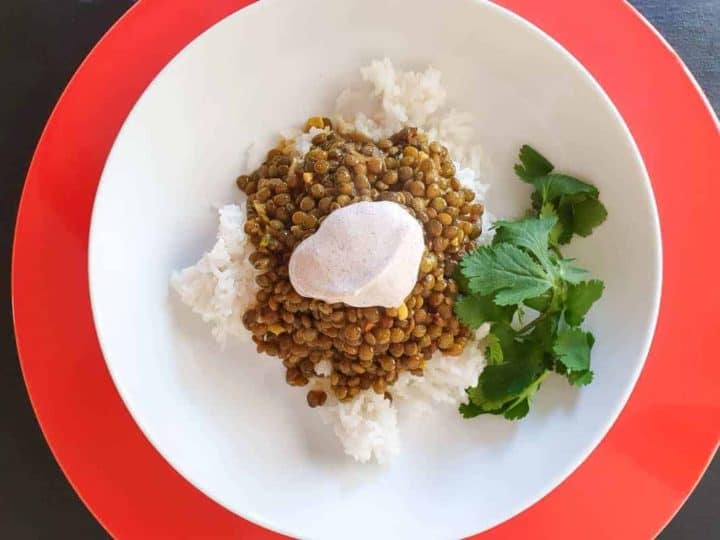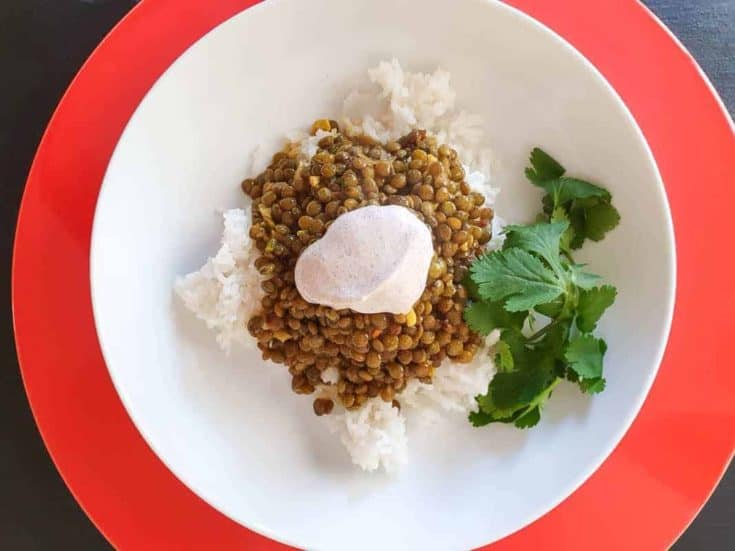 This creamy coconut green lentil dhal recipe is a one-pot meal made with hearty French green lentils.
Ingredients
2 tablespoons vegetable oil
4 cloves of garlic, diced
1 tablespoon grated ginger
1 shallot, diced
2 tablespoons coriander stems, diced
1 teaspoon cumin
1 teaspoon turmeric
1 ½ cups vegetable broth
1 cup coconut milk (well mixed)
1 cup dry green lentils
½ teaspoon cayenne pepper
Dash of crushed red chili pepper
Salt to taste
1 tablespoon tomato paste
chopped coriander for garnish
Instructions
Heat a small to medium-sized dutch oven or saucepan over medium-high heat.
Once warm, heat the vegetable oil.
Add garlic, shallot, ginger, and coriander stems to the olive oil. Coat in oil and sautee until it starts to yellow.
Add the cumin and turmeric to the mix to coat in oil and release the flavors and aromas. Move to the next step quickly to prevent the seasoning from over-browning or burning.
Add the lentils and coat them in the seasonings.
Once coated, add the vegetable broth and coconut milk. Stir well.
Add cayenne pepper, crushed red chili pepper, and tomato paste. Stir well.
Bring to a slight boil and then reduce the heat to simmer.
Simmer uncovered for 30 minutes. Stir on occasion and ensure the curry doesn't get too dry. If it starts to dry before the lentils are soft, add warm water a 1/2 tablespoon at a time.
Adjust seasoning by adding salt or additional chili pepper.
Cook until lentils are tender and soft but not mushy, up to 35 or 40 minutes.
Serve over rice with chopped coriander for garnish.
Notes
Although this is a one-pot meal, if you are not comfortable with cooking Indian cuisine at home, be sure to check the tips and cooking instructions above for more information.
Recommended Products
As an Amazon Associate and member of other affiliate programs, I earn from qualifying purchases.
Nutrition Information:
Yield:
4
Serving Size:
1
Amount Per Serving:
Calories:

267
Total Fat:

20g
Saturated Fat:

11g
Trans Fat:

0g
Unsaturated Fat:

7g
Cholesterol:

0mg
Sodium:

344mg
Carbohydrates:

19g
Fiber:

7g
Sugar:

3g
Protein:

7g
This nutritional data is provided by a third-party source and should not be relied on if you are on a strict diet.
How To Serve a Green Lentil Curry Recipe
This curry recipe on its own is a one-pot recipe (my favorite kind). If you can purchase naan at your grocery store, just warm the naan in the oven or a toaster oven to serve alongside.
We can't purchase naan in Spain, so I served this curry over simple basmati steamed rice. If you want to jazz up the rice for serving, fold in some chopped coriander just before serving, which adds color.
I also served this lentil curry with a little sauce on top. This is not typical Indian, but I started serving curry like this a while back and Eric always asks for it.
I take a cup of low-fat Greek yogurt and add about a teaspoon of Garam Masala. I mix it with a fork and serve it with the curry. It adds a nice coolness to the warm and spicy curry.
Learn more about cooking with pulses here.
FAQs- Cooking Green Lentil Dhal
How long do you cook green lentils?
You can always follow the guidelines on the back of the bag of lentils. When using coconut milk, though, it might take a little longer for the lentils to soften than when you just use water or broth.
Do you need to soak green lentils for dahl?
This is one reason why I love cooking with dry lentils. You do not need to soak the lentils ahead of time.
Is this a vegan green lentil recipe?
Yes, except for the garam masala yogurt topping, this is a vegan dish.