This spicy buffalo hummus recipe is a great addition to a BBQ or game day menu and the buffalo chickpea dip is the perfect alternative to spicy wings. It's one of our favorite dips to make because it makes us feel like we are eating buffalo wings with less guilt!
*This post contains compensated links. Find more info in my DISCLAIMER. As an Amazon Associate I earn from qualifying purchases.
What Is Buffalo Chickpea Dip?
Buffalo wing hummus is a contemporary version of the classic hummus, spiced up with hot wing sauce. I use Frank's Hot Sauce because it's our go-to sauce when making buffalo wings.
So, what does this hummus taste like? Well, it tastes like a creamy buffalo sauce. If you like it hot, top the hummus with additional hot sauce. To make it even more creamy, mix blue cheese into the hummus. In the end, you have a more healthy version of buffalo wings.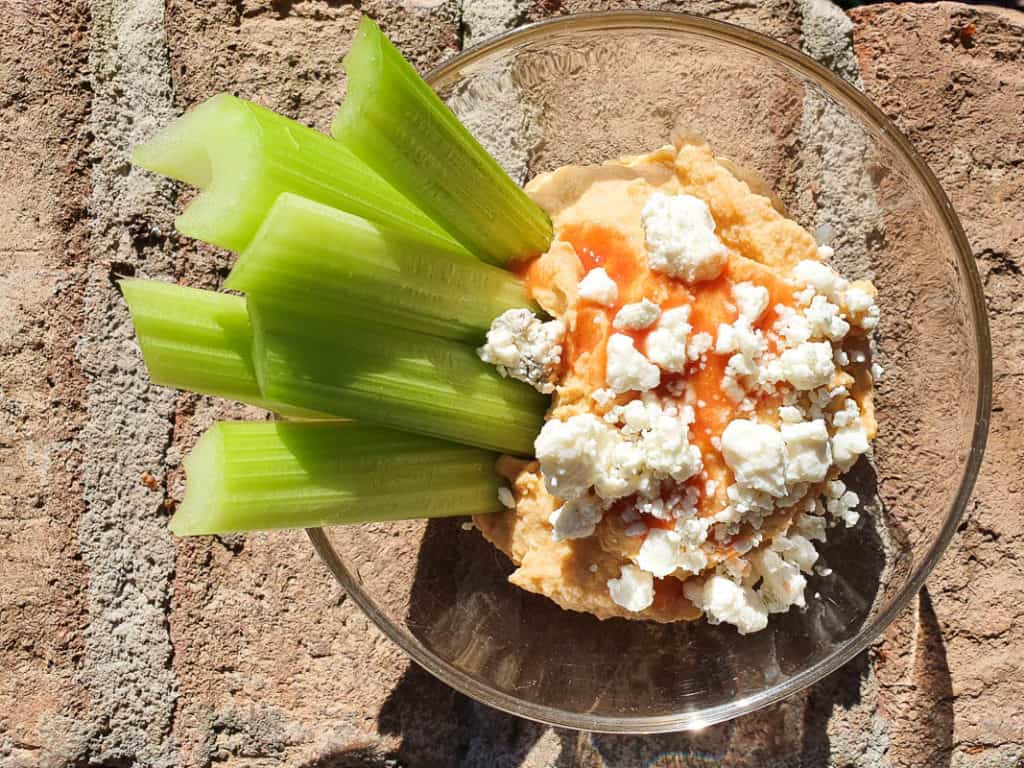 Looking for more hummus recipes? Check these out:
Homemade Hummus With Roasted Red Peppers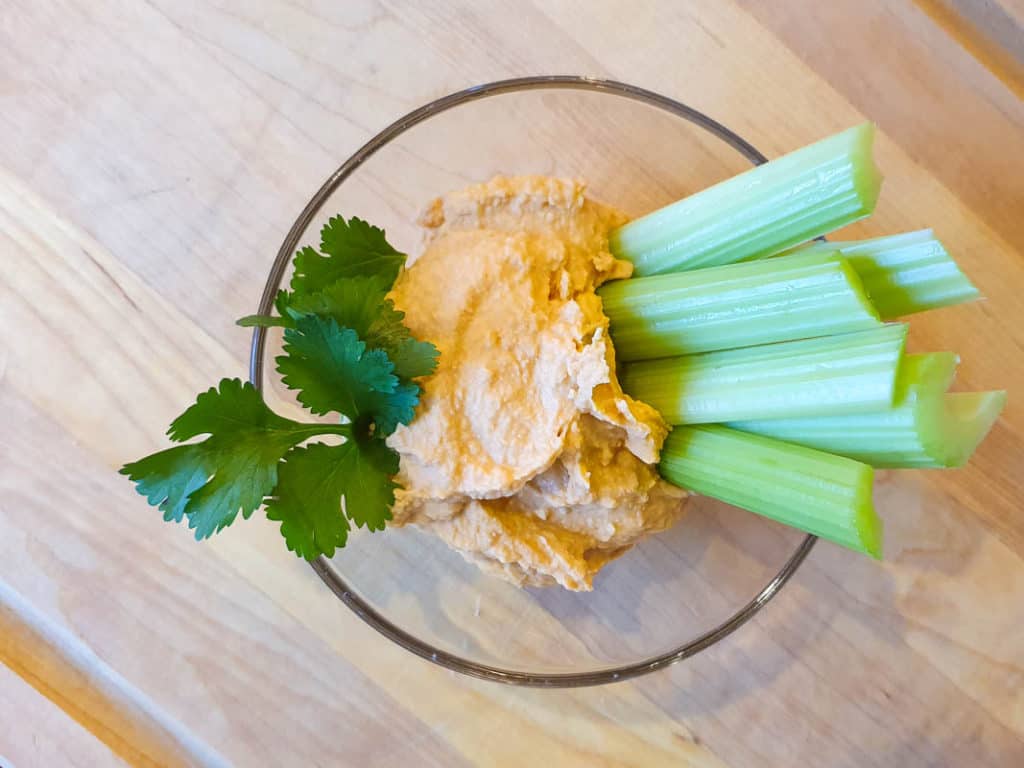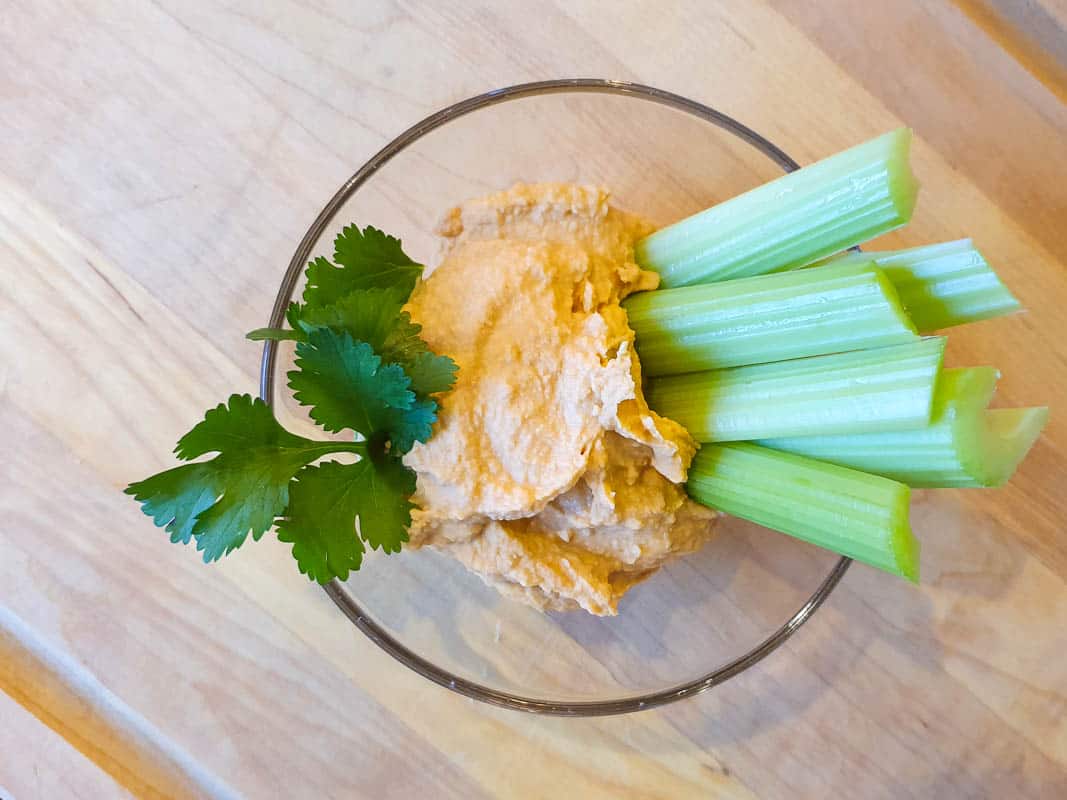 Who Needs Healthy Buffalo Recipes?
In Spain, we don't have easy access to buffalo wings. They are, however, one of Eric's favorite things to eat. He started making them at home. Traditional, southern-style spicy buffalo wings.
He soaks them in buttermilk and coats them in flour before deep-frying them in a deep dutch oven. They are so tasty and the farthest thing from healthy.
We are trying to limit our meat intake, not to mention limit our intake of deep-fried foods and, of course, buttermilk. Eric still gets his cravings, though. This buffalo hummus dip helps to stave off those cravings. Every time I make it, he's liking the bowl by the end and asking for more.
This dip gives him buffalo sauce, blue cheese, and even celery stalks all mixed with high-protein and low-fat chickpeas. It's a win-win. Looking for other ways to bring buffalo flavors home? Check out this Instant Pot buffalo chicken dip (no beans).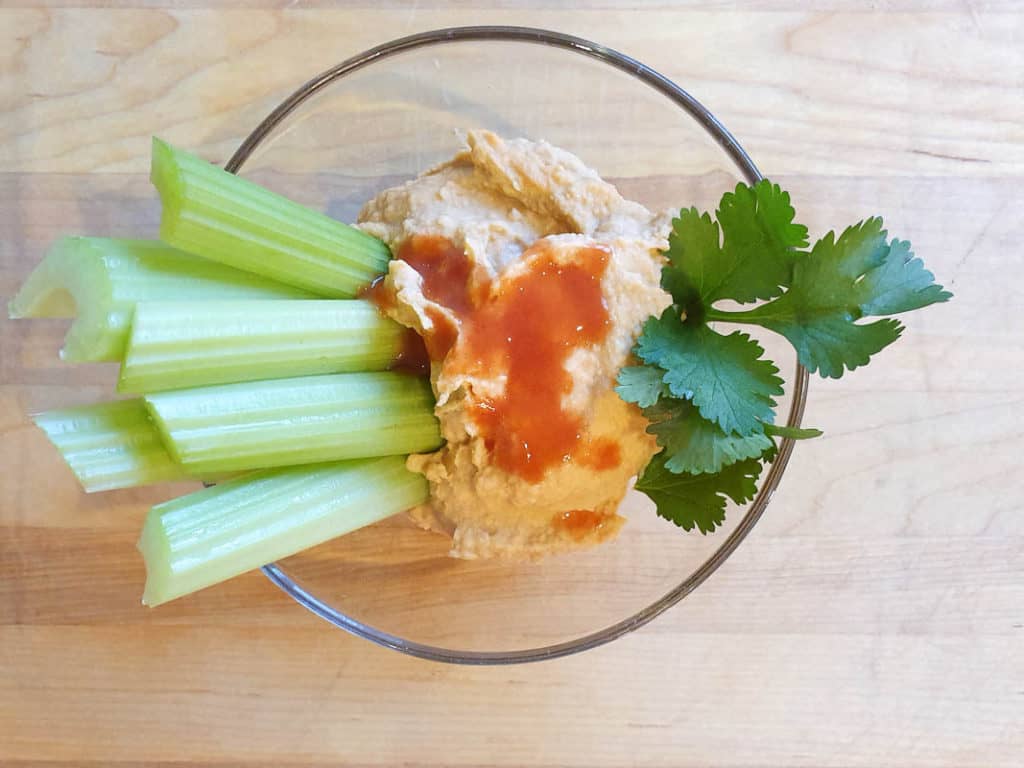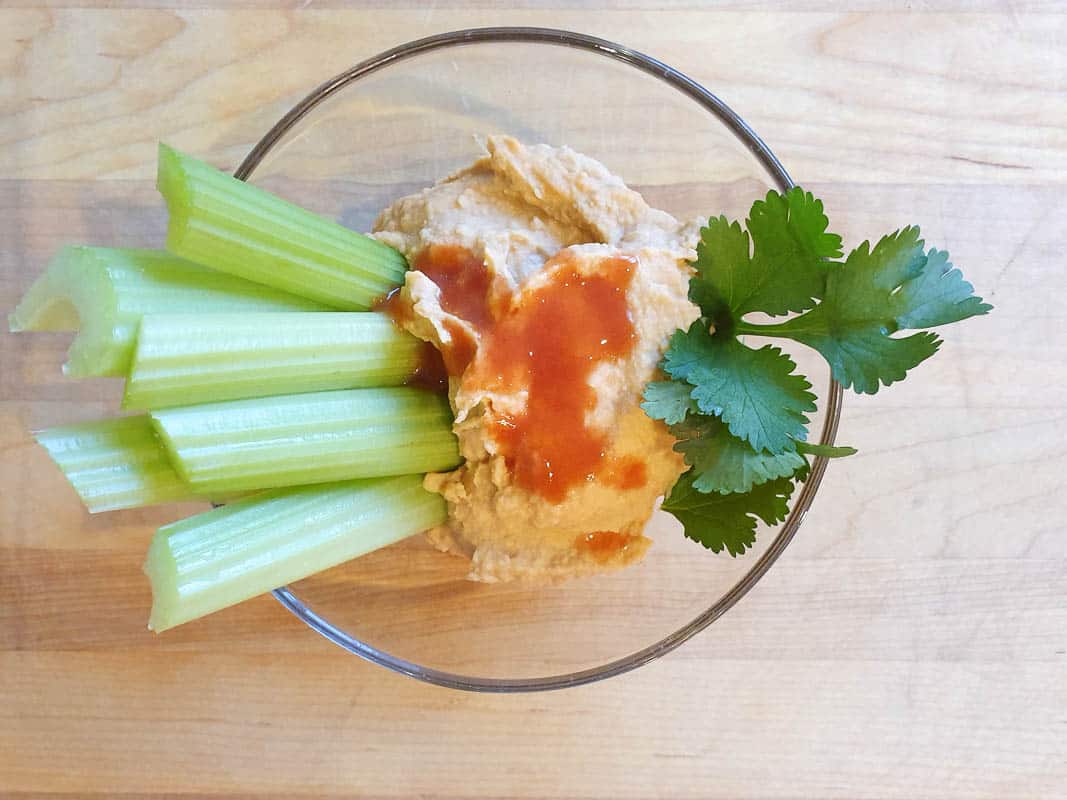 Creamy Buffalo Dip Ingredients
For a basic hummus, I always use canned chickpeas, tahini, and normally fresh garlic. I added ground cumin for seasoning. In addition to Frank's Red Hot Sauce, I used olive oil to make the hummus creamy and lemon to add a little acidic zing.
You can mix crumbled blue cheese directly into the hummus mixture to make it even more creamy. This version though includes blue cheese only on the top. I made it for my sister-in-law, who is trying to keep dairy-free. I made her a separate bowl on the side to be safe.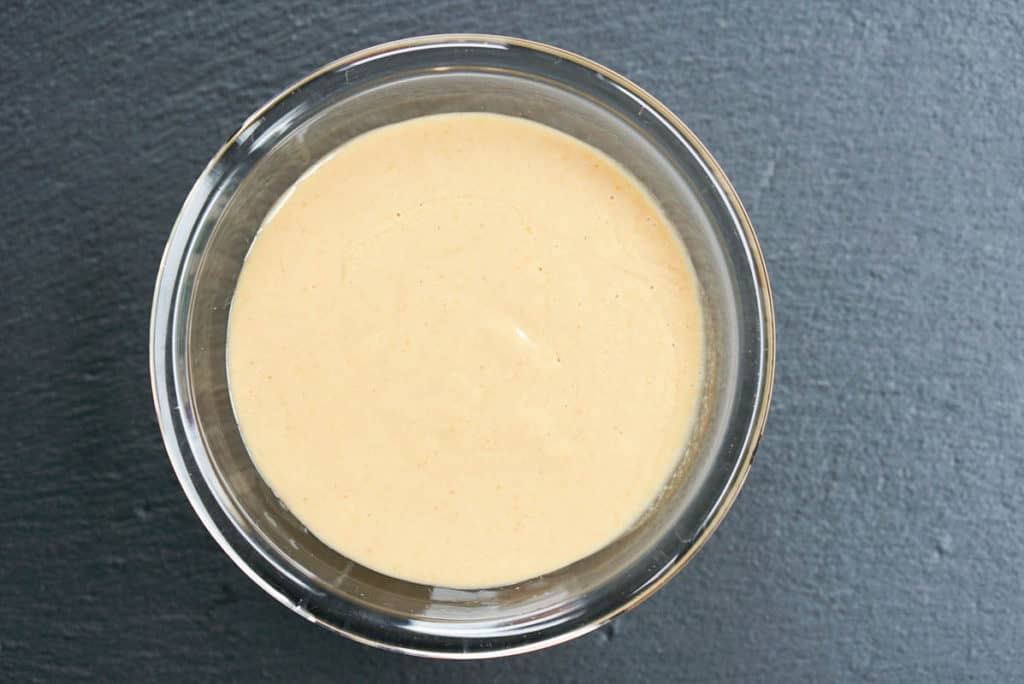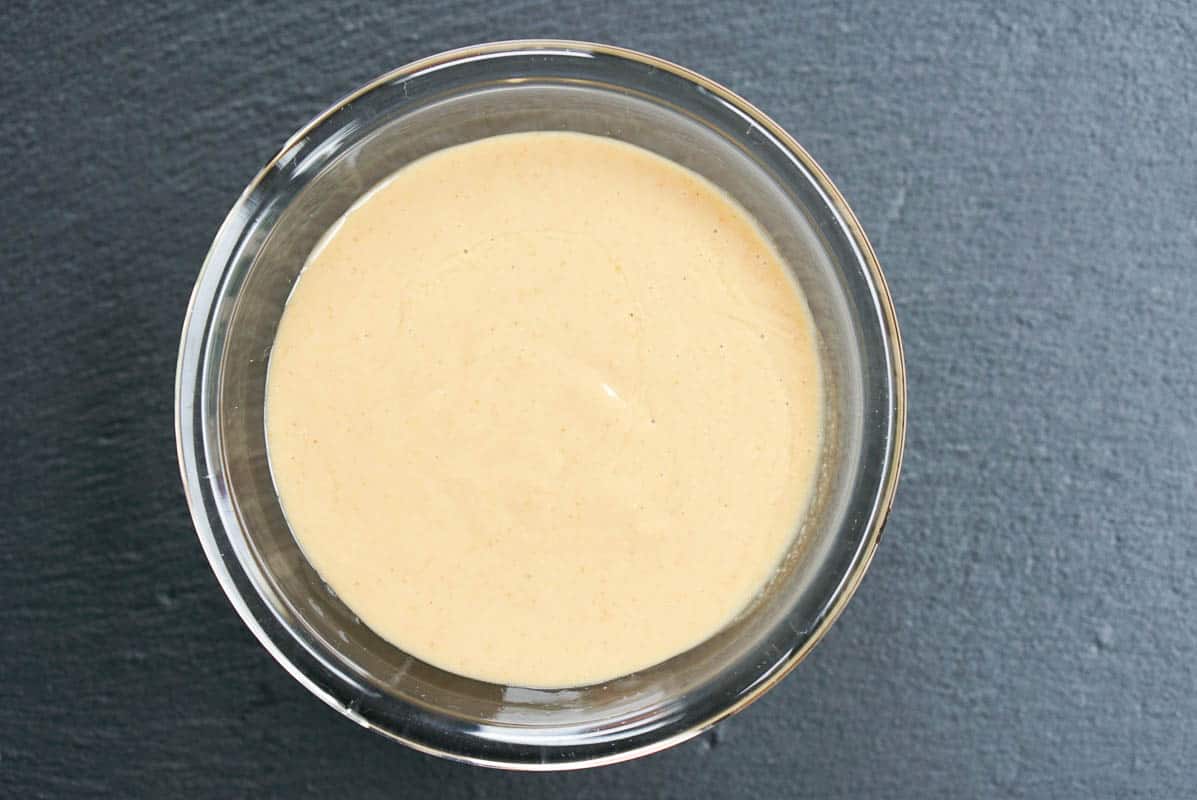 How To Prepare Chickpeas For Hummus
I use canned chickpeas for most hummus recipes. Although I don't mind using dry chickpeas for recipes, I like to keep my hummus recipes as easy as possible.
There's no reason why a chickpea buffalo dip should be any more difficult than it needs to be. This is one of the reasons why hummus makes such a great snack – it's easy to prepare.
I boil my chickpeas in hot water for about 10 minutes or until they are soft enough to mash with a fork. I use a blender or food processor to make hummus, but like to start with soft chickpeas.
Before draining the chickpeas, skim the peels of the chickpea from the top of the water. You can make the hummus with the peels, but it can be a little grainy. To remove the rest of the peels, you can do it by hand (takes about 10 minutes). Or, rub the chickpeas between paper towels to remove.
The Bean Bites Hummus Pro Tip
Do you need to remove the peel of a chickpea before using? No. There is nothing bad in the peel. Many people just don't like the texture they add to the hummus. When I am entertaining, I remove the peels to make the hummus as smooth as possible. When I am making it just for us at home, I save time and skip the step.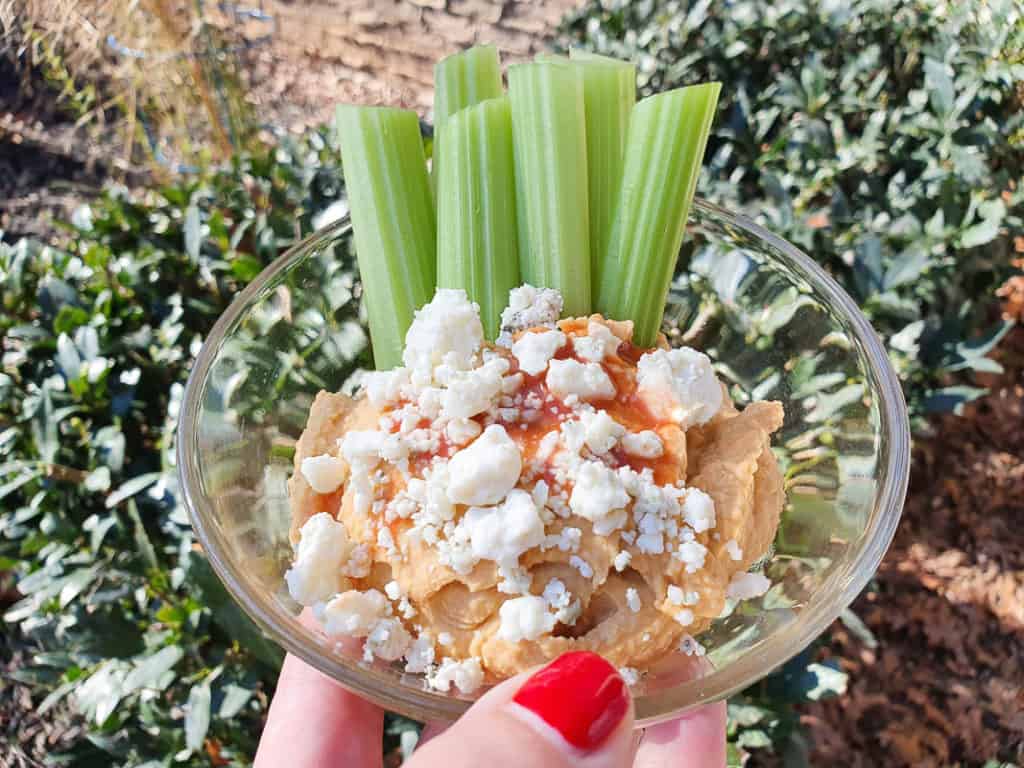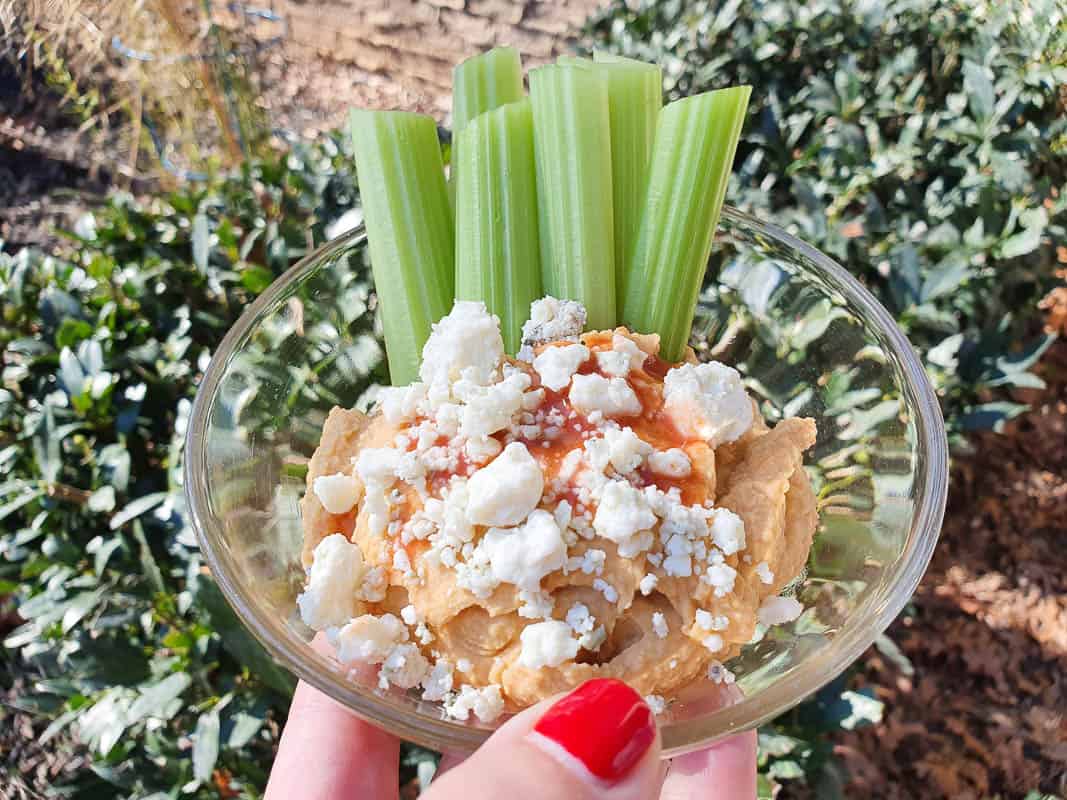 How To Make Buffalo Dip With Chickpeas
While the chickpeas are boiling, prepare the rest of the ingredients. I like to add all liquid ingredients and seasonings to a blender or food processor and mix them first. Then, I add the chickpeas and blend until smooth.
When it comes to the hot sauce, I recommend about a ¼ cup of hot sauce to start. Be sure to taste the hummus to decide whether to add more. The more you add, the spicier it will be of course. Also, the more you add the more red the hummus becomes.
In this case, chances are the hot sauce, olive oil, tahini, and lemon juice should make the hummus smooth enough. If, for some reason, you need to make the hummus a little more moist, then add a warm water a tablespoon at a time until you are pleased with the texture.
How To Serve Buffalo Hummus
All hummus tastes great with pita chips or gluten-free pita chips. I also often serve hummus with fresh fruits and veggies, like carrot sticks, apple wedges, or cucumber rounds. These all taste great with this buffalo hummus dip.
I stuck with the basics, though, to make this an alternative to buffalo wings. So, I served it simply with crunchy celery sticks.
Yield: 3 Cups
Buffalo Hummus Recipe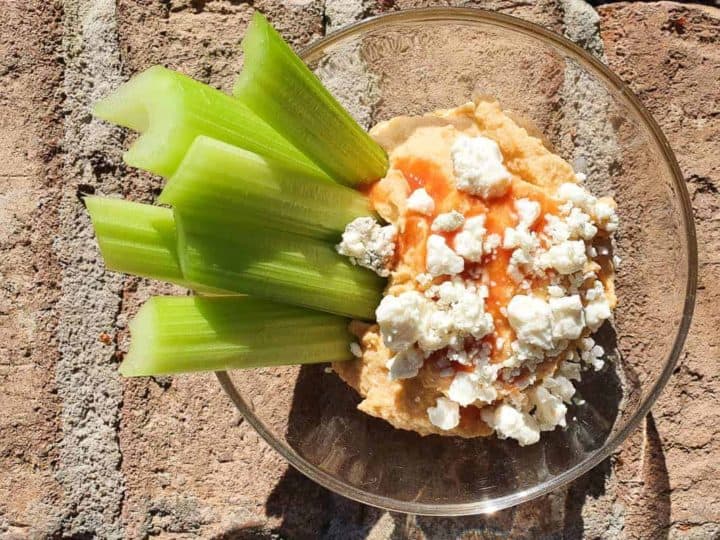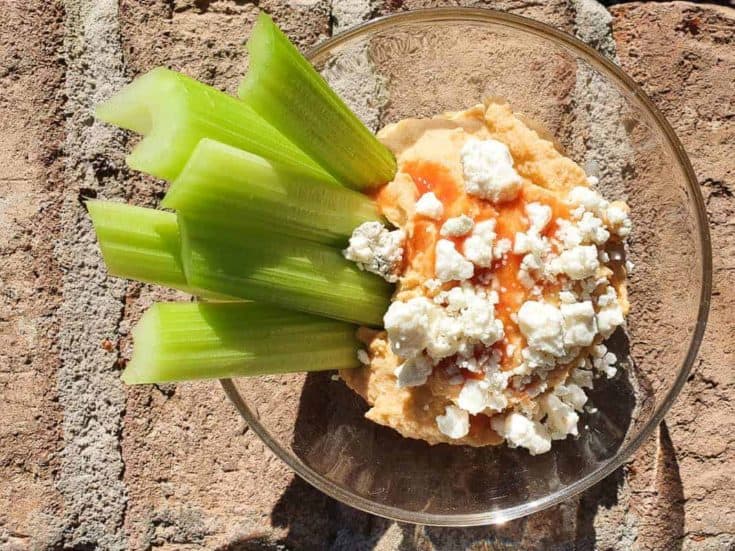 This buffalo hummus recipe is a perfect game day or BBQ treat and a wonderful alternative to snacking on fried wings.
Additional Time
5 minutes
Ingredients
2 cans of chickpeas, drained and rinsed
2 cloves of garlic, minced
1 teaspoon cumin
Juice of one lemon
1 tablespoon olive oil
2 tablespoons tahini
1/4 cup of hot sauce (add a little at a time to ensure it's not too spicy)
warm water as needed
salt and pepper to taste
Instructions
Drain and rinse chickpeas in a colander in cool water
Boil chickpeas in a medium-sized saucepan for 10-15 minutes or until soft
Remove shells from chickpeas if you desire
Place garlic, cumin, lemon juice, olive oil, tahini, and one half of hot sauce in a blender or food processor. Mix well.
Add chickpeas and blend. If necessary, add a tablespoon of warm water at a time until the hummus reaches the desired consistency.
Taste and add additional hot sauce if desired.
Notes
It's pretty easy to make fresh hummus at home once you get the basic process done. Take a look at our tips above if you are unfamiliar with how to make hummus.
Recommended Products
As an Amazon Associate and member of other affiliate programs, I earn from qualifying purchases.
Nutrition Information:
Yield:
6
Serving Size:
1
Amount Per Serving:
Calories:

146
Total Fat:

7g
Saturated Fat:

1g
Trans Fat:

0g
Unsaturated Fat:

5g
Cholesterol:

0mg
Sodium:

261mg
Carbohydrates:

18g
Fiber:

5g
Sugar:

3g
Protein:

6g
This nutritional data is provided by a third-party source and should not be relied on if you are on a strict diet.
Modifications And Variations For This Buffalo Hummus Recipe
When making this one at my sister-in-law's house, I was cooking for a clan. A mini family reunion. I split the recipe in two. One half was a normal level of spice. Then, I made the other one more spicy with extra hot sauce in the hummus. I then drizzled the top with hot sauce as well.
I like to add blue cheese into the buffalo chickpeas as I mix it. In this case, I topped the more spicy mixture with blue cheese crumbles for my dairy-free sister in law.
Without the blue cheese, this is a vegan buffalo hummus dip. With the blue cheese, it's still a great vegetarian buffalo flavor without the chicken!
If you don't want to add hot sauce to the top, sprinkle the hummus with a little paprika to add color. Or, top it with diced roasted peppers or diced green onions for color.