This spicy black bean hummus recipe is the perfect afternoon snack that pairs well with fruits and vegetables. On its own, it might not be an attractive dip, but serve it with bright colored fruits and vegetables and it's a crowd-pleaser.
*This post contains compensated links. Find more info in my DISCLAIMER. As an Amazon Associate I earn from qualifying purchases.
Why Use Black Beans For Hummus?
I will admit that seeing a black hummus might not be all that appealing to a lot of people. I went on a hummus kick recently while preparing for a family reunion.
Five of Eric's siblings were getting together recently, with their spouses and loads of their children. People were coming in from all over the US to meet us in North Carolina. People were coming and going and there were a lot of people to feed.
I didn't want to just throw out cookies or chips as snacks for the family. Instead, each day I put out at least one version of tasty hummus, along with fresh fruits and veggies and gluten-free pita chips (for my sister in law and nephew).
I used black beans instead of chickpeas for this hummus to change things up a little. I also have a brother-in-law who doesn't like the texture of hummus and I figured this was one way for him to try a hummus without the texture of chickpeas. In the end, we realized it's tahini he doesn't like, but that's a problem to solve for another day.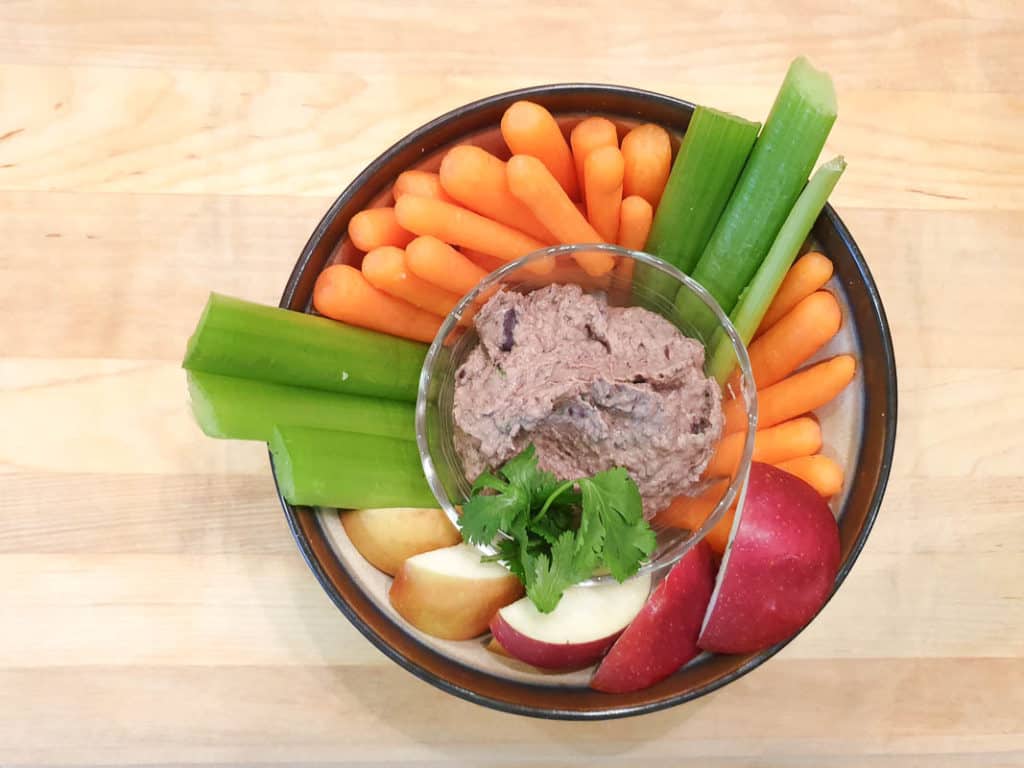 Looking for more tasty hummus recipes? Check these out: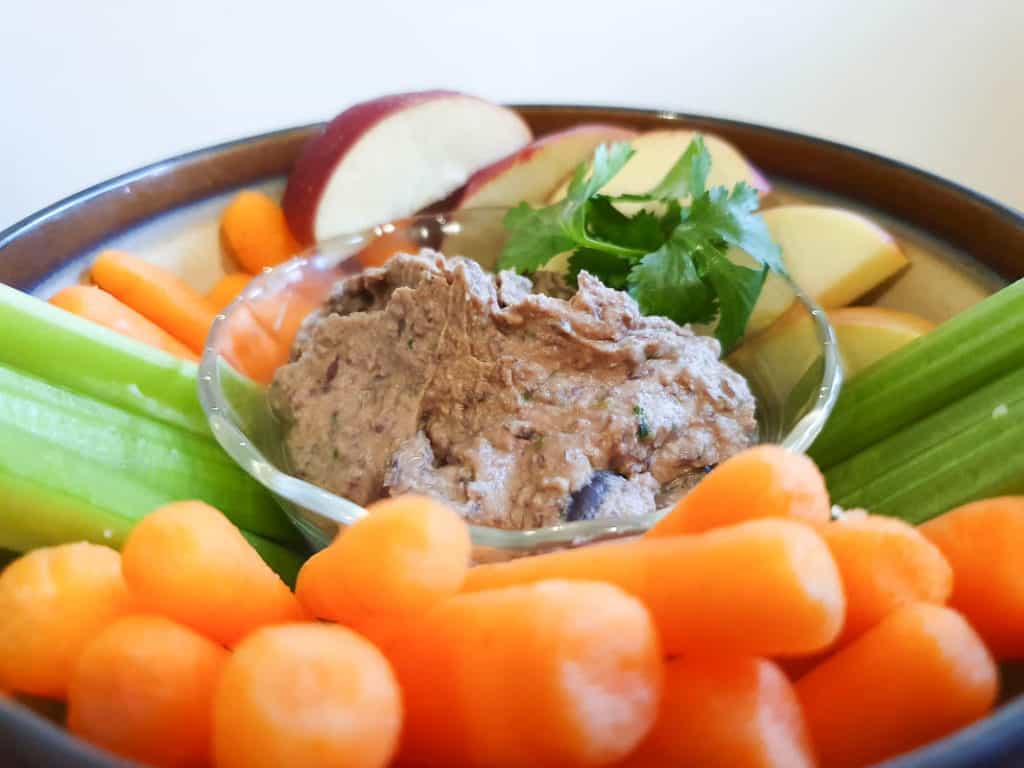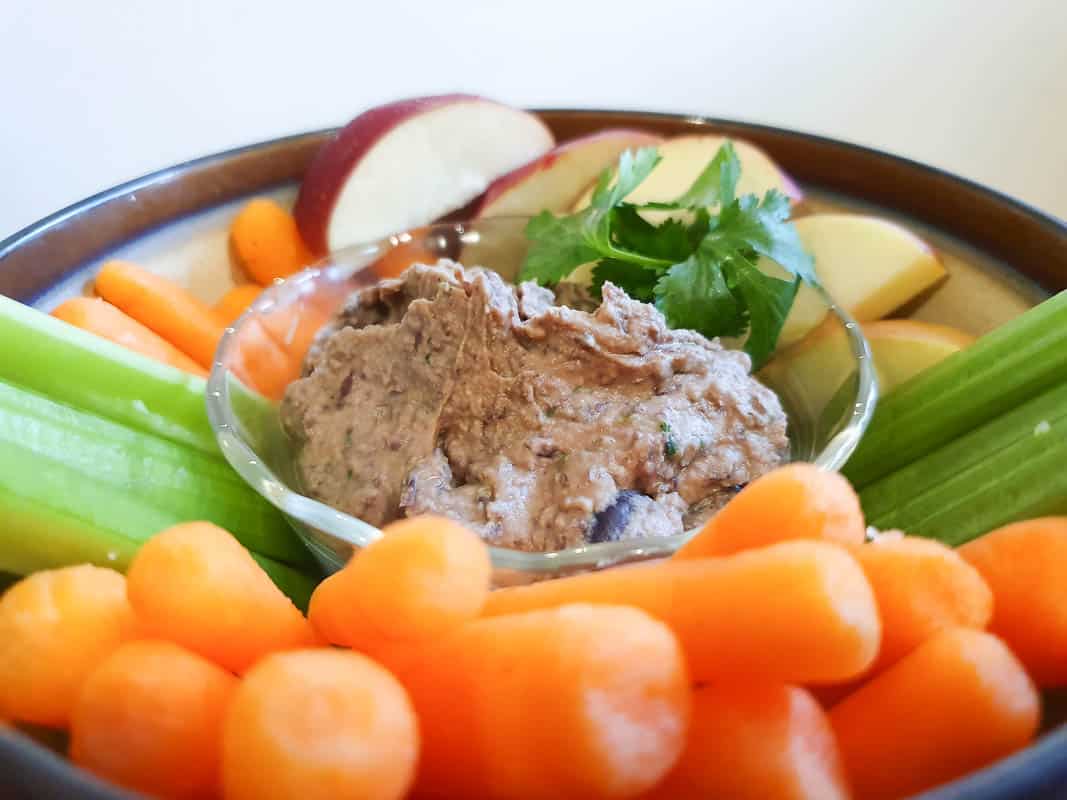 What Makes This Black Beans Hummus Instead Of Just a Black Bean Dip?
Traditionally, hummus meant chickpeas and tahini. Tahini is a sesame paste. Kind of think of it as peanut butter, but made with sesame instead. It's made by grounding up toasted or roasted sesame seeds. It addition to being a key ingredient for most basic hummus recipes, it's often used in salad dressings or drizzled on top of loads of dishes at restaurants.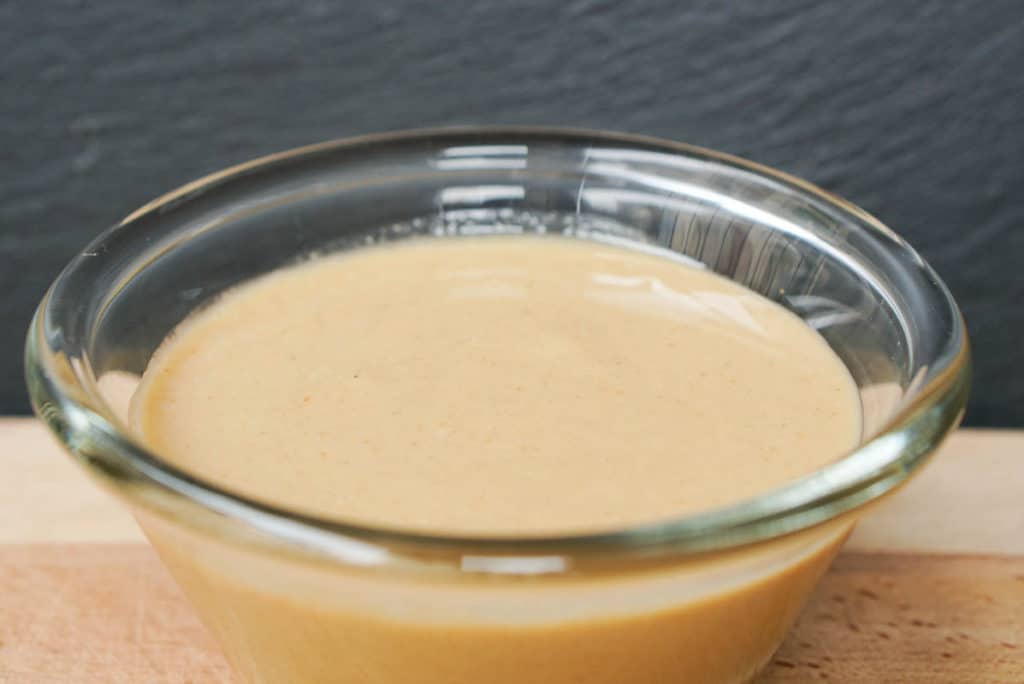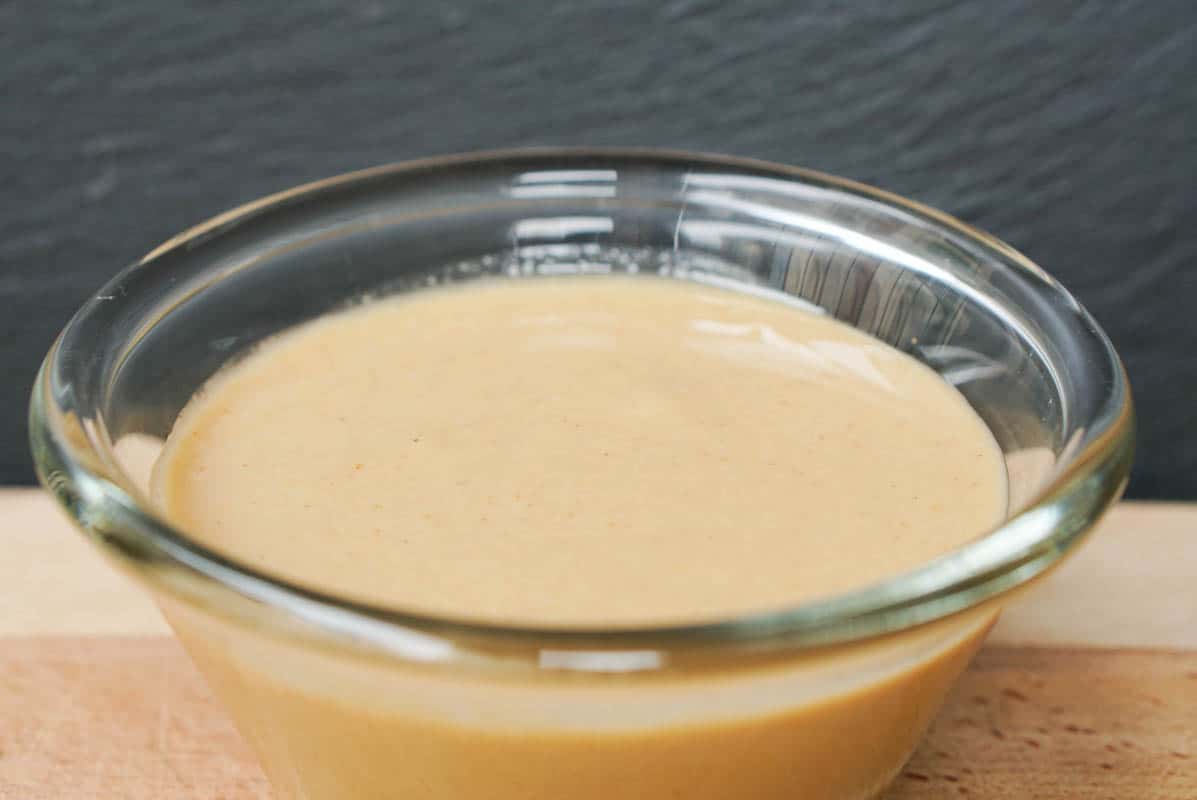 For me, any time tahini is added into a dip it becomes a hummus. Although you can make hummus without it, and you can even make black bean hummus without tahini, tahini is a key ingredient. It's what makes this black bean dip a black bean hummus recipe.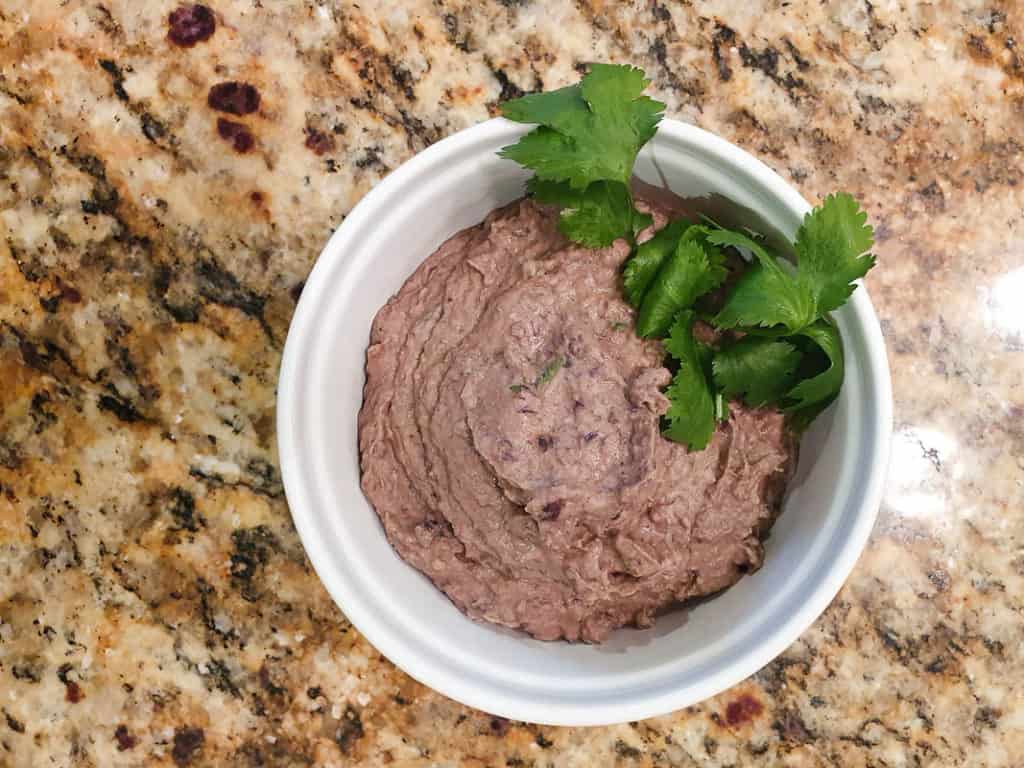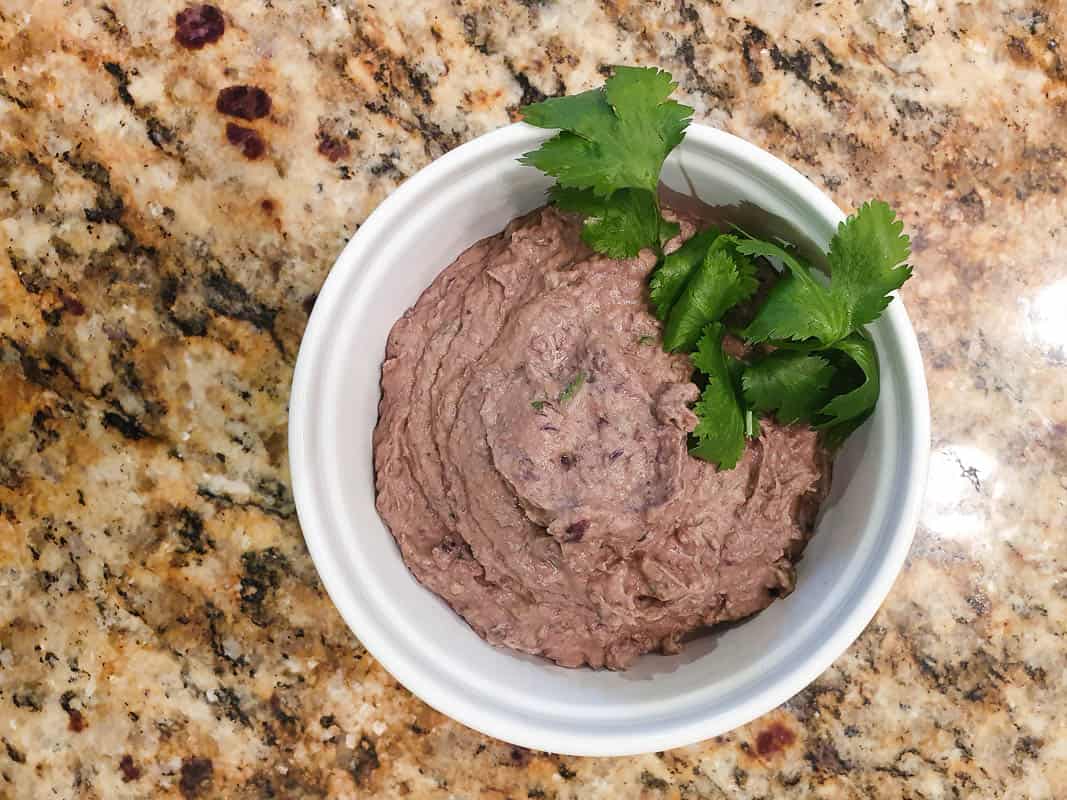 Vegan Black Bean Hummus Ingredients
This hummus, like most hummus recipes, is vegan, gluten-free, and dairy-free. Instead of using chickpeas, I used black beans. By using black beans you can skip the step of preparing the chickpeas for the recipe. This makes this recipe even quicker.
The liquid ingredients to make this hummus smooth included tahini, lemon juice, and olive oil. For flavor and spice, I added mashed garlic cloves, cumin, diced cilantro, and a touch of gluten-free chili powder for spice.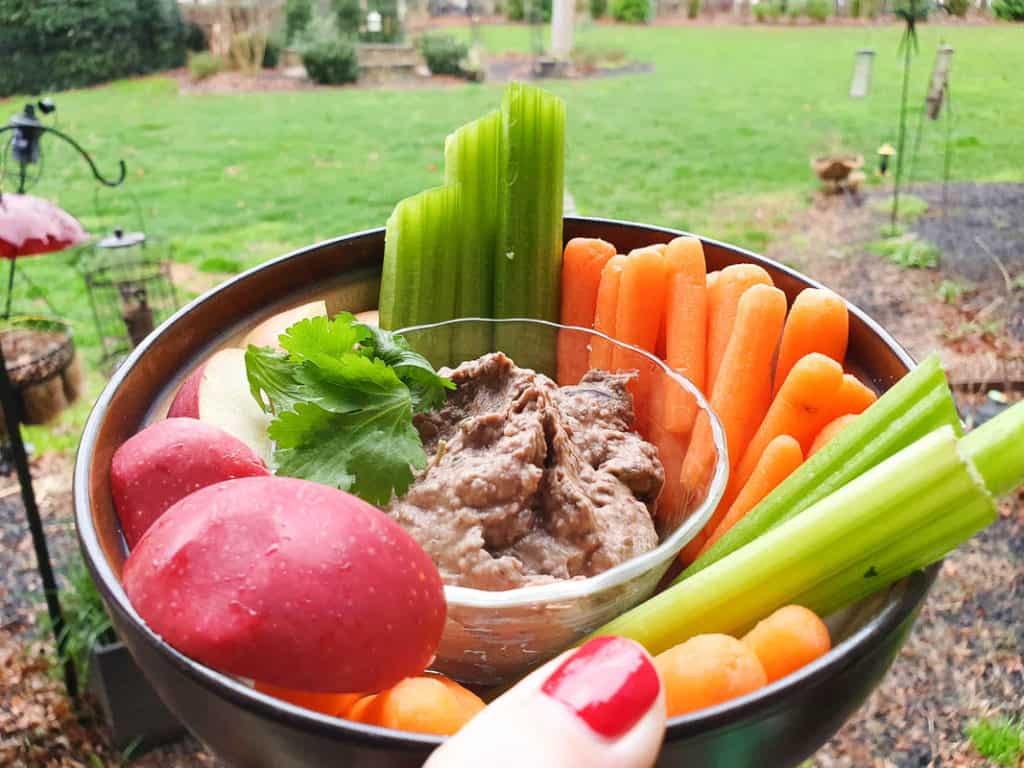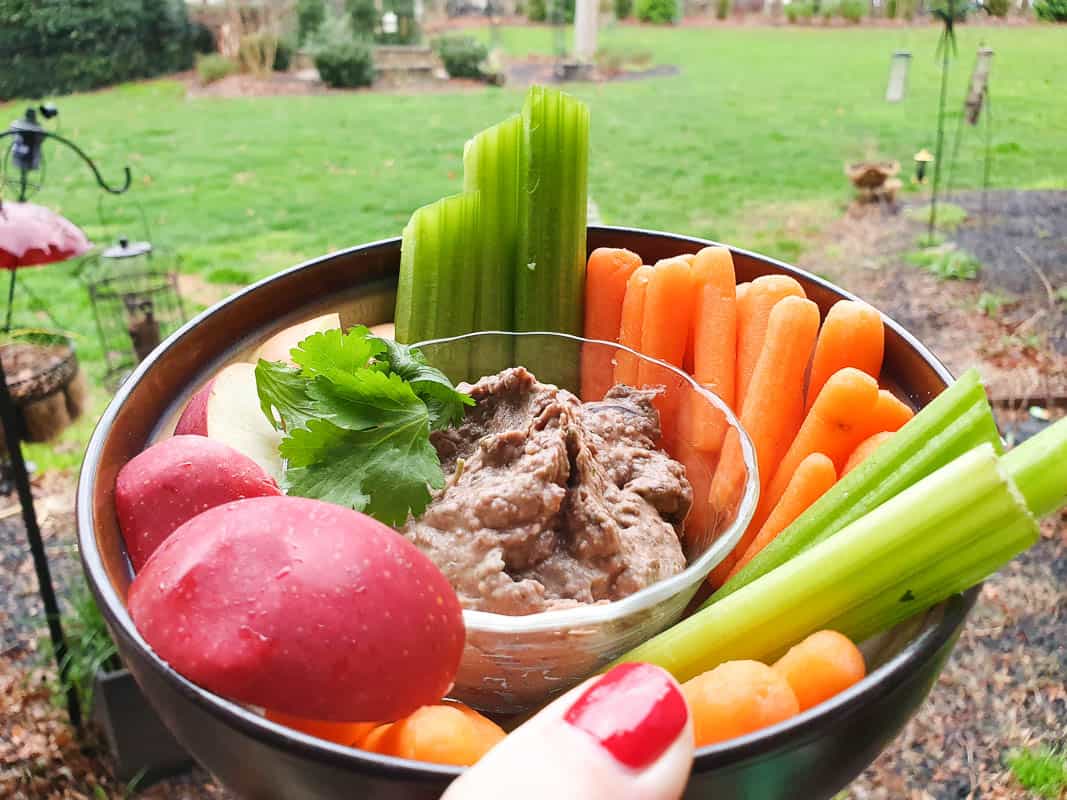 How To Make Black Bean Hummus
This is what I love about using black beans. When making basic hummus, I boil the chickpeas and sometimes remove the peels. Black beans, though, are a lot softer. There's no reason to boil them and there are no peels to remove.
Just add all the liquid ingredients and seasonings into a blender and mix thoroughly. Then add the black beans and blend. If necessary to reach the right consistency, add a tablespoon of warm water one at a time until you like the feel of the hummus in the mouth. Feel free to add a bit more spice if you want. It's just that easy.
Yield: 3 Cups
Black Bean Hummus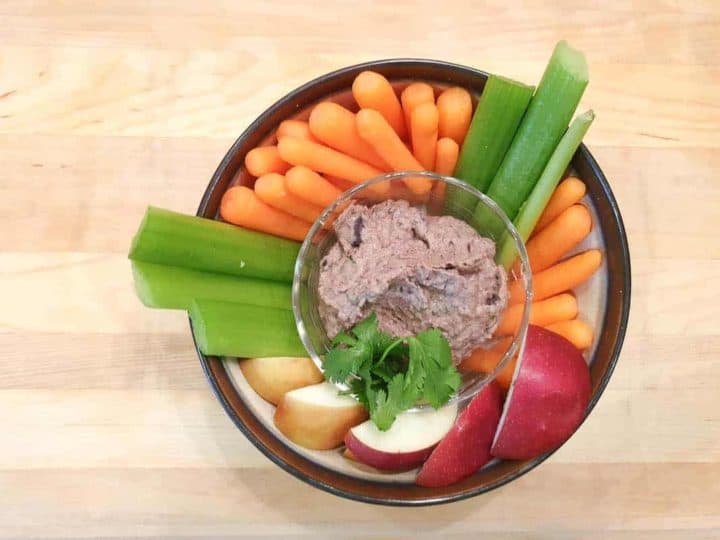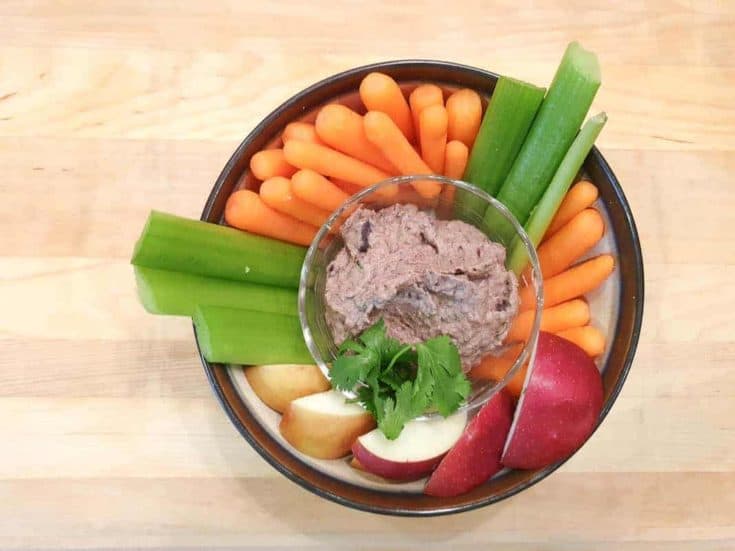 This spicy black bean hummus recipe is the perfect afternoon snack that pairs well with fruits and vegetables.
Ingredients
2 15 ounce cans black beans, drained and rinsed
4 cloves garlic
juice of one lemon
2 tablespoons tahini
1 tablespoon olive oil
1 teaspoon cumin
1/2 teaspoon chili powder
2 tablespoons warm water
Salt to taste
Instructions
Drain and rinse black beans in a colander in cool water
Place garlic, lemon juice, tahini, olive oil, cumin, and chili powder in a blender or food processor. Mix well.
Add black beans to the mixer and blend.
If necessary, add a tablespoon of warm water at a time until the hummus reaches the desired consistency.
Taste and add salt and pepper if desired.

Notes
It's pretty easy to make fresh hummus at home once you get the basic process done. Take a look at our tips above if you are unfamiliar with how to make hummus.
Recommended Products
As an Amazon Associate and member of other affiliate programs, I earn from qualifying purchases.
Nutrition Information:
Yield:
6
Serving Size:
1
Amount Per Serving:
Calories:

243
Total Fat:

6g
Saturated Fat:

1g
Trans Fat:

0g
Unsaturated Fat:

5g
Cholesterol:

0mg
Sodium:

108mg
Carbohydrates:

36g
Fiber:

13g
Sugar:

1g
Protein:

14g
This nutritional data is provided by a third-party source and should not be relied on if you are on a strict diet.
Modifications And Variations For This Recipe For Black Bean Hummus
When it comes to how to make spicy black bean hummus, there are some variations. I kept this version more mild to please the masses at a family reunion. But, Eric prefers his hummus spicy and garlicky. Here are some ways to spice it up.
To make chipotle hummus, use chipotle pepper, either in powder form or even chipotle pepper paste. Just add a little at a time to avoid going overboard.
The same thing goes with making this a jalapeno black bean hummus. Slice open a jalapeno and remove the seeds. Dice the jalapeno into small pieces and blend them into the hummus.
To make a Mexican black bean hummus, top it with sour cream and salsa and serve it with tortilla chips as a three-layer bean dip.
Or, it's possible to make a black bean and chickpea hummus by substituting one can of black beans for a can of chickpeas.