This one-pot recipe for a chicken, white bean and spinach saute is the perfect Italian-inspired weekday meal. Filled with flavor from chicken broth, white wine, and parmesan cheese it will make everyone ask for seconds.
*This post contains compensated links. Find more info in my DISCLAIMER. As an Amazon Associate I earn from qualifying purchases.
One-Pot White Beans And Spinach
I started making this recipe because I had leftover ingredients in the house and tried to find a way to whip them up. That's how a lot of our staple recipes start out.
Because we are a household of two, we normally get two meals out of almost everything we cook. Because we live in Spain, this is often a larger lunch and warmed up leftovers for dinner. Sometimes we just have leftover ingredients.
From other recipes we made, Eric looked at the fridge one day and said, we have chicken, spinach, and canned white beans. What can we make with that?
I took up the challenge. Made this recipe. Now, my one-pot chicken, white beans, and spinach recipe is in our regular recipe rotation.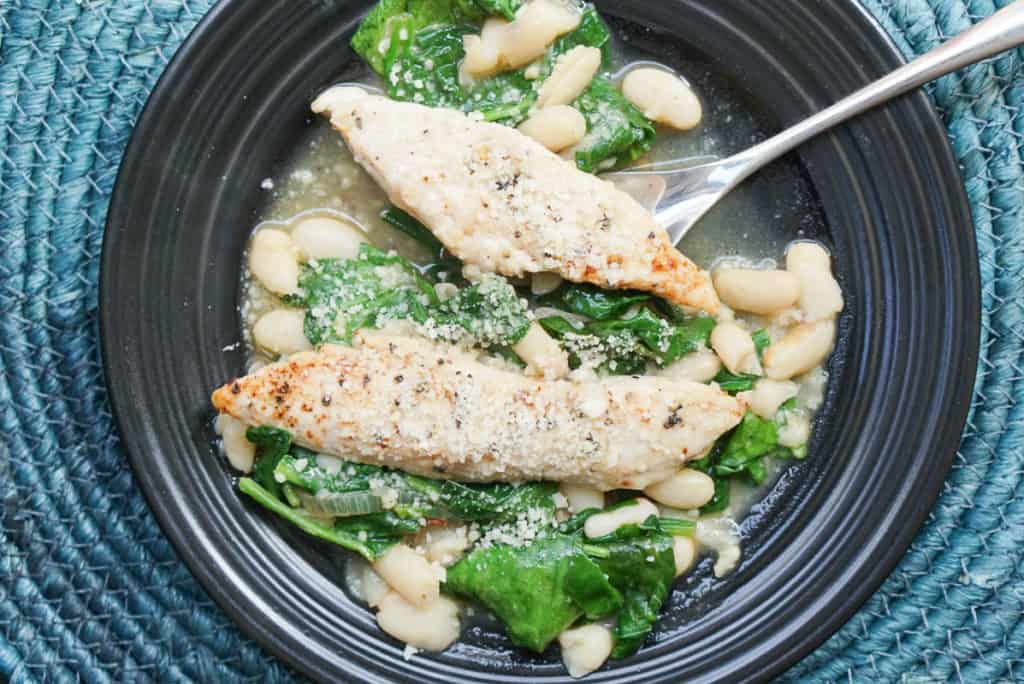 Italian Inspired One-Pot Recipes
We have a broad view of Italian cuisine when we cook at home. Having traveled to Italy regularly for over 20 years, we know authentic Italian cuisine. I even wrote a book about gastronomy of an Italian region. We are pretty particular about the authenticity of a lot of dishes we love.
When cooking at home, though, we tend to cook a lot of "Italian-inspired" recipes. They are probably not ones that you would see on menus at restaurants in Italy.
Some of them might be inspired by the Italian-American food we grew up on in New Jersey. Others are just recipes we come up with on our own. This is one of the later.
Using garlic, olive oil, white wine, and white beans I feel like this is entirely Italian, even if not a typical, authentic dish. Regardless of what we call it, it is darn tasty.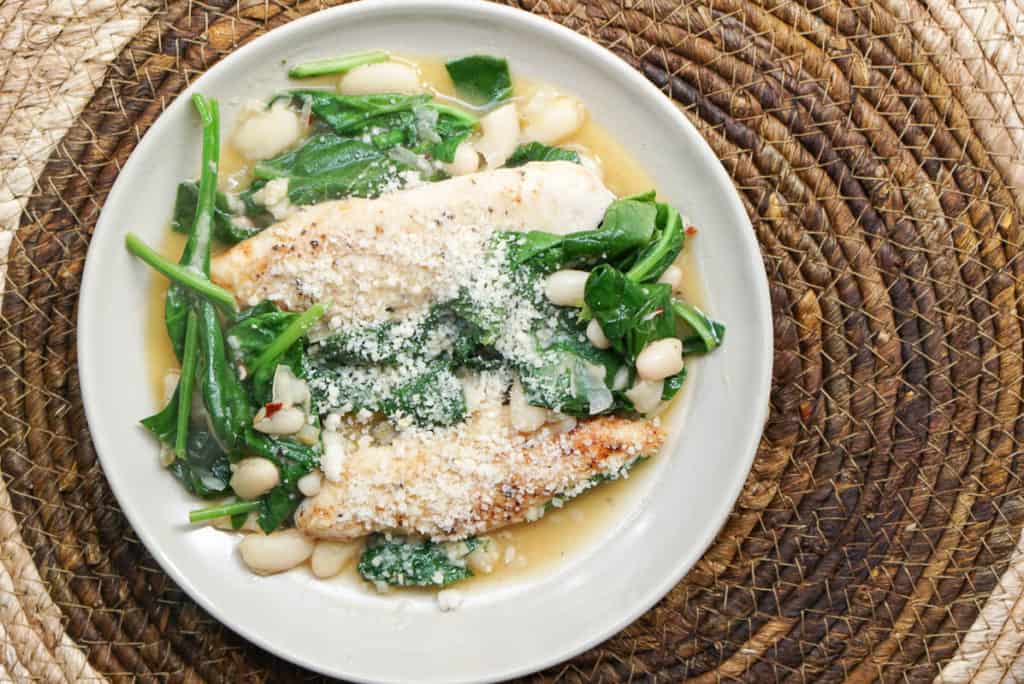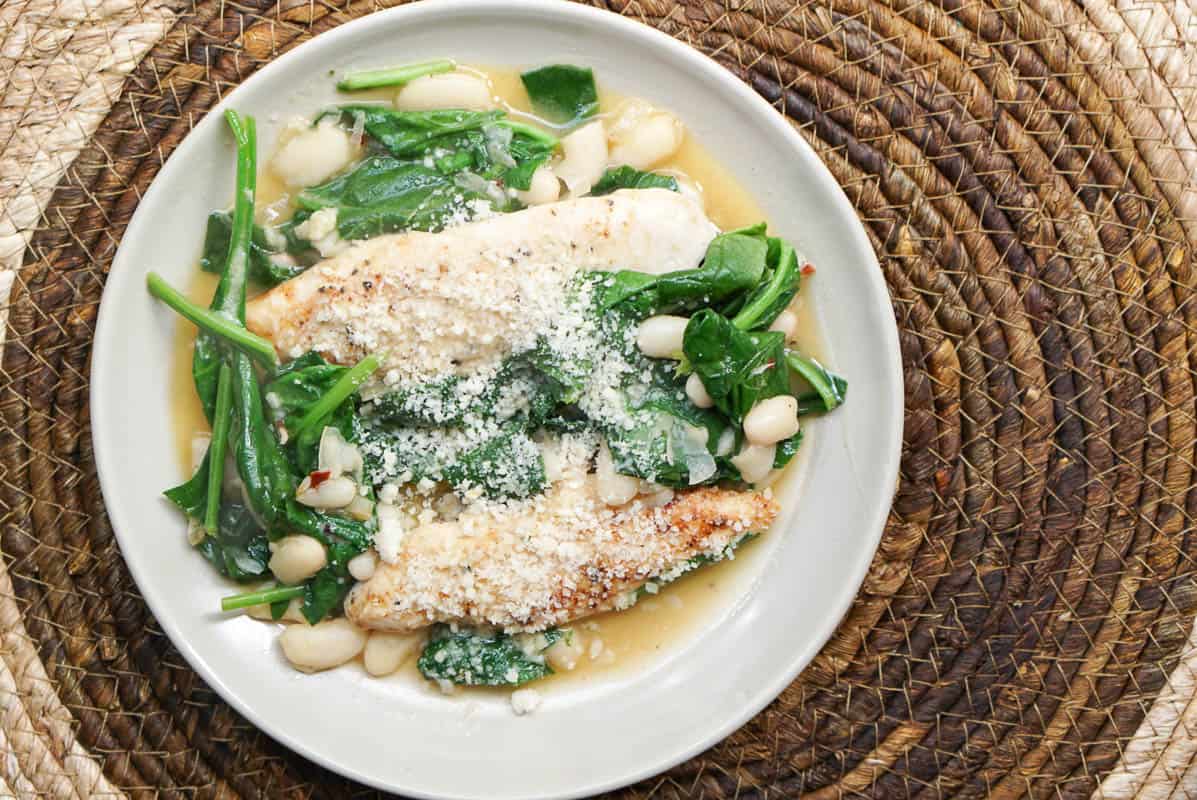 Check out our other Italian-inspired one-pot recipes:
Hearty Instant Pot Pasta Fagioli
Warming Escarole, Pancetta, and White Beans
Creamy White Beans With Lemon And Dill
Instant Pot Sausage, Peppers, And White Beans
Vegan Mushroom And Lentil Ragu Recipe
Cooking With Wine
A few notes about cooking with wine. I once read you shouldn't cook with a wine unless it is good enough to drink. There's something to be said for that. I stopped using cooking wine from the grocery store years ago. It just doesn't have the same flavor. It's certainly not what home cooks in Italy, France, or Spain do.
It's easy for us to find a cooking wine in Spain because wine is cheap here. I can usually find a good, dry wine to cook with for only a few Euros. We will keep the wine in the fridge for a week or two and use it for multiple recipes. I know this is more difficult in the US and the UK where wine is more expensive.
There should be a happy medium between purchasing cooking wine and using a good bottle of wine to cook with. This recipe calls for only a half cup of white wine.
In this case, I would recommend using a crisp and unoaked wine, like a pinot grigio or a sauvignon blanc. Choose one that you would enjoy drinking and then serve it with the meal. For recipes that call for a lot more wine, maybe buy something less expensive and keep the remainder in the fridge.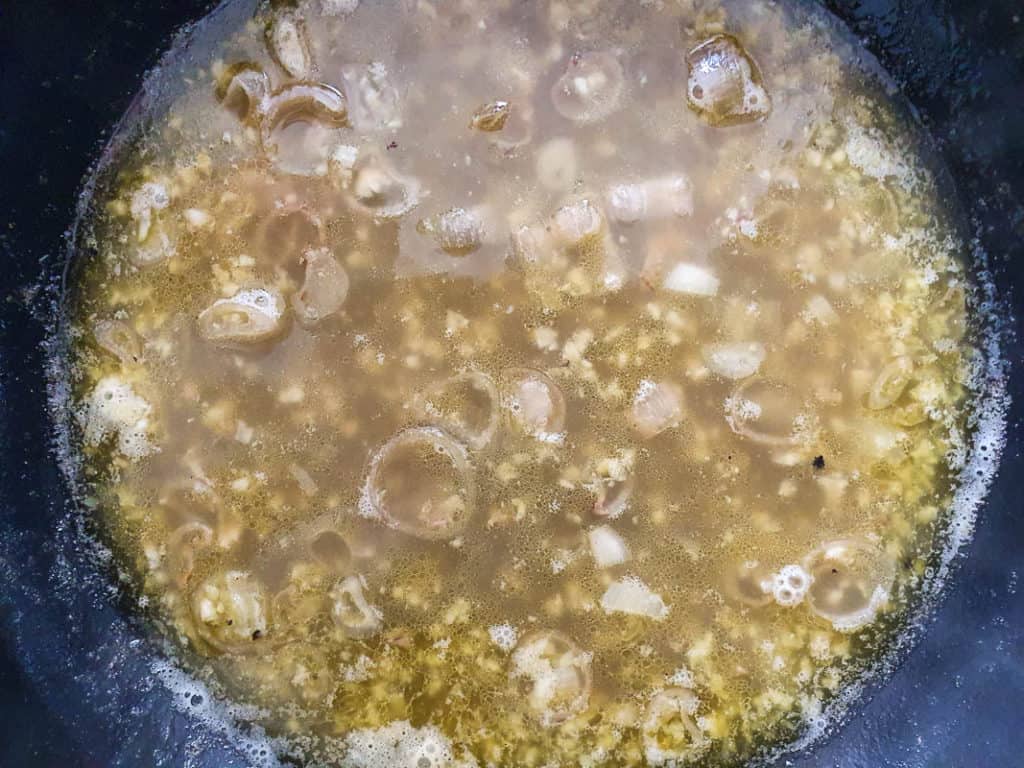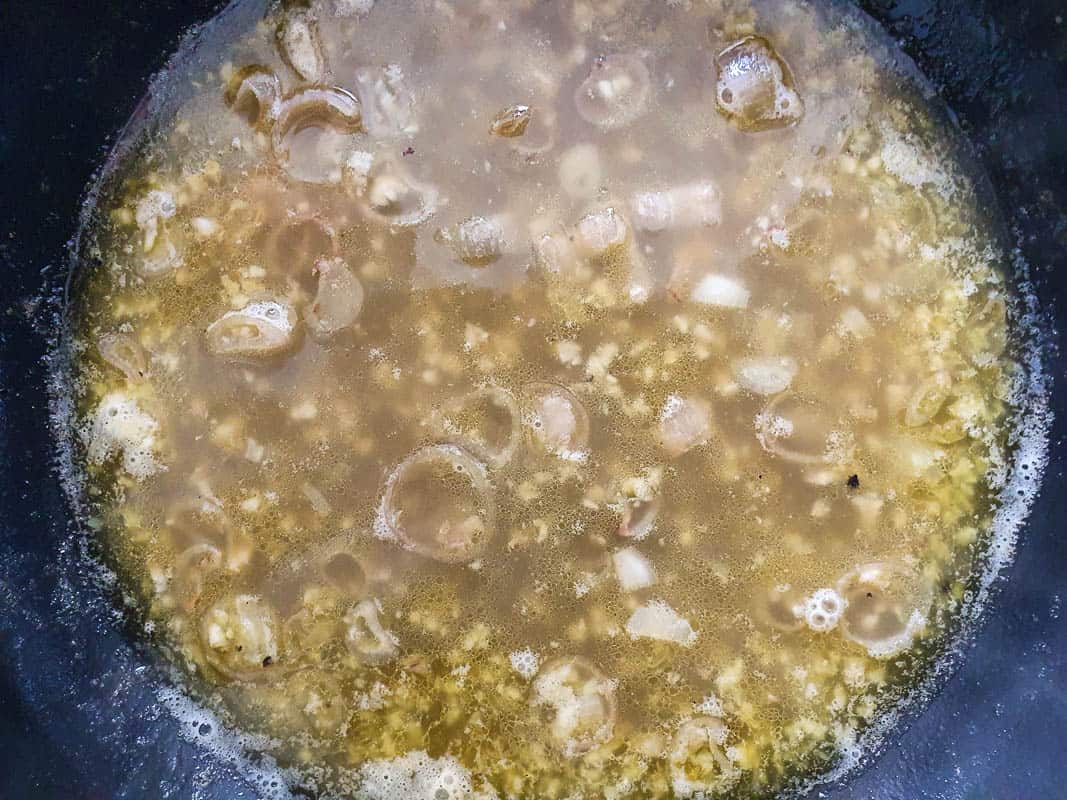 How Long Should You Cook A Dish With Wine
Last, any time you cook with wine, be sure to allow the wine to burn off a bit. That means cooking it for a good 10 minutes or so. By using a large skillet with a large surface area, the evaporation is helped.
This will take the flavor of alcohol off of the dish but does not eliminate all traces of alcohol. If you are cooking a dish for a recovering addict (or kids), skip the wine all together just in case. Just add a bit more chicken broth.
Cooking With Italian White Beans
I love sneaking Italian white beans, also known as cannellini beans, into a lot of dishes that wouldn't normally call for them. We are trying to increase our intake of healthy protein and reduce our intake of meat.
A recipe like this one is a perfect way to use a little less chicken than normal and substitute the chicken with a healthy white bean. The white beans have all of the great health benefits of beans. The beans help to fill you up without eating meat, or even carbs like rice or pasta.
Try keeping white beans in the pantry and add them into all sorts of stews, soups, or sauteed dishes. The beans also can be mashed and added to thicken liquids. I just love cooking with Italian white beans.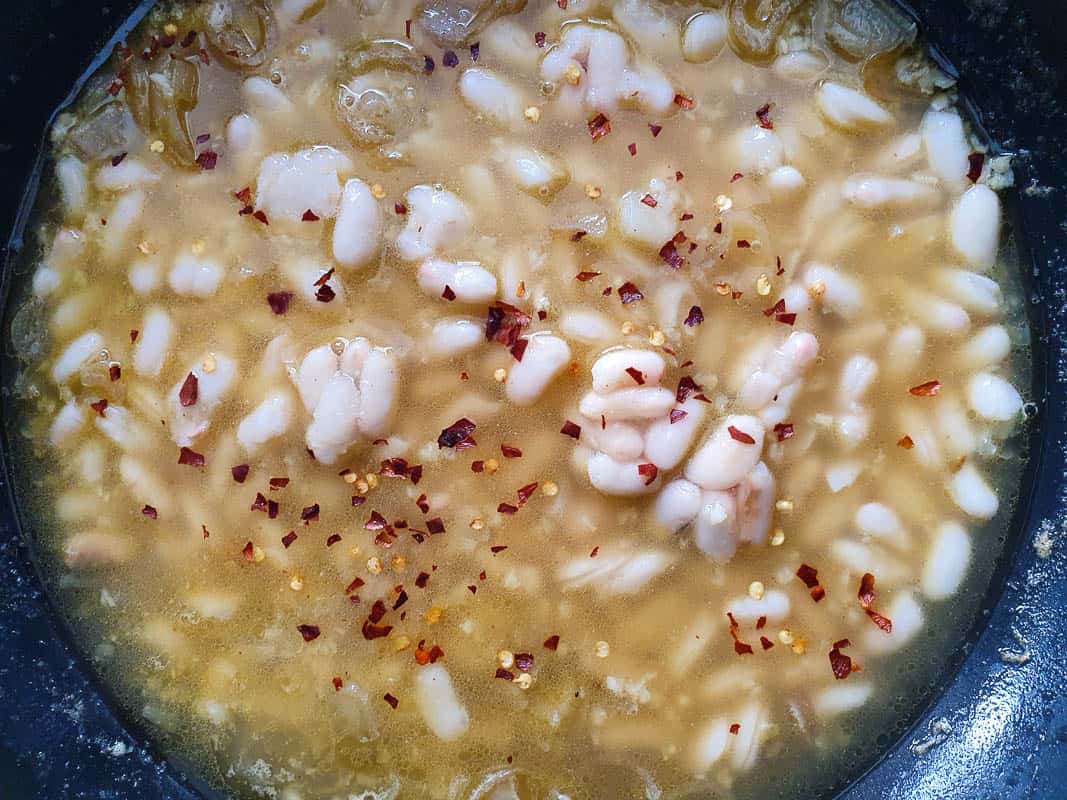 Other Ingredients
A make a lot of one pot chicken dishes, either with vegetables or rice. I use a quality non-stick skillet for this type of recipe. We have the Le Creuset Toughened Non-Stick Skillet. We've had it for years and love cooking with it.
I often start by cooking the chicken in butter and then using olive oil later. This just adds a richness to the recipe and results in a slightly more creamy sauce than just using olive oil.
The only vegetables called for are diced shallots and garlic. If you don't have shallots at home, a yellow or white onion is fine too. Just dice them small so there aren't huge chunks in the dish.
I also like to use a garlic press so that there aren't big chunks of garlic in the dish. Try the Zulay stainless steel garlic press, which is easy to use. There's no need to even peel the garlic ahead of time.
The white beans cook in a liquid of white wine and low-sodium chicken broth before the raw spinach is added. A bit of grated parmesan cheese adds a bit of creaminess. A spritz of freshly squeezed lemon adds a little acidity and freshness. Last, a bit of crushed red pepper adds some heat.
How To Make One-Pot Chicken, White Beans And Spinach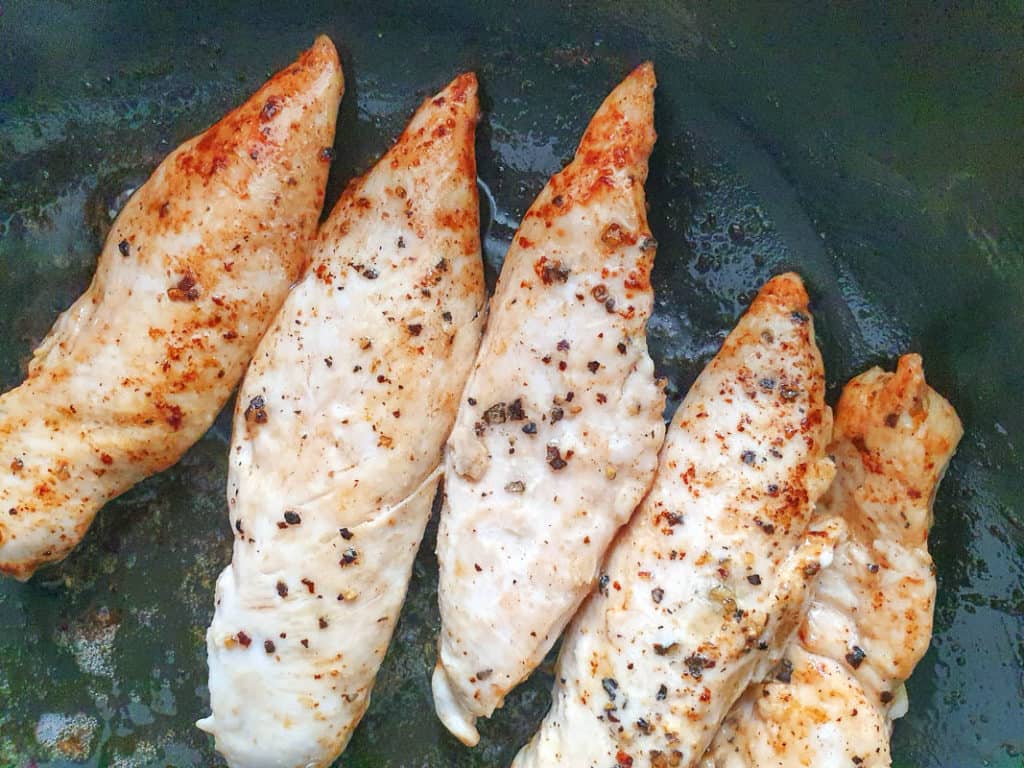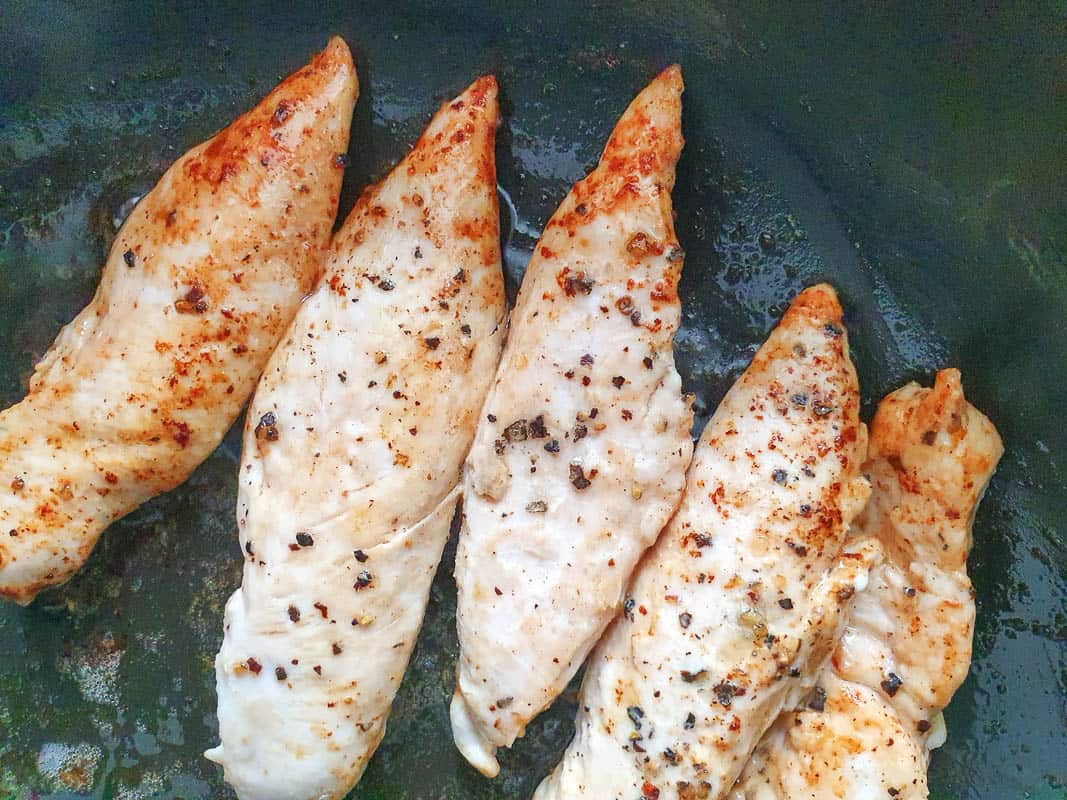 Cooking The Chicken
First, start by seasoning the chicken pieces with salt and pepper. Let them sit while preparing the other ingredients. This helps also to tenderize the chicken. If you can do this 15 or 20 minutes before cooking, even better.
Start by warming a large skillet over medium-high heat. Once heated, add a pad of butter. Once melted, add the chicken, cooking on both sides until it starts to brown.
Once ready, remove the chicken from the skillet and keep warm. Place them in a bowl or on a plate, with another one on top to keep the chicken from cooking too much while the rest of the dish is cooking.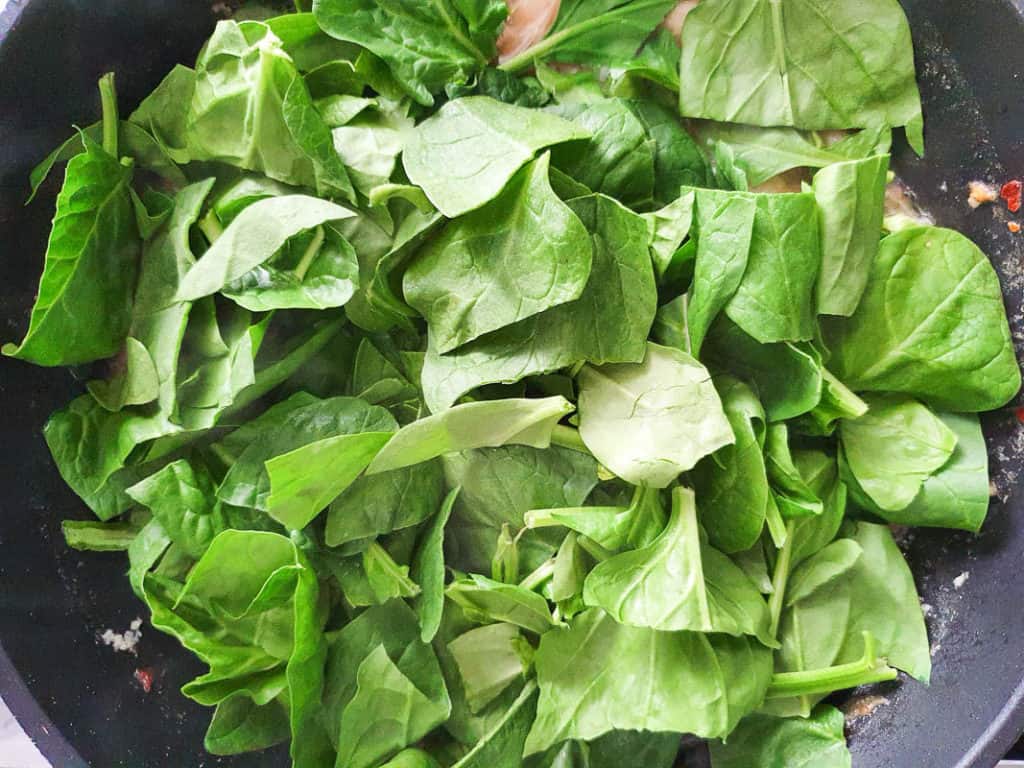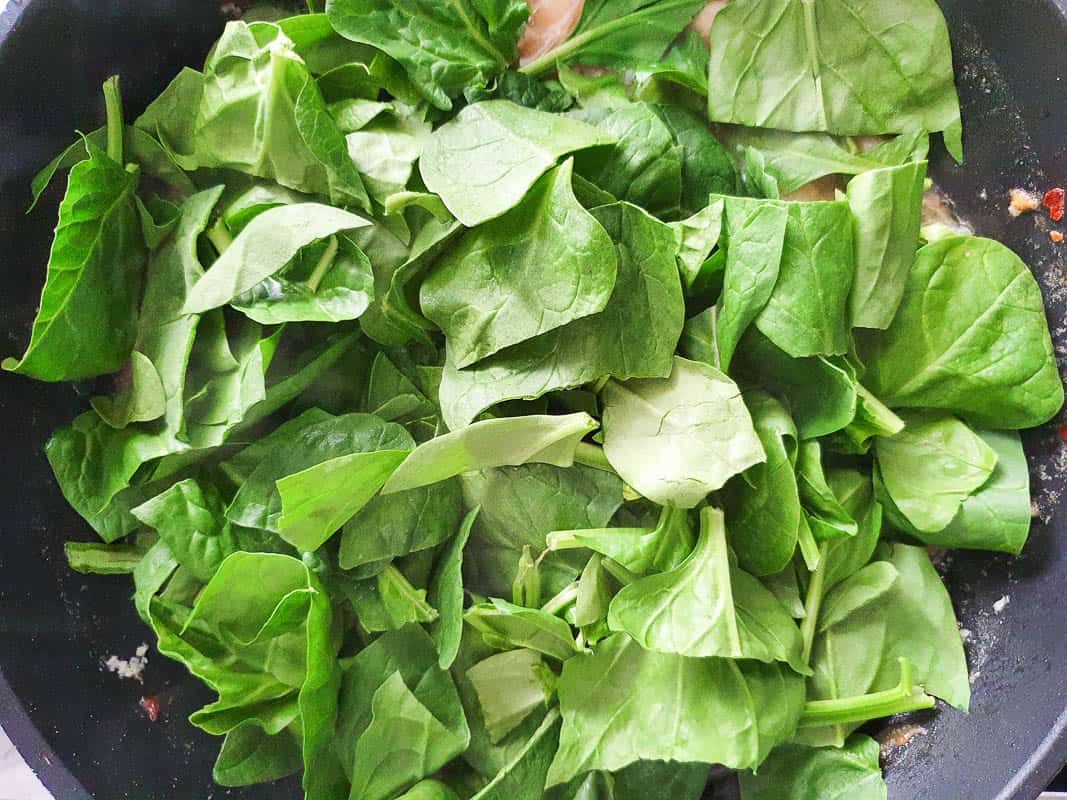 Saute Spinach And White Beans
Add the olive oil to the skillet while also leaving the butter and any brown bits from cooking the chicken in the pot. This adds a depth of flavor to the dish.
Cook the shallot and garlic in the olive oil until they start to brown. Then, add the chicken broth. Deglaze the pan by scraping any excess bits from the pan with a wooden spoon.
Add the white wine. Leave the liquid to cook for 5 to 7 minutes, or until the wine starts to cook off. The wine will not evaporate but the dish won't have a strong wine taste to it.
Add the white beans and crushed red pepper. Allow the beans to warm, about 2 to 3 minutes.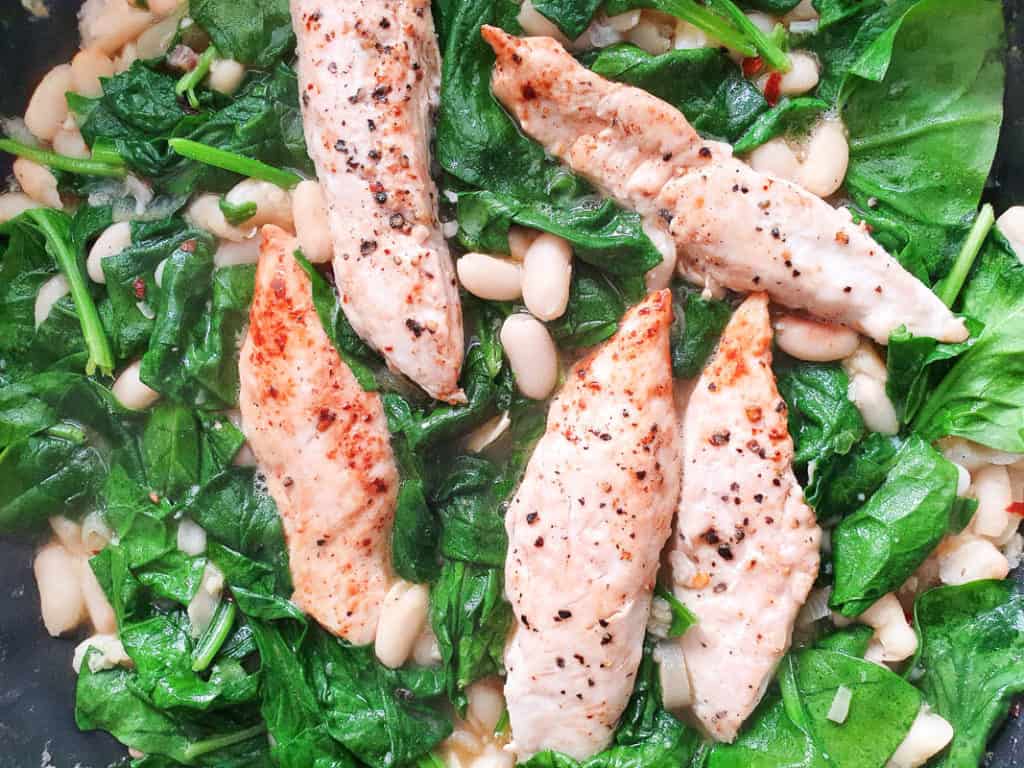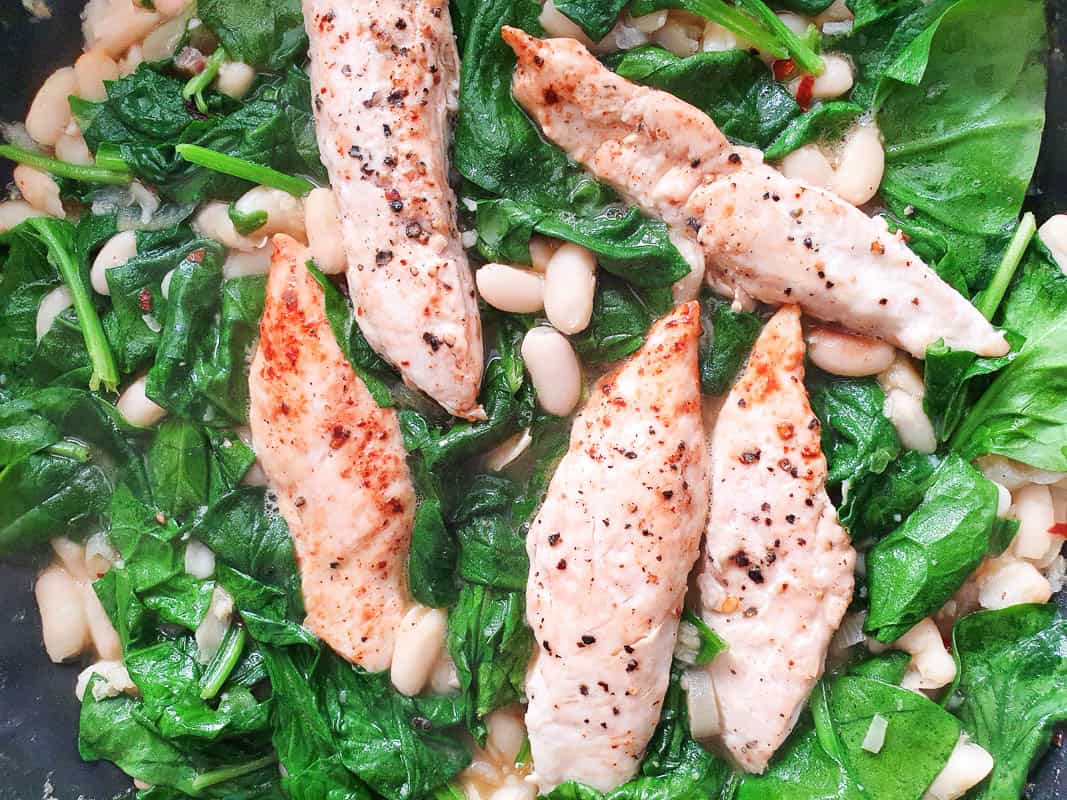 Add the raw spinach and coat in the liquid. When the spinach starts to wilt add the chicken back in. Sprinkle the parmesan cheese over the top (reserving a bit for serving).
Allow all of the ingredients to be coated in the liquid. Remove from the heat and spritz with freshly-squeezed lemon juice just before serving. Serve the dish with crusty bread.
To spread the dish a little more serve it over rice or buttered pasta.
Yield: 4 servings
One Pot Chicken, White Bean and Spinach Saute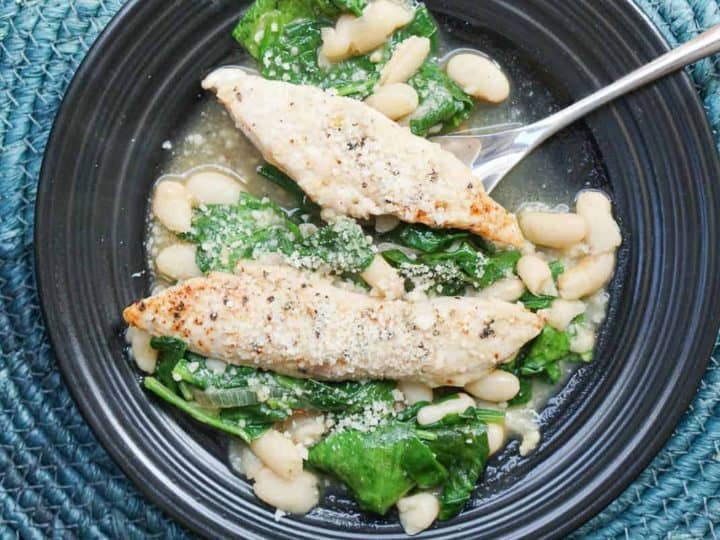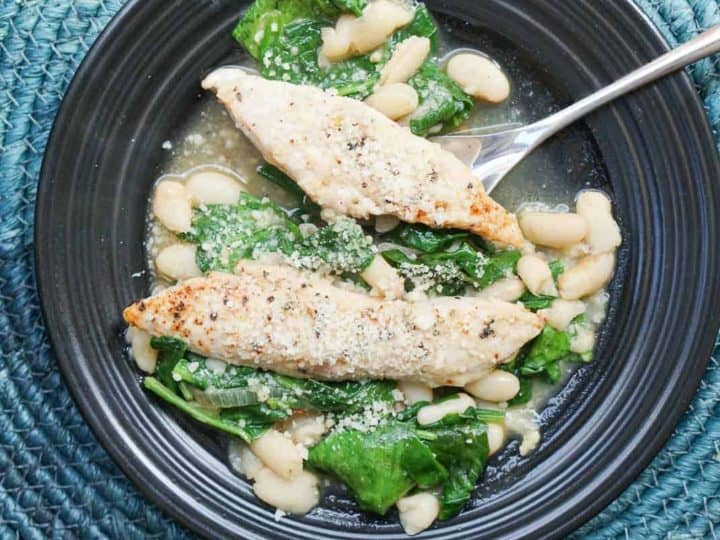 This one-pot recipe for a chicken, white bean and spinach saute is the perfect Italian-inspired weekday meal. Filled with flavor from chicken broth, white wine, and parmesan cheese it will make everyone ask for seconds.
Ingredients
1 tablespoon butter
2 chicken breasts, cut into small pieces and seasoned with salt and pepper
2 tablespoons olive oil
2 shallots, diced
4 cloves of garlic, pressed or minced
1/2 cup dry white wine
1/2 cup chicken broth
1 cup of cooked, rinsed, and drained white beans
sprinkle of crushed red pepper
2 cups of raw spinach
2 tablespoons grated parmesan cheese
1 tablespoon lemon
Instructions
Season chicken pieces with salt and pepper and let sit while preparing the ingredients.
Warm a large skillet over medium-high heat. Add the pad of butter to the skillet.
Cook the chicken on both sides until it starts to brown. Remove from heat, put it to the side, and keep the chicken covered and warm.
Add olive oil to the skillet and warm.
Once the oil is warm add the shallots and garlic. Cook until the shallots and garlic soften and start to brown.
Add the white wine and chicken broth. Cook the liquid over the medium-high heat for 5 to 7 minutes or until the wine starts to cook off.
Add the white beans and crushed red pepper to the skillet and coat in the liquid. Cook for 2-3 minutes or until the beans start to warm.
Add the spinach and coat in the liquid. The spinach will start to soften and wilt.
Add the chicken back into the skillet and warm. Add the parmesan cheese to make the liquid a little creamy.
Just before serving spritz the skillet with fresh lemon juice.
Serve with grated parmesan cheese, crusty bread, or with a side of buttered pasta.
Recommended Products
As an Amazon Associate and member of other affiliate programs, I earn from qualifying purchases.
Nutrition Information:
Yield:
4
Serving Size:
1
Amount Per Serving:
Calories:

312
Total Fat:

13g
Saturated Fat:

4g
Trans Fat:

0g
Unsaturated Fat:

8g
Cholesterol:

62mg
Sodium:

332mg
Carbohydrates:

19g
Fiber:

5g
Sugar:

2g
Protein:

25g
This nutritional data is provided by a third-party source and should not be relied on if you are on a strict diet.