This spicy harissa hummus recipe is a great way to bring the taste of Morocco home. With fresh garlic, tahini, and harissa chili paste it's a great vegetarian and vegan snack when served with vegetables or pita chips.
*This post contains compensated links. Find more info in my DISCLAIMER. As an Amazon Associate, I earn from qualifying purchases.
What Is Harissa
Harissa is a chili paste that is popular in Northern Africa cuisine. It's normally made with a mix of chili peppers, cumin, and coriander. We fell in love with the flavor of harissa when traveling in Morocco.
Moroccan cuisine is not generally spicy, but harissa is served on the side of a lot of dishes allowing diners to add their own spice. I like to cook with harissa because we like spicy food and the harissa adds a depth of flavor that you can't get from just adding fresh peppers.
It's becoming a lot more common to find harissa at grocery stores in the US and in the UK. Look for it in the international food aisle. It can be found in both a tube or a jar. I look for jarred harissa, which looks almost like red pesto.
I like the Mina brand of harissa, which you can find on Amazon here. You can add harissa to other hummus recipes too. This includes: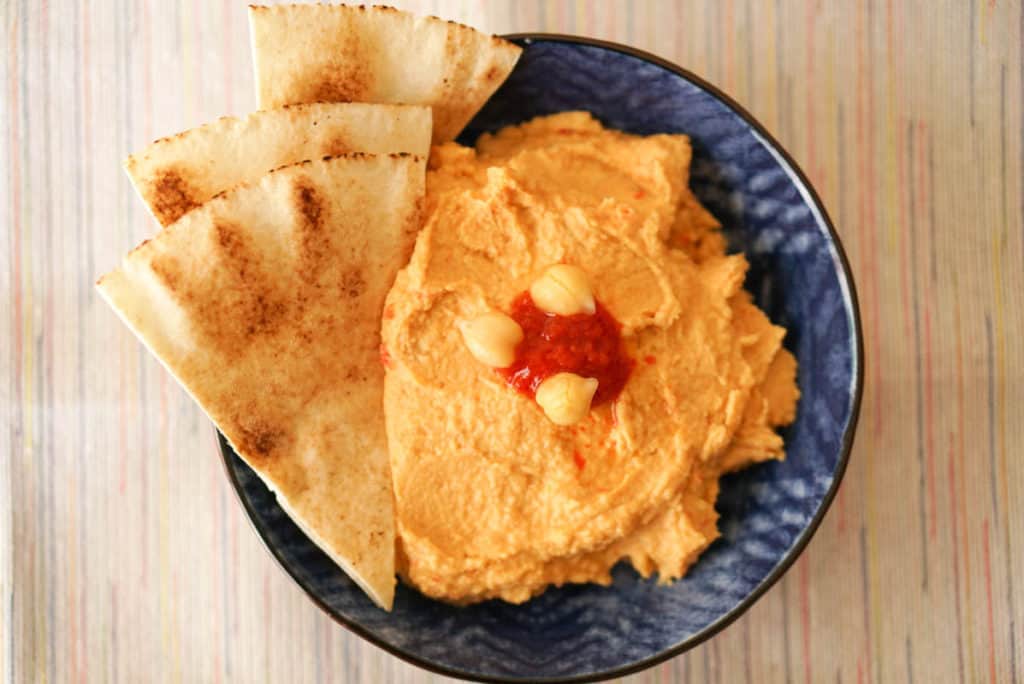 Homemade Hummus With Roasted Red Peppers
Moroccan-Style Carrot Hummus Recipe
Moroccan Roasted Harissa Chicken With Chickpeas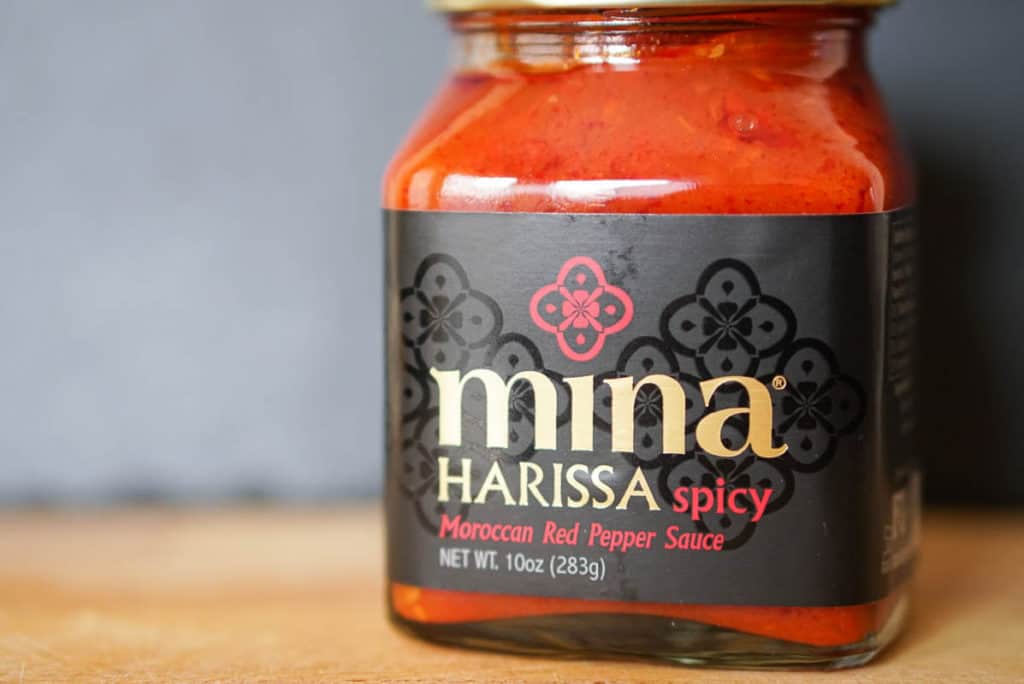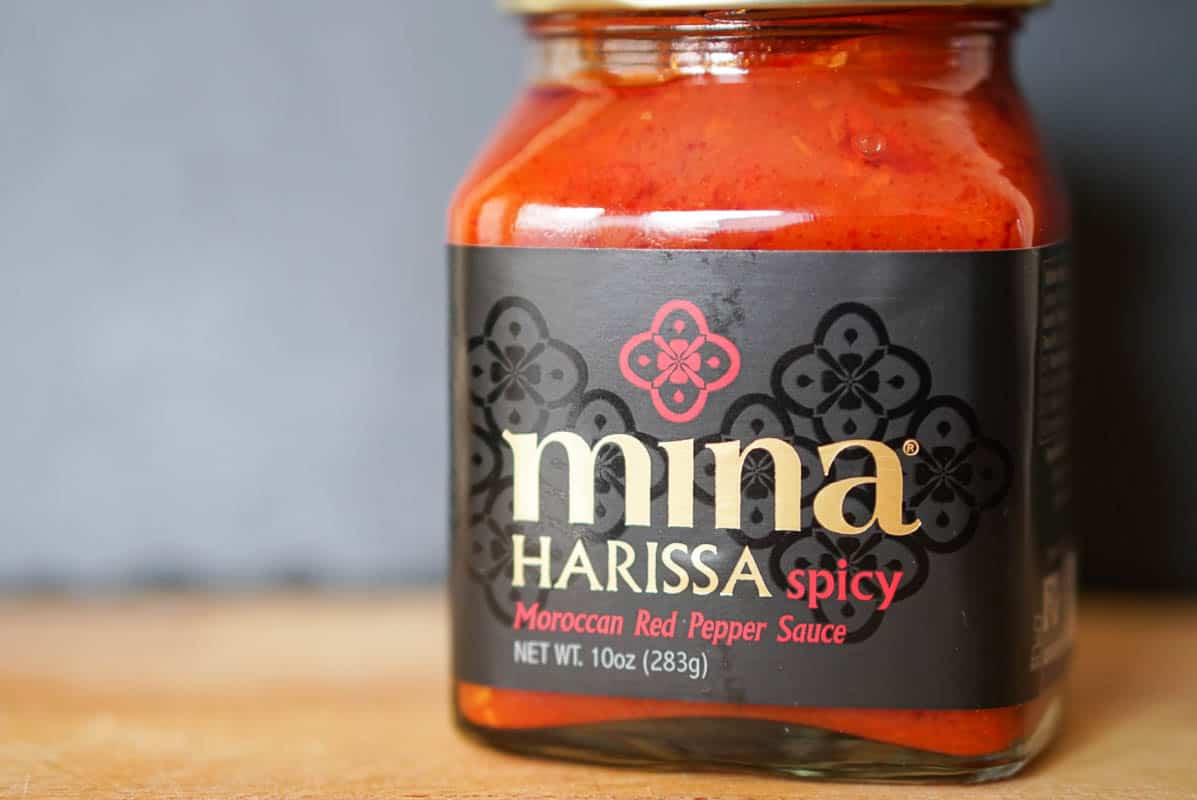 Why Make A Moroccan Inspired Hummus
We've traveled to Morocco to learn about the food. Some of our favorite dishes included all of the Moroccan salads, including lentil salads. I also loved harira and bissara, two Moroccan soups made with chickpeas. Moroccans love using chickpeas in their dishes.
One thing that features heavily on tables in Morocco is harissa, the spicy chili paste. It can be added to all sorts of dishes that are flavorful, but not spicy. My favorite was olives mixed with harissa.
One of the dishes that you won't see on a Moroccan menu, though, is hummus! It's just not a thing in Morocco. When I started cooking with harissa though, particularly in bean recipes, I just thought harissa and chickpeas were such a great match.
So, this is not an authentic Moroccan recipe, but instead a twist on a classic hummus recipe. It's also the perfect way to use any leftover harissa you have at home after making other recipes.
Check out our other Moroccan recipes using harissa:
Harissa Couscous With Chickpeas
Harissa Moroccan Stew With Pumpkin And Chickpeas
Harissa Vegetarian Moroccan Lentil Stew Recipe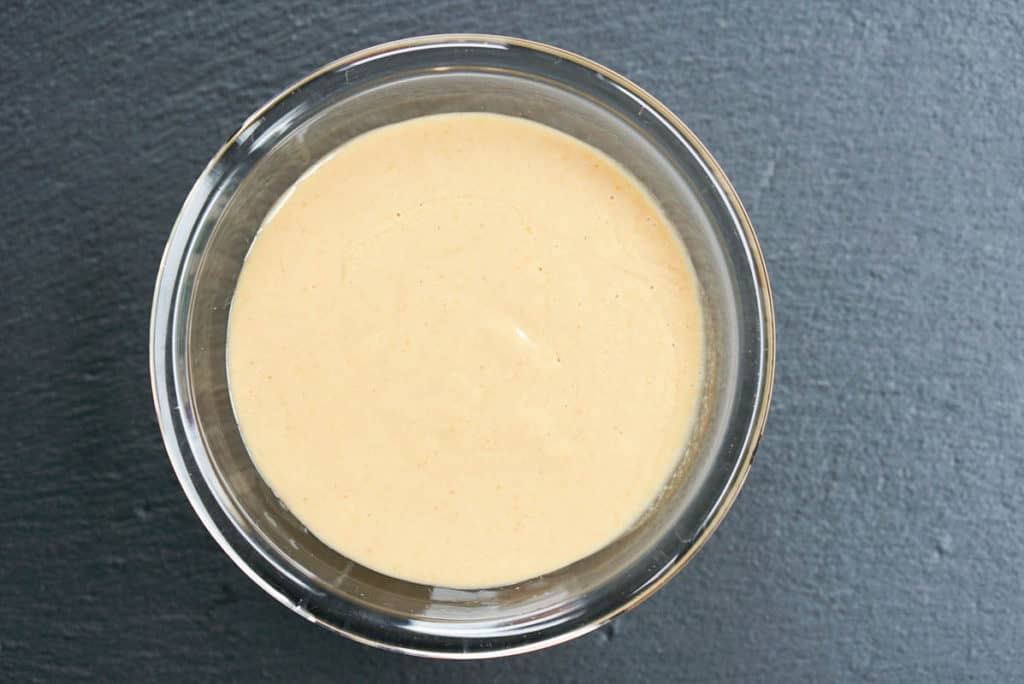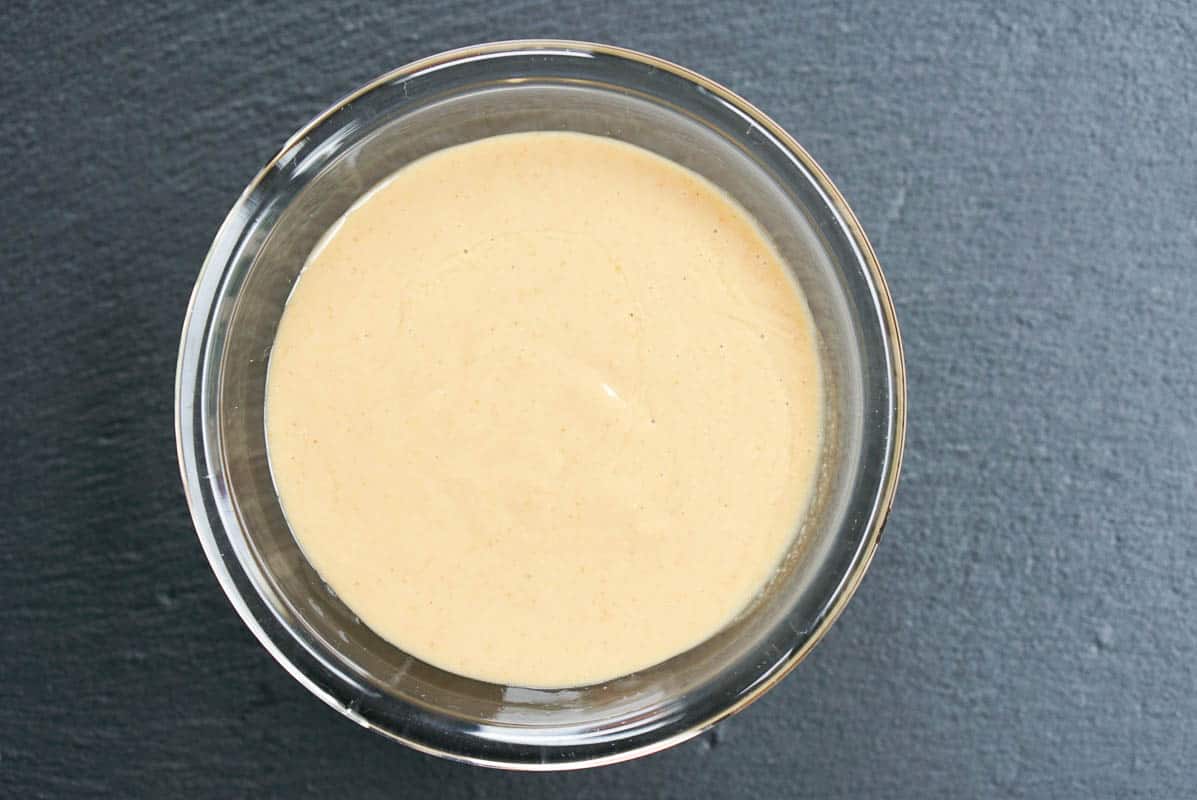 Harissa Hummus Ingredients
This hummus recipe takes the traditional hummus ingredients of chickpeas, garlic, olive oil, and tahini. Then, I add in harissa for spice and a little lemon juice to acid.
For the harissa, I always suggest starting with a small amount and working up. The full two tablespoons add some heat, but we are used to spicy foods. And the spice comes in the aftertaste.
If you don't have a lemon on hand, you can also use a squeeze of tomato paste. I usually have a few tubes of tomato paste at home to add a dollop without having to open an entire can.
Using Moroccan Olive Oil
The base for this stew is a good quality olive oil. Morocco is actually known for olives and even produces some fabulous olive oil. Mina makes a great cold-pressed, extra virgin olive oil.
You can purchase Moroccan olive oil on Amazon here. It's a great olive oil to use not only for Moroccan recipes but for other Mediterranean bean recipes.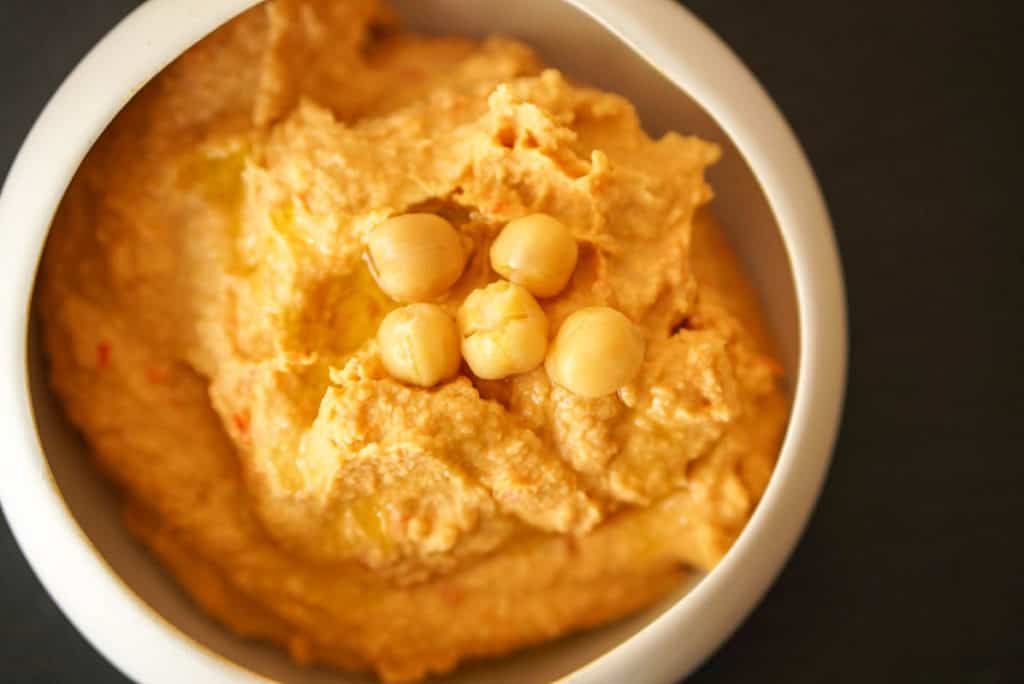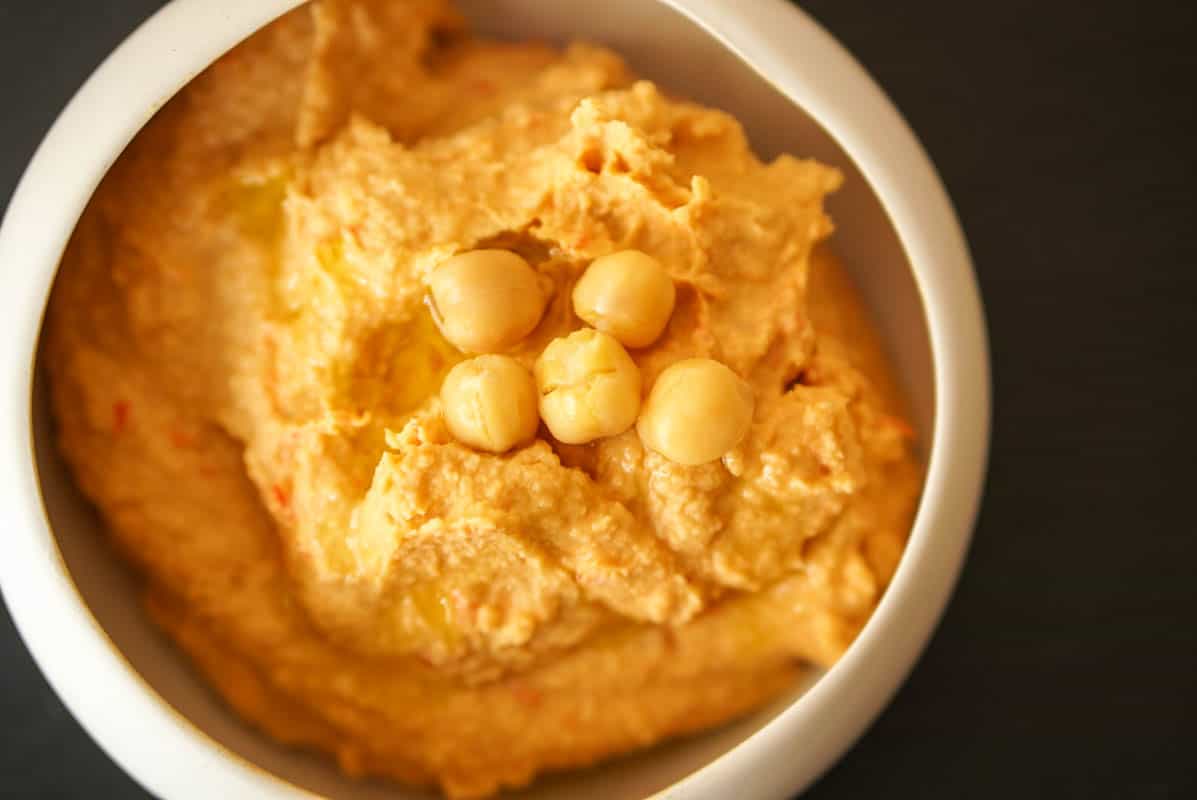 How To Make Hummus With Harissa
With any hummus recipes, I like to add the seasoning and liquid ingredients first to a blender or food processor. This helps to ensure the ingredients are mixed well. It also makes the base of the hummus creamy.
Then, I like to add the chickpeas a little at a time to help them blend well. About half-way through start by adding some of the harissa along with the rest of the chickpeas.
How Much Harissa To Add To The Hummus
With any hummus, it's important to taste as you blend to adjust the seasoning if needed. For many hummus recipes, this might mean adding a little more salt. For harissa hummus that means turning up the heat a little at a time to make sure it doesn't get too spicy.
Harissa can pack a punch so be careful when adding it to the hummus. If you don't like spicy food or are preparing this hummus for guests, then start with a teaspoon of harissa. Mix the hummus and do a taste test. You can always add more harissa but it's difficult to take away the heat once it's there.
Blending The Hummus
It's important to find the right consistency for any hummus. If you mix all of the ingredients and the hummus is too thick, then add a tablespoon of warm water at a time until you reach the right consistency.
Adding the lemon juice or tomato paste to the hummus helps with the acidity but also helps to make the hummus the right consistency.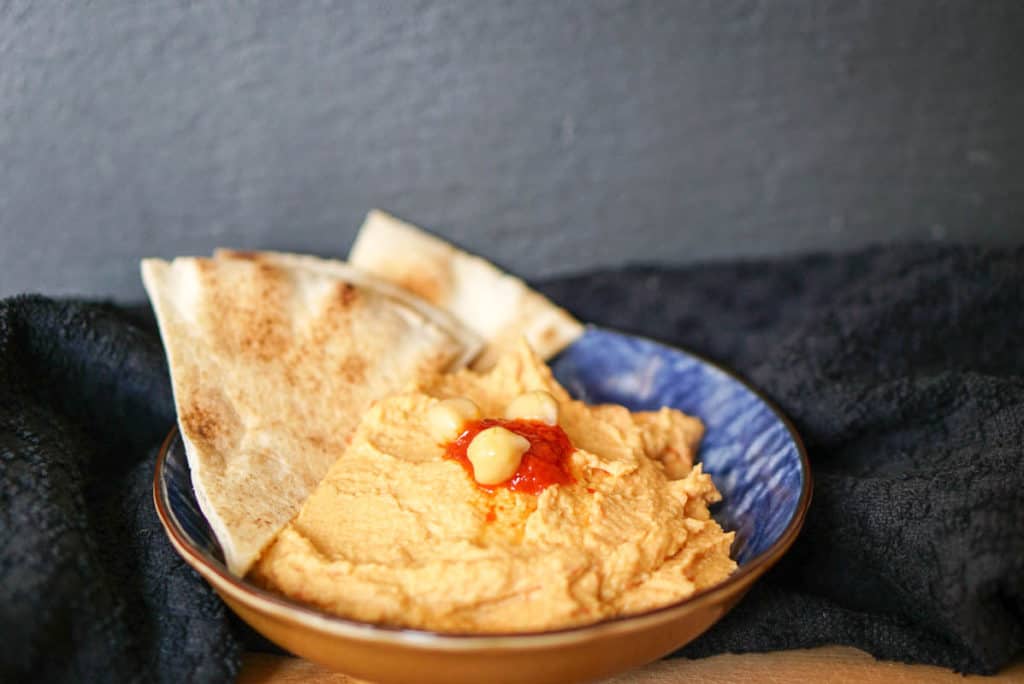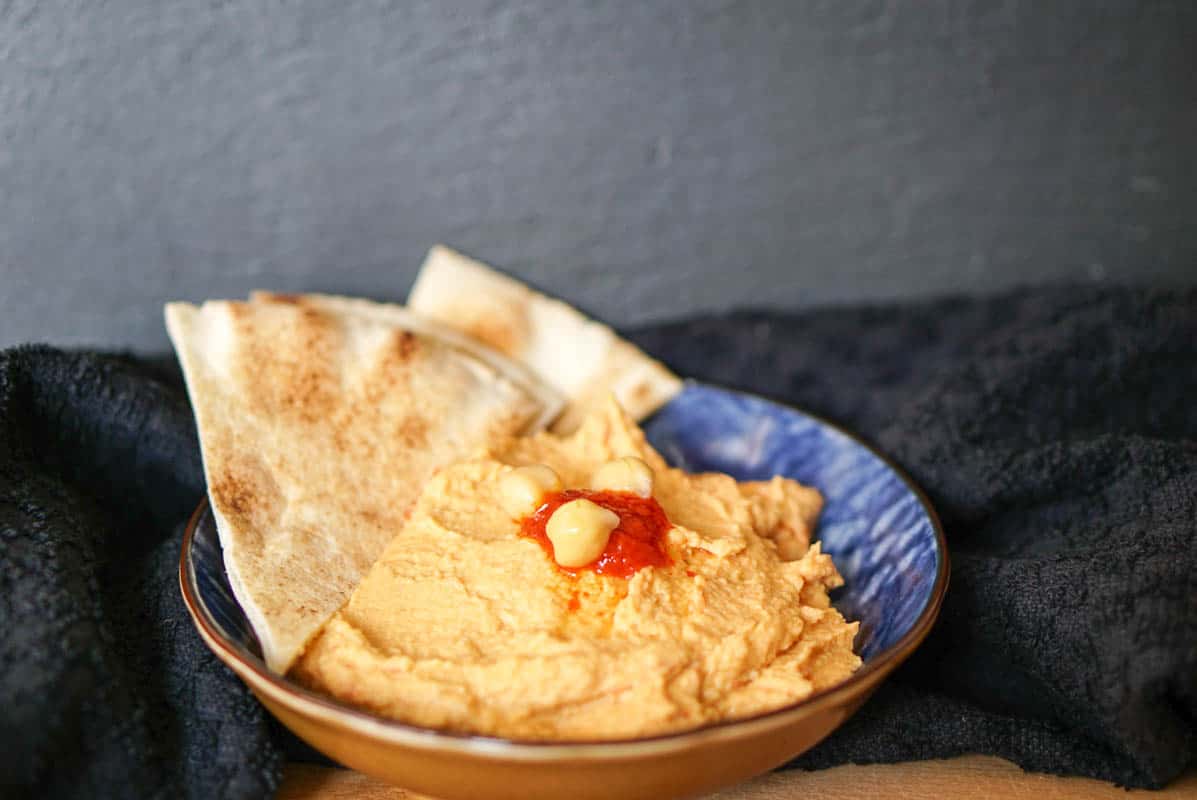 Tips For Making Hummus
Heating chickpeas before blending can make the hummus more smooth. You can boil the chickpeas for 10-15 minutes to soften them. Or, you can place them in the microwave on high for one minute (remove them from the can first!).
Another way to make the hummus more smooth is to remove the skins from the chickpeas. You can do this manually, which takes about 10 minutes.
Or, try rubbing them between two paper towels. There is no need to remove all of the skins, but even removing some can make the hummus a lot more smooth.
Serving The Hummus
If you prepare the hummus ahead of time and serve later, add a little bit of olive oil before serving to make the hummus moist. Hummus thickens when it is chilled.
When serving, feel free to add a little more harissa just before and swirl it in to make the hummus nice and pretty for serving.
This harissa hummus tastes great with any sort of fresh vegetables. To make it a little more North African, serve it with fresh pita squares or pita chips.
Yield: 3 cups
Harissa Hummus Recipe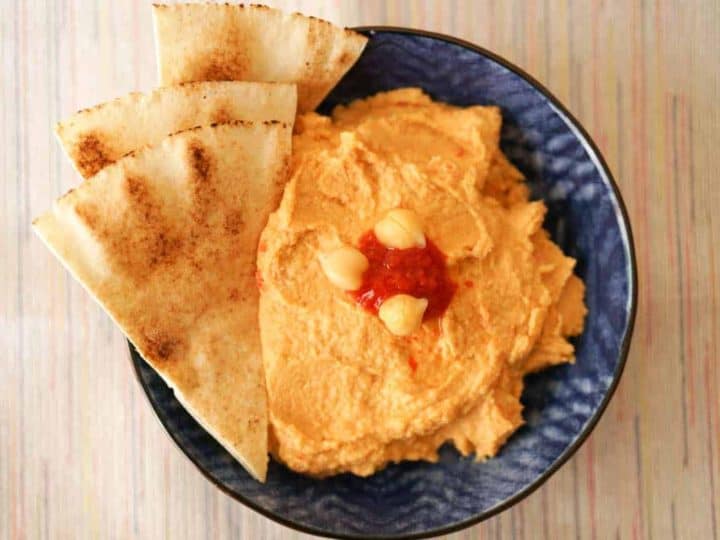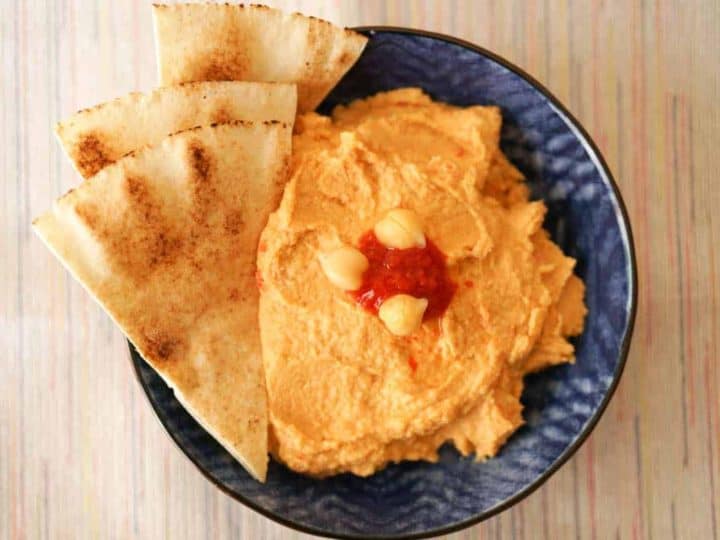 This spicy harissa hummus recipe is a great way to bring the taste of Morocco home. With fresh garlic, tahini, and harissa chili paste it's a great vegetarian and vegan snack when served with vegetables or pita chips.
Ingredients
1 15 ounce can of chickpeas, rinsed and drained
3 cloves garlic, mashed or pressed
2 tablespoons olive oil
2 tablespoons tahini
2 tablespoon harissa (this much harissa carries heat)
1 tablespoon freshly squeezed lemon juice
Salt to taste
Warm water if needed
Instructions
Use a garlic press to press the garlic.
Add garlic, olive oil, and tahini to blender or food processor. Blend until smooth.
Add about half of the drained and rinsed chickpeas and start to blend.
Add one tablespoon of harissa, reserving the rest, and the remainder of the chickpeas. Blend.
Add lemon juice and taste the hummus. If you can handle more heat add more harissa and blend.
To get to the right consistency, add a bit of warm water a tablespoon at a time.
Notes
If you are not familiar with how to make hummus, be sure to see our hummus tips above.
Recommended Products
As an Amazon Associate and member of other affiliate programs, I earn from qualifying purchases.
Nutrition Information:
Yield:
6
Serving Size:
1
Amount Per Serving:
Calories:

204
Total Fat:

10g
Saturated Fat:

1g
Trans Fat:

0g
Unsaturated Fat:

8g
Cholesterol:

0mg
Sodium:

182mg
Carbohydrates:

22g
Fiber:

6g
Sugar:

3g
Protein:

8g
This nutritional data is provided by a third-party source and should not be relied on if you are on a strict diet.